What's In Season In June: Odd Herbs, White Veggies, Purple Beans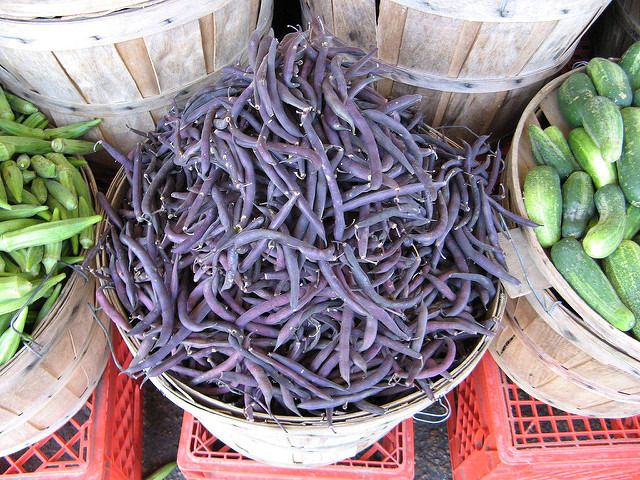 In a world where it's always summer somewhere, it's nice when the season finally hits home. For chef Justin Walker of Earth at Hidden Pond in Kennebunkport, Maine, summer comes late. That doesn't mean he isn't excited about the treasures sprouting out of the restaurant's garden and his own farm, however.
"The best part about summer is being able to walk outside to your garden, the woods or a local market and come up with a dish," says the chef. "It's much better than staring at an electric box for inspiration." Walker utilizes the bounty of what Maine and nearby Massachusetts have to offer and cooks with the season's best from other states. His menu constantly evolves to focus on what's growing. Right now, he's having a ball playing with fragrant hyssop, firm purple wax beans and woody white asparagus.
Hyssop
For those of you who have gardens, plant this tasty, pretty herb right away! Its tall, green-leafy stems are capped with bright purple flowers, and even when those are gone you can continue enjoying the leaves as an ingredient, just as Walker does in his kitchen. "I love hyssop, and we are using it in a couple of places," says the chef, who has incorporated the herb into ice cream, strawberry shortcake, mignonette and as a garnish for savory dishes. But what does this magical plant taste like? Walker describes it as a minty anise, so think clean, green, a little licorice-like and fresh — very fresh.
One of the chef's favored ways of using hyssop include tearing the raw leaves and sprinkling them on pasta dishes, over fish and into a dressing. The other way is by muddling the plant with sugar (recipe below), a process that leeches the oils out of the leaves and imparts its fennel-like essence. It also turns the sugar green, but that's just a fun side effect. From there, he takes the sweetened hyssop and churns it with cream to make frozen treats, or masticates fruit in it for a variety of sweet applications. In general, you won't find hyssop in the grocery store, but many farmers' markets should have bundles of the herb for sale.
White Asparagus
"I love bitter flavors a lot and use them all the time," says Walker, which is why white asparagus is one of his favorite vegetables. The ingredient has a neat story, too, given that it's the only produce grown in the dark. Okay, it's not totally grown in the dark — it starts out in the sun like any other plant, but after the green stalks get to a certain size, it's covered by burying the plant or putting in an enclosure. The result is a milder, woodier product that pairs well with red meat and fresh fish, pureed into a light summer soup, charred on the grill or, in Walker's case, shredded to make a mean kimchi with ginger and scallions. He also likes poaching the stalks in olive oil for a side, under protein or in a salad.
The other way to use this unique vegetable, of course, is to serve it raw. Luckily this product isn't too hard to obtain when in season — just head to a quality grocery store or the greenmarket and grab a bunch. Gently peel off a layer of flesh on the lower two inches to make the stalk tender and fork-able.
Purple Wax Beans
If ever there were a bean to wax poetic about, this is it. With a deep lavender hue, dense flesh and pleasing crispness, the purple wax bean offers up a bit of the season with every bite. "They have that summer garden flavor more than the other beans," says Walker. One of the chef's favorite ways to play with the legume is to slice it thinly and toss it with lettuce and other vegetables in a hearty, colorful salad. "You can't really cook them or they won't stay purple," he advises, adding that if you do decide to apply heat, try Frenching the bean or frying them; that way the lack of zesty purple won't be noticed. Other ways to use the ingredient raw: add to a crudité platter, slice into small rings to garnish a summer soup or turn into a crisp and brilliantly bright pickle. For a short time you can find these stunning beans at the farmers' market or even specialty shops — just don't expect them to be around too long.
Justin Walker's Hyssop Sugar
This simple sugar is a great accoutrement to fresh fruit, granola, ice cream or anything where you want to add a little refreshing sweetness.
Ingredients
2 cups sugar
1 cup fresh hyssop leaves
Directions
Put ingredients in a food processor.
Pulse until the the sugar and leaves get broken down into the same size and the whole thing turns green. The sugar will pack up a little.
Store in an airtight container in the fridge until ready to use.