Up All Night: 24-Hour Bars In New Orleans To Visit Now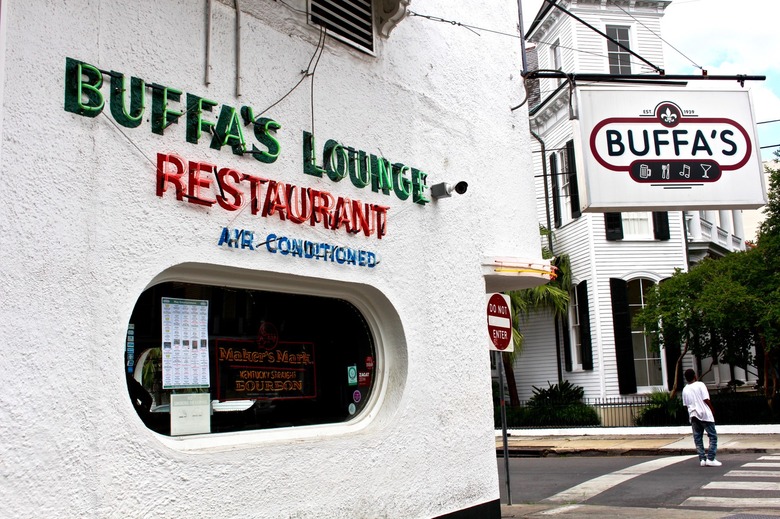 Buffa's Lounge is a classic late-night standby for a delicious burger and a beer.
New Orleans is known for its all-night party scene, but on the off chance that the usual tourist traps of Tropical Isle, Huge-Ass Beers To Go™ and any number of loaded portable frozen-drink purveyors aren't calling your name, where does one go for a wee-hour fix? Rev up that second wind, because your night has only just begun. Here are six solid options for round-the-clock revelry in the Crescent City.
Buffa's Bar & Restaurant
Like a few other spots on this list, this bar is actually two establishments in one. As the operators proudly proclaim, they've been on the border of the Quarter since 1939 and are open 24/7/366 to cover their bases for the leap year–observant. The place is known to serve up some of the best late-night grub in the city (half-pound burgers and bratwurst jambalaya, anyone?) and also hosts a swingin' jazz brunch every Sunday. The "back room" bar is home turf to a fantastic array of local live musicians all week long, and when the bands aren't rocking, the bar screens movies and hosts open mic nights. 1001 Esplanade Ave., New Orleans, LA 70116; 504-949-0038
Avenue Pub
Situated on a corner in the Garden District, this two-story drinking establishment boasts a truly massive, impressively curated international beer selection (aptly named the Big Beer List) as well as a library of whiskies in their upstairs bar. Grab a pint of pretty much any beer you can imagine, from the everyday domestic to the famously rare, hang out on the balcony and listen to the streetcars rumble by. This is a favorite spot for locals, so don't toss around any Mardi Gras beads (unless it is, in fact, Mardi Gras), but do chat up your neighbors at the bar and make a new friend or two. 1732 St. Charles Ave., New Orleans, LA 70130; 504-586-9243; theavenuepub.com
Kajun's Pub
Yearning for a place to flex those pipes? Look no further than Kajun's Pub, where a raucous crowd assembles for karaoke every evening at 5 p.m. This spot is a no-fuss, decidedly divey local joint in the trendy Bywater neighborhood. Craving a bite to eat after your Celine Dion rendition? Arabella Casa di Pasta right next door will deliver a sizable portion of creamy pecan pesto fettuccine (or anything else) directly to your barstool! 2256 St. Claude Ave., New Orleans, LA 70117; 504-947-3735
The Club/Ms. Mae's
All those in the know say you don't plan to go to Ms. Mae's, you just end up there. Maybe it's the call of those table games (everyone loves air hockey), or maybe it's the $1.50 longnecks. No one can be sure, but this place is a convenient, cheap watering hole for the local restaurant staff and musicians. It's situated directly across from Tipitina's, a famous live music venue, and many stop here to grab a cheap buzz before or after a show. You never know who you'll meet here, or when you might leave! 4336 Magazine St., New Orleans, LA 70115; 504-218-8035
Igor's Checkpoint Charlie
Dubbed Checkpoint Charlie for its situation between the French Quarter and the Marigny neighborhood, this bar is a one-stop shop like you've never seen. It's a combination no-cover live music venue, dive bar, pool hall, greasy spoon and laundromat (drunk laundry!). If you're still looking for more, sidle on up to one of the video poker games and see if you strike it rich. Definitely not for the faint of heart, this place is loud, smoky and more than a little dingy, but that's exactly how the regulars like it. The full bar is flowing with stiff drinks around the clock, and the bartenders will treat you right if you pay them respect and don't ask for something too fancy. 501 Esplanade Ave., New Orleans, LA 70116; 504-281-4847
Bourbon Pub/Parade
Looking for an all-night dance party with a side of ultra-glamorous drag show? Stop in to Bourbon Pub/Parade! As the flagship home of Southern Decadence — the largest gay pride event in New Orleans — there is no telling what you might witness within these walls, but rest assured, it's always a party. The bartenders are professional and amicable, but make sure you don't place your drink underfoot of one of the shirtless dancers strolling along the bartop. Although branded as a gay club, the space is inviting to everyone and is a great place to enjoy a laid-back and delightfully sexy good time. 801 Bourbon St., New Orleans, LA 70116; 504-529-2107