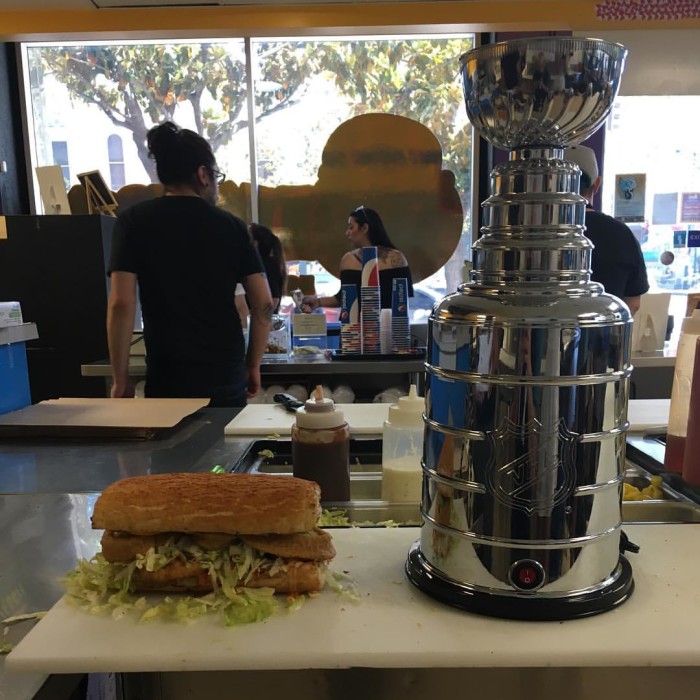 When his beloved hometown hockey team, the San Jose Sharks, fell behind two games to none in the Stanley Cup finals, Ike Shehadeh, operator of Bay Area sandwich chain Ike's Place, tried to rally the home team as only he could. He whipped up a special Stanley Cup–themed sandwich that poked fun at the Sharks' opponent, the Pittsburgh Penguins.

This new sammy, simply called the Shark, playfully features "fried penguin" (it's actually chicken) among other ingredients, including bacon, onion rings and "beard lettuce" — a humorous nod to the long-standing tradition of NHL players not shaving their faces during the playoffs, a practice most voluminously epitomized these days by the Sharks' own star defenseman Brent Burns. (Any real hair that winds up in the sandwich, we presume, is purely coincidental.)

After the sandwich's debut this weekend, San Jose went on to win Game 3, ensuring that the series will return to Pittsburgh for Game 5. Now, Shehadeh has issued a friendly challenge to Pittsburgh sandwich destination Primanti Bros.: Whichever team ultimately wins the Cup, the rival city's sandwich maker must put one of his counterpart's sandwiches on the menu. (No word yet on whether the Primanti crew will play along.)

A camera crew from NBC Sports dropped by Ike's Place to film a segment on the sandwich's construction. (See clip below.) Game 4 of the Stanley Cup finals takes place tonight in San Jose.
Looks like we have a #StanleyCup sandwich battle between @primantibros and @ikesplace! https://t.co/TgmtG1o0cK

— NBCSN (@NBCSN) June 6, 2016