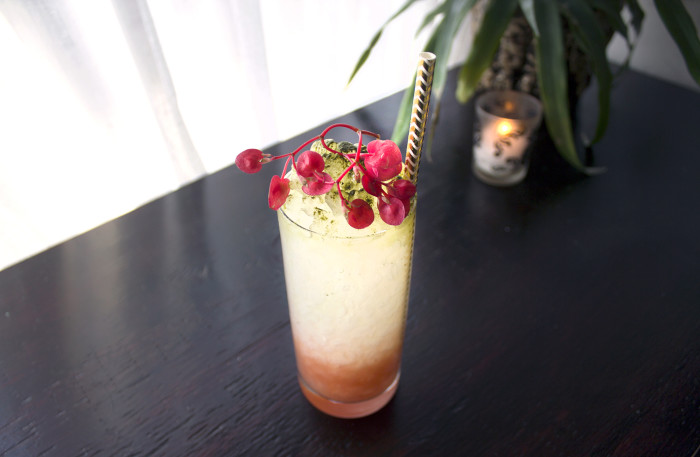 Few know the wonderful world of tiki drinks as well as Jane Danger, now beverage director at Mother of Pearl in NYC's East Village. These ornamented cocktails can take on many shapes and are often as intense to drink as they are to create. For some, ordering a spirited Zombie may be a onetime occurrence, which is why Mother of Pearl's menu — a postmodern Polynesian affair that's largely driven by Danger's own appetite for integrating obscure spirits, riffs on classic craft cocktails and a healthy dose of playfulness, such as edible garnishes — is a welcome blend of influence and invention.
For Danger's Spring Tea, a Japanese influence of matcha tea alongside rhubarb stands out as something new. "My first time visiting Japan was in the spring, so naturally I associate matcha Kit-Kats and spring," explains Danger. Rhubarb, which grew in her backyard when she was a child, is also a nostalgic and seasonal choice. The bar's house-made rhubarb puree, mixed with the Italian aperitif Aperol, also creates a layered hue at the bottom of the glass, which is then topped with crushed ice and neutral-toned gin and lemon.
Tart and refreshing, it's not a boozy sipper, and as the pebble ice melts, the Spring Tea follows an evolution from rhubarb to lemon to the earthiness of the tea. Danger adds that the sarsaparilla found in the Aviation gin "hits a high vanilla note when put with the Aperol and rhubarb." In the end, though it might represent a new lineage of tiki cocktails, it's that perfect balance of unexpectedly complementary flavors that makes this drink truly special.
Spring Tea
Servings: 1 cocktail
Ingredients
1¼ ounces Aviation gin
¾ ounce rhubarb puree*
¾ ounce fresh lemon juice
½ ounce Aperol
½ ounce cane syrup
*For the rhubarb puree:
Combine 1 pound rhubarb, 1 quart sugar and 1 quart water.
Cook for 15-20 minutes on medium and puree.
Fortify with Aperol and store for later use.
For cocktail assembly:
In a shaking tin, combine gin, lemon and cane syrup. Shake briefly with a small amount of crushed ice and set aside.
In a Collins glass, combine Aperol and rhubarb puree. Fill with crushed ice to the top of the glass.
Pour on reserved cocktail from tin. Top with more crushed ice. Dust liberally with matcha powder and garnish with apple blossoms.
Prep Time: 5 minutes
Difficulty: Moderate