Where To Eat Really Well In San Bernardino County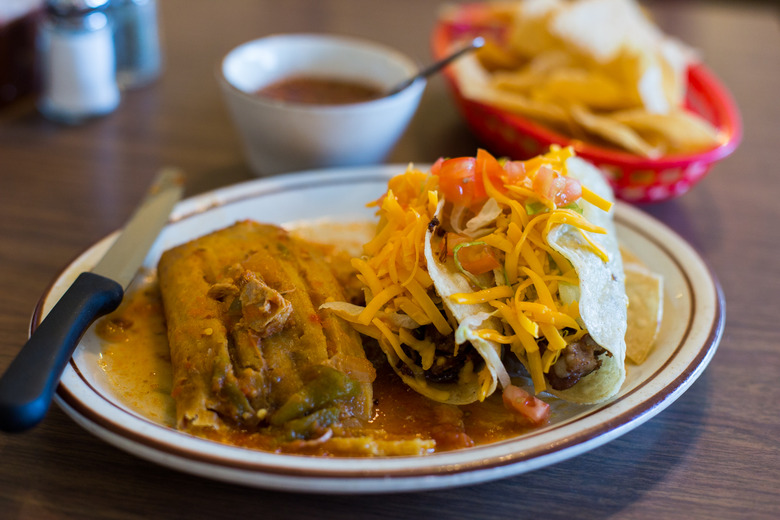 San Bernardino County, California, may be best known as "the place you have to go through on the way to Las Vegas." I've lived in Los Angeles for most of my life, and I have never thought of the Inland Empire as a food destination. It has great weekend getaways, like Joshua Tree, Palm Springs and Big Bear Lake. When my parents moved there in 2004 , I could already see gentrification slowly creeping inland. Like my parents, many people found San Bernardino County to be more affordable, and they brought businesses and chain stores. Now you can find boba tea shops, Chinese markets and fancy outdoor shopping areas. I'm thrilled to have a Chinese market within a 15-minute drive or a tiny farmers' market in a Hilton Hotel parking lot on Thursdays. Every time I'm home, I'm on the hunt for unique hidden gems. Here are five places in San Bernardino County where you'll eat spectacularly well.
Mitla Cafe
Just a block from the old Route 66 sits Mitla Cafe, a Mexican restaurant that opened in 1937 as a simple taco stand opened by a husband-and-wife team. It's now a full restaurant that includes a banquet hall and catering service, but it remains in the family. I'm not surprised many people in Southern California don't know about this place. It's a long drive into the city of San Bernardino, and if you're this far in you're probably on your way to Palm Springs. So why would anyone care to stop here?
I came here because of an article in 2012 by Gustavo Arellano of the OC Weekly. Legend has it that Taco Bell founder Glenn Bell tried to replicate Mitla Cafe's popular crispy tacos. Eventually he befriended the owners and asked for the recipe, and the rest is history. If you're a food lover, you should know about this little piece of history. Unlike the fast-food giant's version, Mitla Cafe's crispy tacos are fried to order: shredded beef topped with lettuce, tomatoes and that bright yellow shredded cheese. The tacos, hot and dripping with oil, are fresh and satisfying. Be sure to also order a side of pork tamale to mop up any fat from the tacos. Order a michelada and just let the day slip away. 602 N. Mt Vernon Ave., San Bernardino, CA 92411; 909-888-0460
Old Town Baking Company
We've been going to Old Town Baking Company for their addictive, freshly baked loaves of Gilroy garlic and jalapeño cheese bread ever since we moved here. Like many places in Southern California, this bakery is inside a mall, situated near a pet store, a pizza place and a laundromat. As you enter, you're hit with the smell of baked goods, and the open layout lets you peek inside the kitchen.
One day, after a year of not being back to visit my family, I decided to get a couple loaves of bread at the bakery. When I got there, I was surprised that they had started serving sandwiches. Really smart move! What's better than sandwiches on fresh bread? The choices are standard deli fare done very well. My go-to has always been roast beef, Swiss cheese, mayo, lettuce and tomato on their famous sourdough, but try the pastrami with cheddar, mayo, lettuce, and tomato on rye. 8631 Base Line Rd., Rancho Cucamonga, CA 91730; 909-945-0400
Old World Deli
You can't imagine how happy I was to discover that Old World Deli in Upland has broasted chicken. I didn't know broasted chicken existed until I heard about it from a friend while on a fried chicken crawl. Broasted chicken is cooked in a pressure fryer, a method invented by L.A.M. Phelan, who later founded the Broaster Company. My friend and I didn't have any luck finding broasted chicken in New York City, so for me to find it in Upland was surprising. The fried chicken is cooked to order, but the 15- to 20-minute wait is well worth it. Order a two- or three-piece meal, which comes with two giant potato wedges, a roll and a side. I love that chicken, not because it's served in an old-school red-and-white takeout box, but it kind of reminded me of childhood, when KFC was still Kentucky Fried Chicken.
Besides the chicken, Old World Deli makes great Italian food. The deli was opened by Bernardino D'Aquila, an Italian from Queens, New York, and is still run by the same family. Everything is homemade, and most of the recipes are from D'Aquila and his wife's family. Don't miss the Sicilian pie and meatballs. 281 S. Mountain Ave., Upland, CA 91786; 909-608-0418
The Deli
If you're driving down historic Route 66, you could easily miss the Deli and just notice the golden arches next door. But do turn around and eat at the Deli, an old-school joint with all the classics, like the Italian combo and pastrami dip (all in huge portions). The jackpot is the dollar hot dogs on Wednesdays, served all day: hot dogs, corn dogs, Chicago dogs, Tex-Mex dogs and chili dogs are all just a buck each. Order from the takeout window right by the outdoor dining area — it's Southern California, so 80 percent of the time the weather is nice enough to sit outside. And don't forget the curly fries. 9671 Foothill Blvd., Rancho Cucamonga, CA 91730; 909-989-8122
El Tarasco Meat Market
There are Taco Tuesdays, and then there are Taco Tuesdays where the tacos cost a mere 66 cents apiece. El Tarasco in Fontana is part grocery store, part butcher shop and part takeout restaurant. On non-Tuesdays, tacos are $1.49, and they serve the usual suspects, like chicken, carne asada and al pastor (plus more adventurous options, like tripa and buche). This is a no-thrills place. Don't expect freshly made tortillas, but do expect some solid cheap tacos topped generously with cilantro and onions (and don't miss the nachos!). 161 E. Foothill Blvd., Rancho Cucamonga, CA 91730; 909-608-1990