Threes Brewing Launches Grateful Dead Tribute Beer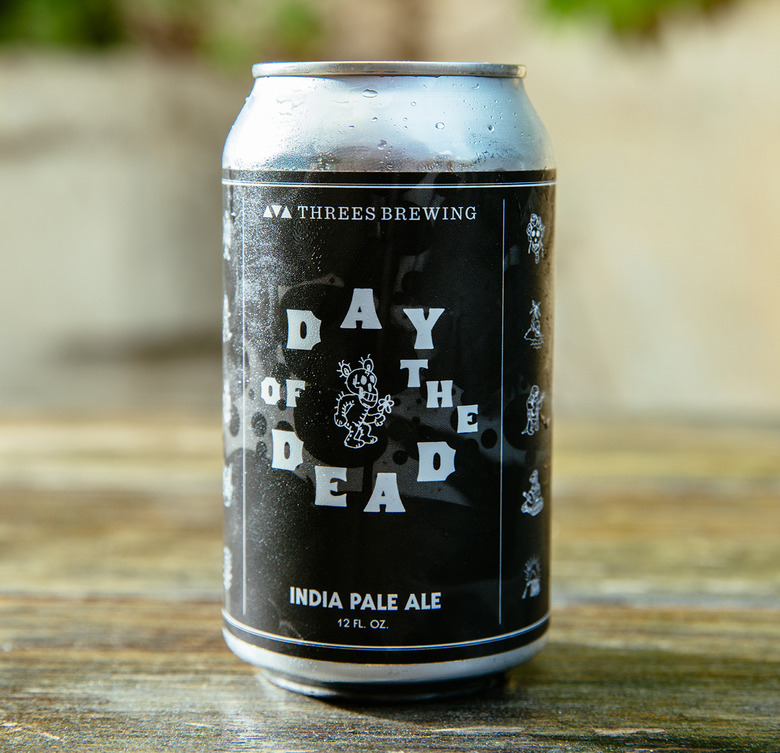 We may receive a commission on purchases made from links.
Record label 4AD released a 59-song Grateful Dead tribute album last week with covers by Mumford and Sons, Bon Iver, the War on Drugs, Flaming Lips, Lucinda Williams and dozens of others, curated and produced by Brooklyn indie rockers the National. Proceeds from album sales benefit the Red Hot Organization, a nonprofit that raises HIV/AIDS awareness through music and pop culture. But wait, it gets even better! Following in the proud, storied tradition of beer-meets-band collaborations, Park Slope's own Threes Brewing is currently canning its brand-new tribute brew (tribrewt?), set to launch tomorrow.
Clocking in at 6.9 percent ABV and featuring notes of pineapple and spruce tips, Day of the Dead IPA, Threes' first canned release, is a delicious homage. Brewery partners (and friends of the National) Josh Stylman and Justin Israelson couldn't be more excited to send this beer off into the world with these sentiments:
"We hope the Day of the Dead beer is worthy of its namesake. The process was collaborative and improvisational, and the result is a nuanced, juicy IPA meant to be enjoyed in good company."
Stylman (who saw the Grateful Dead live 25 times) adds, "I'm always skeptical of tribute albums, but this one was an exception. Somehow they stayed true to the spirit of the Grateful Dead while carving out an entirely new space. I'm hopeful that this record will be a huge generational bridge."
Threes isn't the first to honor the Grateful Dead with hops and malt, but hey, it's not a contest (and if it was, consider the fact that the National's bassist, Scott Devedorf, regularly DJs a "no-cover, good-vibes" Grateful Dead night at the brewery). In 2013, Dogfish Head launched its limited-edition American Beauty pale ale and invited fans to vote for the secret ingredient. It was granola, not weed, sorry — yay weed, though!
Buy the album for the Deadhead in your life, crack open a cold Day of the Dead and prepare for some jammy frolics. "The rendition of 'Mountains of the Moon' is wonderful and has reignited a love of that tune for me," says Stylman.
"Something like 'Playing in the Band' always hit a chord because of the collaborative message it sends. And it's so damn catchy," adds Israelson.