Everyone loves a secret. An unmarked door leading to a hidden clubhouse, for example — especially one where tequila and tacos are in high supply. Before you could walk through a pay phone in a hot-dog stand to get cocktails and every other bar called itself a speakeasy, La Esquina caught the imagination of in-the-know New Yorkers. The multifaceted Mexican spot, perched at the end of Kenmare Street in Nolita, houses an egalitarian eatery slinging tacos all day long, a corner café for friends and neighbors at night and an exclusive underground hot spot, where the drinks flow freely and the bold-faced names converge. And though fame is fleeting and New Yorkers are notorious for moving on to the next thing, La Esquina has somehow managed to maintain its draw for ten years. But how?
The gossip pages have assiduously documented the following La Esquina has built among the city's celebrities, but we were more interested to hear about the loyalty the restaurant has earned with its staff over the years, including some who have been there since the doors opened way back in 2006. That's rare in an industry where high turnover is commonplace. The key to La Esquina's success, according to owner Derek Sanders, is the diversity present in both its customers and its staff.
"For us, it's about all walks of life. We've never been specific about catering to a certain clientele. Like 'We only want this sort of people' or whatever. So I think that helped a lot in terms of who we are. I mean, really, we like everybody…and I think that's part of the fun with the staff. Part of the dynamic is that they all are very different also."
This staff, which includes a fashionista at the hostess stand and an undefeated Muay Thai fighter behind the bar, brings in the wild and the wonderful that make New York City so uniquely special. We recently sat down with some of the staff to hear stories about their time at La Esquina and about their lives outside of the restaurant.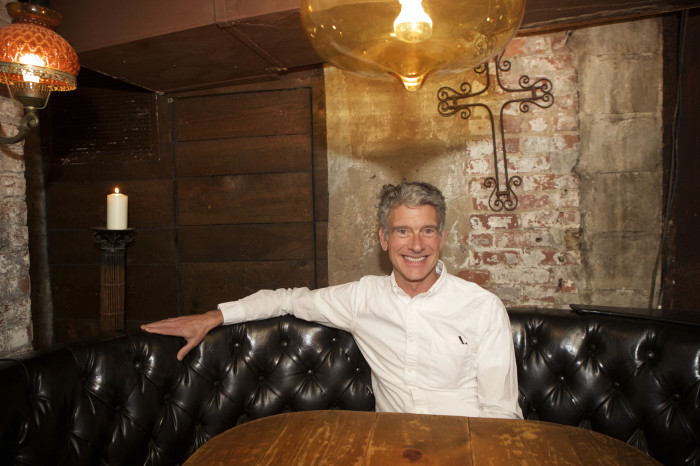 Derek Sanders

Owner
Before opening La Esquina,  Sanders was a full-time architect, having worked out of the same building that now houses the restaurant (he also currently lives in the building). Sanders contrasts his experience running La Esquina with his time as an architect: "I had an architecture practice for 20 years. In architecture, you touch people's lives in a certain way. You spend two years designing a fancy, three-story apartment for someone and then a family of four lives in it. Hmm, I guess that's kind of cool. But with this [a restaurant], there's the idea of creating something that is kind of part of the fabric of New York City and 1,000 people a day come. We'll have 1,000 points of sale on any given day. That is compelling to me. That is meaningful to me."
He found the spark for what La Esquina has become on a trip to Mexico City 11 years ago. "Our inspiration was based on the idea of the classic Mexico City fondas. Those are family-owned, warm, cozy places, where you can get an inexpensive meal, but with dignity…and there are some things like the care in the food, the attention in the food, the affection in the food — it was really what made a good fonda. So those really became the elements of inspiration for this. For example, you go into a fonda and all the guests greet each other. And so we created this place where you're greeted by the door person, you're greeted at the hostess stand, you're greeted when you walk through the kitchen, and again, it's to instill that sense of family and that sense of warmth. And that's also what's sort of fun about this piece — it's those qualities that really make La Esquina."
Asked how the restaurant has managed to hold on to the aura of exclusivity that has kept guests pleading for reservations months in advance, he maintains that this was never the intent. "It was organic in some ways because I think it has to do with the physical space. It's the idea that we thought about a place where you go through the taqueria, down the stairs and through the kitchen. Then when you arrive down here, it's windowless, it has a beautiful, sexy vibe, and it becomes transporting. And that, along with the fact that the staff has been amazing — they don't talk about who eats here or doesn't eat here — there's a level of privacy, just a comfortable place."
And that friendliness has been key to the restaurant's success, Sanders says: "You think sometimes when something is exclusive, there's an attitude or a pretense, but there's really not. It's exclusive in that we're only so big and only so many people can come in a day. But once you come in and once you're downstairs, it's really a warm and friendly environment. And nowadays, the atmosphere, the food and the service all have to be synchronized and on point."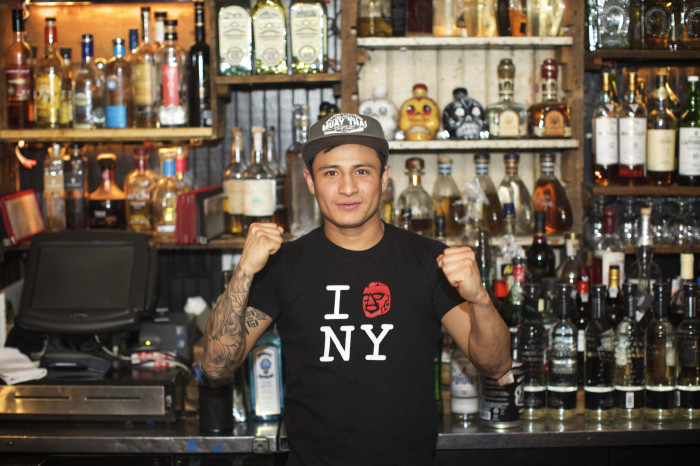 Juan Cortez

Barback
Sanders remembers that when Juan Cortez joined his brother Pedro in working at La Esquina seven years ago, "Juan was the wilder one." Then Juan began training in Muay Thai, an up-and-coming form of kickboxing. Now he's "running around with a backpack full of water at seven in the morning…. Juan's training, he's very focused, and he works that way."
Cortez, who started out bussing and now works as a barback, learned Muay Thai from a bartender who used to work at the restaurant. "He invited me to his class. I used to play soccer, so I said, 'Of course.' I went and trained for one day, and I liked it. And I started training, training, training. Now it's almost six years that I've been fighting."
These days, he's fighting regularly. "I fight every two months for Friday Night Fights. Last time I won by knockout [at Madison Square Garden]," Cortez says. "I haven't lost yet. I've had five fights and won three by KO. I just won in February by KO."
To stay undefeated, he keeps up a strict regimen, with training sessions "every day, Monday through Saturday. I work four days here, from 4 p.m. to 2 a.m. I train at different times, depending on when I'm working. I found a balance and figured it out. In the beginning, it was kind of harder for me. But when you do these things for one year, two years, your body gets used to it."
When he has a fight, Cortez says, "I have to stop parties and going out. About seven, almost eight weeks before a fight, I have to stop parties — no parties, no alcohol. Then the intense training starts about six weeks out."
Cortez gets a lot of support from his coworkers, whom he calls "big, big fans." They come out to every fight to cheer him on.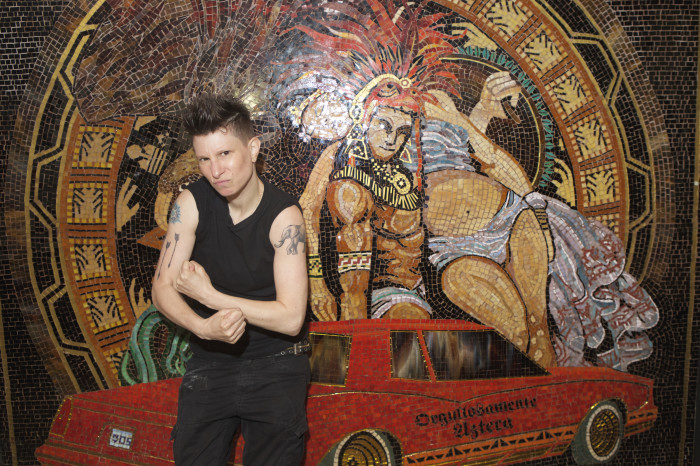 Michele Brilliant

Head Waitress
Talk to Brilliant for more than a minute and you'll wonder where that huge personality could possibly fit in her small frame. The comedic actress does standup and sketch comedy when she's not waiting tables, and her big project is the pilot she's been working on for seven years. "It's called My Brother Nancy and it's basically a modern-day Laverne & Shirley. It's basically about this unlikely friendship between a character like myself — androgynous and working in a hip and trendy Mexican restaurant waiting for her big break — and Samantha Wheeler, who's this hot juice entrepreneur, riddled with all these bad habits. It's about how in life we try to be something that we're not in order to find out who we really are."
The show, a vehicle for Brilliant's comedy that's based, in part, on her experiences at La Esquina, picked up its producer right there in the restaurant. "It's all because of Matt Damon — I have got William Morris behind us. Matt Damon is my producer, through Pearl Street Films. I waited on Matt and his hot wife, and I told him that he looked like one of my ex-girlfriends, and he fell in love. He's great, he's down-to-earth, he's East Coast, and I just thought he was someone I should get my show to. I waited on him and basically pitched him. And then I said, 'Listen, I know you're gonna love it, and if not, I'm going to kill you and take your wife and children for my own. So, it's a win-win situation for me.'"
It may have provided her big break, but Brilliant isn't convinced she'd want to leave her job, even if her pilot gets picked up. "[I plan] to put a leave of absence in here for just a short time. I wouldn't want to quit and come back. I feel like because of this place, I created something and I don't necessarily want to just leave. I hate saying that. I don't ever want to just quit," she says. "It's exciting to be here because I get to be who I am. And I am accepted for my personality, for my craziness, for my edgy sense of humor, for how I look, you know? I love it here. I wouldn't want to work anywhere else."
Given all the material she has gotten out of her time at La Esquina, it's understandable why she'd hesitate to walk away. Like all the staff we speak with, she's hesitant to name-drop A-list regulars or detail any specific wild nights. But she does let loose a bit: "People get crazy on tequila, honey. Let me tell you. They go crazy. I always find that — I don't know if it's this place or if it's all restaurants — people like to really drink, and then they want to dance. And that's not always the most attractive thing. Especially when they have no rhythm, and then you're like, 'Oh, you might want to stop?' and then when they fall and you're like, 'Hmm. Baby, you don't need another margarita. I know we make good margaritas, but you might want to slow it down.'"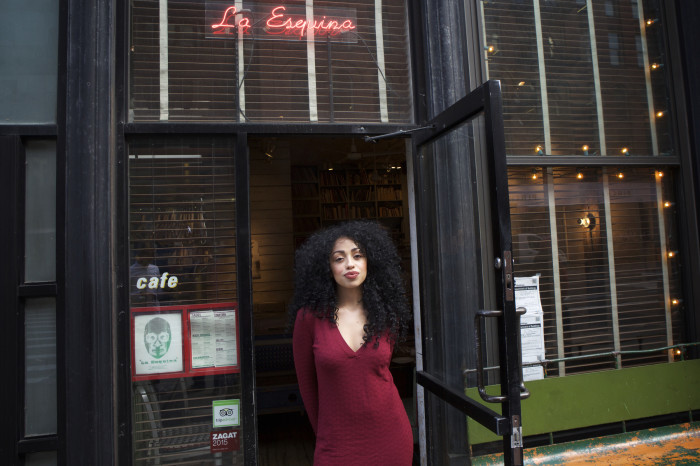 Tess Pargas

Hostess
A more recent addition to the family, Pargas is the fashion-forward face of La Esquina. Slim and stylish with a shock of curls crowning her head, she holds your attention while showing you to your seat. When the glamorous hostess isn't seating guests or managing the dining room, she is making her way as an aspiring wardrobe stylist and strategizing on how to become the next #GirlBoss: "On days off, I'm blogging. I would say I'm a fashion enthusiast. I've done freelance styling for major models on their test shoots, and right now I'm working on building my portfolio so I can get more paid gigs and be more on the editorial side of fashion. I've done test shoots for developing models that are becoming big — we help build their portfolio."
While on the clock, she takes in the different styles and fashions that guests bring to the table: "You see people from all walks of life here — corporate people, big fashion gurus, people who dress the celebrities, and then you have these Village, culturally liberal people who dress very unorthodoxly, wearing things that you wouldn't necessarily see on people every day. And you get to see all these people in the same room."
Like Cortez and Brilliant, Pargas has her eyes on the prize in her other profession, working brands' hunger for social-media influencers to her advantage: "People are reaching out for me to be a brand ambassador for them, but I only promote things and I only try things that I would use. I can't just take this product and say that it works great if it doesn't fit who I am," she explains. "I want to build my following and then through there I'll be able to start branding and creating. My thing is that I want to create my own small boutique and online boutique. Have you ever heard of Sophia Amoroso, the girl of #GirlBoss? I want to be like her [laughs]. She started off selling vintage clothing, and it became a lifestyle. Her stuff is dressy and young but still affordable. But she also has vintage high-fashion pieces from Chanel or Moschino, pieces that people haven't seen before. She's somebody I aspire to be like."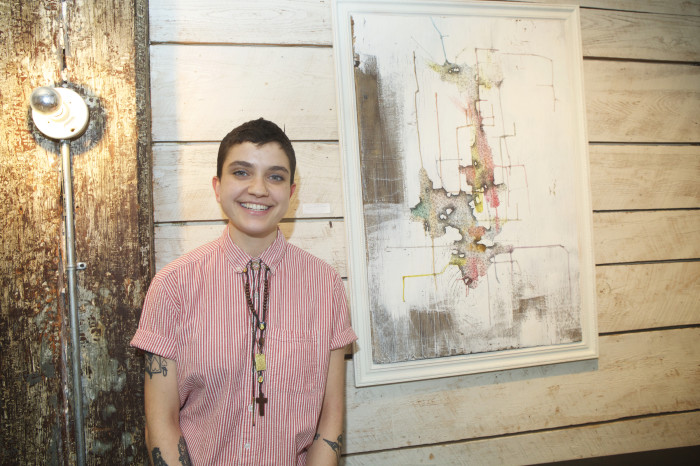 Christine Jaeger

Graphic Artist
"I kind of grew up here," says Jaeger, whose art currently graces the walls of the café. She's been working at the restaurant off and on for eight years, having started off in coat check and cycling through hosting, working the service bar, waitressing, and bartending.
Now, Jaeger designs all the content for social media. "Basically, Derek and I will talk about what he wants to notice in the culture around the neighborhood and how we can reflect it in the visuals," she explains. "I really like how his brain works. He's brilliant. He'll just tell me about his favorite architects or something like that, and I'll look them up and just sort of give him visual vomit all the time — I'll go to different locations and shoot stuff."
A trained graphic designer and artist, Christine juggles working at La Esquina with her day job as an art handler: "It's like the best job ever. I get to pick up paintings and sculptures from Christie's and wrap them up. I've seen some Murakamis and Warhols and stuff like that. I'm focusing mainly on packing. I get to actually touch it. It's like beyond being starstruck by an actual human in front of you when you see something that you grew learning and seeing in history books."
For her own art, Jaeger is always looking for more influences. Her current show in the café, "Do This in Remembrance of Me," seeks to fit into the theme of the restaurant and her own personal history. "I wanted to make it so it fits into the space, so I looked at Mexican culture, and my mom is Puerto Rican, so I did this blend of cultures."
She credits her time at La Esquina with helping her grow as an artist. "I want to keep working with Derek. He's so much fun, and I learn so much about how to see people and spaces, just in terms of content and photography and things like that. Just the way he pushes the idea of what represents a restaurant in so many different ways. So I just hope to continue working with him and continue to make more work."
La Esquina
114 Kenmare St.
New York, NY 10012
esquinanyc.com
Interviews conducted by George Embiricos