Chan Yan Tak, executive chef at the Four Seasons Hong Kong's Cantonese jewel, Lung King Heen, wants to show me his music collection. I'm sitting across from Chan at a white tablecloth table in Lung King Heen's sumptuous but empty dining room — Monday's lunch service won't start for another three hours — and instead of explaining the backstory behind his famous baked barbecued pork buns, Chan is busy scrolling through tunes on his cell phone, pointing out Elvis Presley's "Are You Lonesome Tonight?" and Simon and Garfunkel's "Bridge Over Troubled Water."
"English learned from music," he says in heavily accented Cantonese. "And I like American movies." Suddenly, Chan's cell phone buzzes with an incoming call. The theme from The Godfather, tinny in ringtone form, fills the room.
Chan is not exactly what I expected when I originally arranged to spend the morning in Lung King Heen's kitchen, an attempt to learn more about the man behind the first Cantonese restaurant ever to snag three Michelin stars. The West's prevailing narrative of the volatile, foulmouthed chef seemed entirely at odds with Chan, with his broad smiling face and tempered speech. Perhaps the chaos is hidden beneath the surface, I think to myself.
The kitchen at Lung King Heen is not really one kitchen but three. The pristine main cooking space upstairs handles dim sum, churning out some 5,000 intricately pleated parcels a week, plus à la carte items, from braised whole abalone dressed in pungent oyster sauce to butter-simmered king prawns. Downstairs is the stiflingly hot barbecue kitchen, with its gleaming stainless steel roasting equipment and gargantuan fans on full blast, which transforms about 50 suckling pigs and 70 Peking ducks into glorious, red-lacquered beauties each week. The nearby banquet kitchen handles all corporate and wedding events in the hotel's several massive ballrooms, which can accommodate up to 600 hungry guests at cocktail hour.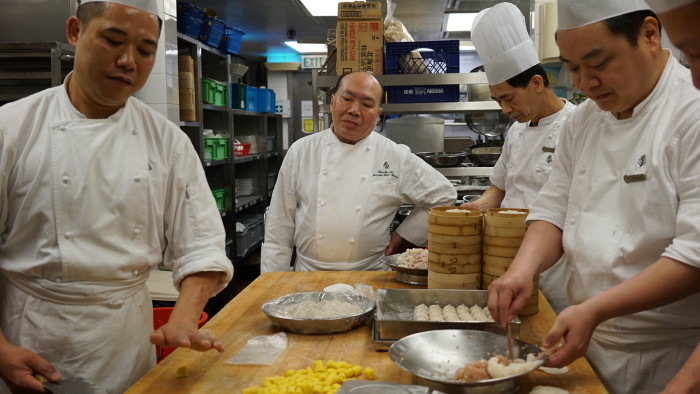 When we visit, Chan gazes intently at the fast-moving hands of his underlings as they tuck pork stuffing inside dumpling dough, pleat, and repeat. The workers don't skip a beat. Many of them have worked under Chan for years — some for as many as three decades — and intimidation seems beside the point. In the elevator, heading to the barbecue kitchen, we cross paths with a sous chef ferrying gasping fish from the restaurant's private aquariums downstairs to the main kitchen above. He convivially addresses Chan as "Tak-gohr," which roughly translates to "older brother."
Then there was the award incident. When Chan was recently bestowed with a prestigious honor (Lung King Heen's PR rep declined to identify it by name), he insisted upon securing a ticket for his longtime sous chef, Ling Yung Cheong, despite the ceremony's strict one-ticket-per-chef rule. Chan was aghast at the restriction. Accepting the award solo, he felt, was a direct insult to the hardworking members of his kitchen staff. He couldn't do it.
"There is no direct translation of the close-knitted relationship between chef Chan and chef Cheong," Lung King Heen's reps pleaded in an email to the organizer. "Both chefs work together side by side and the success of Lung King Heen is dependent on them." In the end, the organization made a special exception and granted tickets to both Chan and Cheong, who accepted the award jointly.
Born in the chaotic, bustling neighborhood of Mong Kok, Chan first began working in a now-defunct neighborhood restaurant, Dai Sam Yuen, at age 13 or 14 — he can't remember exactly. But he's certain the choice was one of necessity: Chan's family was desperately poor after the early death of his mother, and the restaurant provided free accommodations in return for 14-hour days as a "helper," which meant anything from washing vegetables to plucking chickens. Despite the role food would later play in his life, Chan found little pleasure in the work. "No matter of enjoyment," he said matter of factly.
Still, Chan remained in the kitchen, working his way up through several lauded Hong Kong establishments. By 1984, he was the sous chef for the now-shuttered Lai Ching Heen at the former Regent Hotel, which at the time was one of the hottest restaurants in Hong Kong. Chan stayed there for nearly 15 years, creating many of the hotel's signature dishes, until the devastating death of his wife shook his world. With a 12-year-old daughter at home, Chan made the difficult decision to pack up his knives and take care of his family.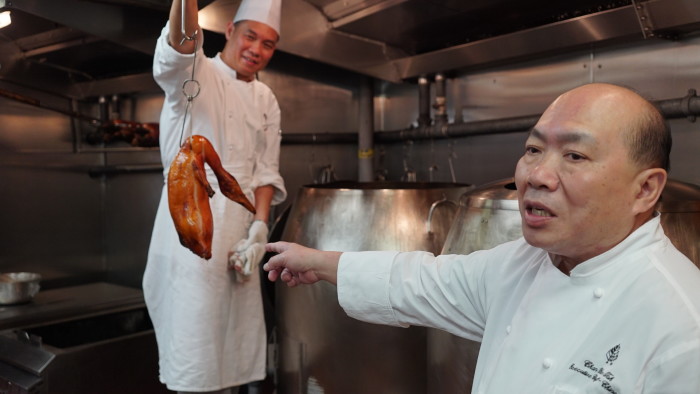 It would be four years until Chan, bored at home, was lured out of retirement to open Lung King Heen in 2002 and step into the limelight as executive chef. "I don't like to retire because I'm afraid I might become a couch potato and sit in front of the television all day and lose motivation for my life," Chan tells me through an interpreter. "Plus I like being around people."
That much is clear as I watch Chan glide through his kitchen, past white-smocked chefs monitoring steam-spewing bamboo baskets and a line of hissing wok stations. He's rarely anywhere but here — it was a challenge to arrange even my brief time with him — and Chan hardly dines on Cantonese fare anywhere but Lung King Heen, save for the odd meal in his own home. But that decision is motivated by more than just Chan's busy schedule.
"I don't want to copy, or have other people's dishes in my head," Chan says through the translator. If that seems a tad paranoid, consider that versions of Chan's dishes have for years mysteriously popped up on the menus of competing Cantonese restaurants. Among them are Chan's now-famous baked barbecued pork bun, which is essentially a cross between the traditional Hong Kong variety, with its sticky-sweet char siu filling, and the city's famous pineapple bun, which sports a golden topping of flaky dough resembling the skin of a pineapple. Chan's version is also sprinkled with pine nuts, an unlikely ingredient, for added richness. There's also his silken black truffle-stuffed soup dumpling served in a miniature bamboo basket, and handheld puff pastry beds conveying tender slivers of abalone and diced chicken.
"They're copied around town," Chan says via translator. "Other restaurateurs come here, but I never go to other restaurants to taste." However, Chan admits to visiting plenty of Hong Kong's Western restaurants, which have inspired the inclusion of ingredients like foie gras and black truffles on Lung King Heen's menu.
Chan wastes little time worrying about copycats. "Of course, I'm flattered. But people won't be able to copy something 100 percent because of the ingredients — they're all different," he tells me. In fact, Chan says, he's proud of former employees like Mak Kwai Pui, who now helms his own dim sum empire. The Michelin-starred budget chain Tim Ho Wan boasts locations across the world, with the first U.S. location in New York City location coming this September. "Chef Mak worked here for three years, [but he] makes his own creations and inventions," Chan points out.
And with that, my time with Chan is up. He's needed back in the kitchen to prep for the fast-nearing lunch service, which means overseeing his 25 employees and the creation of 10 different types of dim sum; more than 600 individual pieces will be served by 2:30 p.m.
Before leaving, though, he wants to show me one thing: The rest of his favorite Western bands. With clear enthusiasm, he scrolls through his phone: ABBA. Tom Jones. The Bee Gees. "Very good!" he says. We both laugh, and then he's gone.
Lung King Heen, Four Seasons Hotel Hong Kong, 8 Finance Street, Central, Hong Kong; +852-3196-8880