Alberto Alessi Talks 3-D Printing, Solar Ovens, Poetry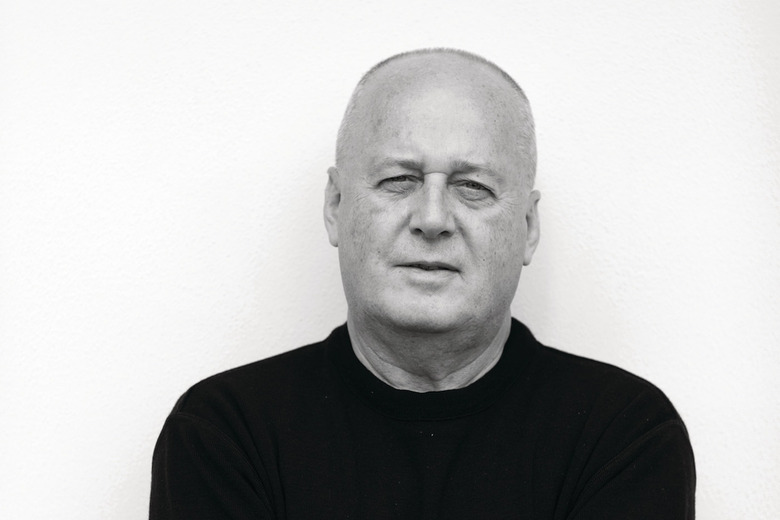 The private dining room at Del Posto is like a womb, an opulent mahogany-clad enclave neatly removed from the noise of the main floor. One wall peers in on the restaurant's spectacular wine cellar, the wall of bottle punts framed by the room's layered dark wood. The sideboards are adorned with silver ice buckets with chilled bottles of Bollinger and mineral water. The table is dressed with crystal stemware, porcelain dishes and freshly polished silverware all corresponding to a tasting menu. A fleet of servers stand by, ready to cater to the room's every need and ensuring a flawlessly orchestrated service.
It makes perfect sense that this is where Alberto Alessi hosts lunch. Alessi, the pioneering Italian design house, is known for obsessive attention to finish and detail. It's also known for its "gastronomic interest," according to Alessi himself. Since the early 1970s, the company has been collaborating with world-class chefs to create inventive and function-driven product lines. "Alessi is truly the forerunner in the way we've worked with great chefs to fine-tune the development of our cooking utensils. In our case, it was a true collaboration — it has never been just sticking a label with a famous cook's name on a pot," Alessi explains.
Since its inception in 1921, the brand has bridged the gap between design innovation and the demands of the market. By focusing on everyday products such as tableware and cooking accessories, Alessi, perhaps more effectively than any competitor, has established a reputation for elevating seemingly commonplace tools to the upper strata of international design excellence. It has achieved this by relentlessly prioritizing design and strategically partnering with international industrial designers and architects. They listen to the market and heed the aspirations of their customers, spending significant resources on in-house research and development. But they've also been able to remain at the forefront of their industry by mastering fabrication methods for mass production without sacrificing handmade craftsmanship. Even today, every single Alessi product is finished by hand. Products move from commercial lathes and industrial molds to the nimble hands of Alessi fabricators for finishing touches.
Their first chef collaborations launched in 1986 with the Cintura de Orione range. Each piece was helmed by a different chef based on their expertise — for example, the fish poacher was from Cote d'Azur chef Roger Verge.
Not all endeavors were successful, however. In 2007, Alessi made a bold move when the company partnered with French chef Alain Ducasse to improve upon the icon of the Italian kitchen: the pasta pot. The design borrowed from rice-cooking techniques where liquid isn't actually drained from the starch but instead absorbed by it. The noodles cooked in their sauce from start to finish, making for an edited one-pot approach.
The result was a deeply flavored pasta; however, the design was such an affront to Italian customs that it was ultimately a financial flop. "It was too untraditional for the Italian mentality," Alessi deadpans. Yet he stands behind the product, citing its clever cooking method and subtle design choices, including a built-in spoon rest and lower profile shape to expedite cooking and intensify flavor.
After a four-course amuse bouche, the first full course is served. Both Alessi and Paolo Cravedi, Alessi's North American managing director, carefully pick up their bowls and tilt their heads to see the brand underneath. Sure enough: Alessi. Perhaps it was Mark Ladner playing to his guests, or perhaps it was evidence of how the brand's caliber of excellence resonates with its customers. Whether it's a simple serving dish or a showstopping braiser, nothing is judged too small or too insignificant for full attention to be paid. Even a minor accessory like a sugar bowl commands the same specificity of design and superior level of execution as an expensive cooking pot or utensil. For Alessi, consumers deserve the best possible, without exception.
I venture a question: "The cultural landscape is shifting dramatically. Retail is in crisis. How does Alessi reconcile art and industry in the age of millennials?" Alessi pauses, and I can see that both he and Cravedi have ruminated on this issue at length. "[3-D printing] technology is very interesting to us, but the problem again is the end process," he says. How can Alessi guarantee the level of detail and sophistication the brand is known for when the new, cutting-edge production methods are still in their infancy or completely beyond their control, as in the case of consumer-owned 3-D printers? "If you have a pen, it is not given that you are a writer," explains Carlo Gasparini, Alessi's nephew who represents Alessi's next generation of creative leadership. Under this metaphor, the company could certainly qualify as a writer, but now it must learn how to use a new kind of pen.
"I am also very interested in solar cooking. Have you heard of this?" asks Alessi. He goes on to describe his recent fascination with outdoor cooking methods that harness natural resources like the sun instead of fuel or electricity. He's developing a new ritual, cooking chicken with his solar oven while enjoying a leisurely walk through the Northern Italian countryside. "It gives you the sense you are dominating the universe, when really it is the other way around."
By the time the main course arrives, we've progressed from aperitifs and champagne through chardonnay and onto a surprisingly light Montepulciano. The main course is served, or rather, wheeled out to the table. There is a whole black sea bass, cooked in that classic Alessi fish poacher from the first chef series. It is fragrant, herbaceous and visually stunning.
"It is poetry to capture something we don't understand," notes Alessi. The company's mission statement may read "design factory," but in actuality, it is a dream factory. Always pushing the limits of design and function, Alessi and Cravedi seem more concerned with aspirational design and the next boundary they will break through, and how to make those bold achievements accessible to the market. Not just dreams, but dreams brought to life.
I doubt liquid plastics will replace Alessi's signature 18/10 polished stainless steel, but it will be interesting to watch how the brand, as a forerunner of international design innovation, reconciles genre-bending production methods of the future with its rich legacy of handmade craftsmanship. Maybe the market will see an Alessi-branded solar oven? Or maybe 3-D printing will deliver ethereal wine racks not achievable on a traditional lathe? Despite the challenges, like all great dreamers and creators, Alessi and his team relish the unknown and are trailblazing a new path forward. More than likely, the solution will be found during one of Alessi's long walks while he patiently waits for his solar chicken to finish cooking.
Alberto Alessi's Solar Chicken Recipe
Equipment
One solar oven
Ingredients
1 whole chicken
3 teaspoons of salt
Assorted vegetables (optional)
Directions
Prepare solar oven.
Thoroughly season chicken with salt. If using, stuff cavity with vegetables such as onion and other aromatics.
Place on solar oven. Cook 3-4 hours. Take a leisurely walk.
Serve (and use the leftovers to make chicken salad).