Genoa is the capital of Liguria and Italy's sixth-largest city. It's a booming port and its former position as Europe's banking capital in the Middle Ages means that it's full of huge palaces and grand churches. For the food lover, the warren of narrow streets in the medieval old town is full of surprises, whether in the form of tiny trattorias or artisanal food stores. It's easy to get lost, so a visit to the Mercato Orientale (Eastern Market) should be the first step to discovering Genoa's riches.
Of course, Genoa is linked inextricably with pesto — perhaps because the finest basil is grown here, on the fields of Pra by the sea in the western part of the city. Locals claim that the plants thrive because the soil contains the bones of Napoleon's horses, buried here after his trip over the Alps. Equally important is the climate and the fact that the basil is picked before the leaves get too large.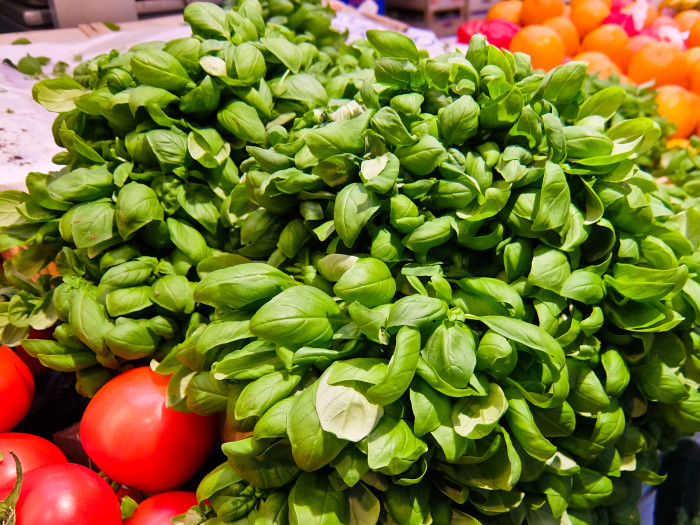 In the market you'll find all you need to make pesto — bunches of fresh basil, pine nuts, strings of garlic, cheese and extra-virgin Ligurian olive oil. There's no need to do it yourself, however, as it's still made fresh every day and stallholders are all too happy to give you a taste. Indeed, scattered throughout the city are a number of artisan producers doing the same thing with bread, pasta and ice cream, all made on the premises in their back rooms and well worth a visit.
Focaccia
Sapori di Genova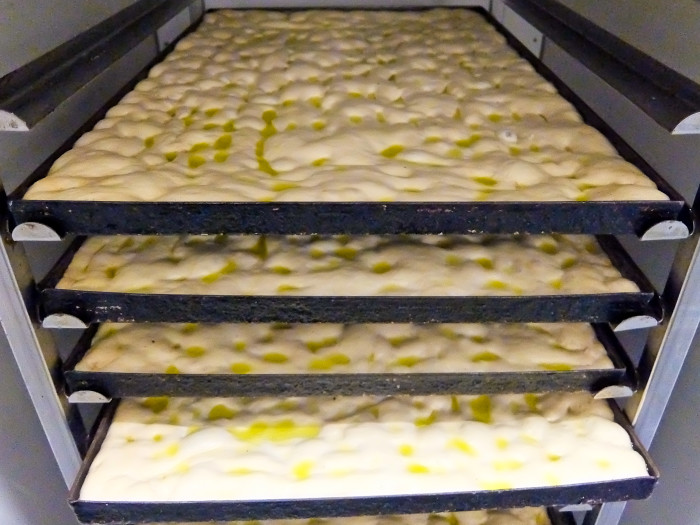 Orazio Saitta is originally from Sicily but somehow manages to bake some of the best focaccia in the city. Genoese have pieces of it for breakfast, lunch and dinner, so his ovens are constantly in operation. Although it takes only around 15 minutes to bake, it's the preparation that takes the time. He mixes "tipo 00" flour, salt, yeast, olive oil and water into dough and leaves it to rise for four hours. Then it's kneaded again and put in the fridge for five hours. He takes it out, rolls it into flat circular sheets, poking dimples in the surface with his fingers and dusting with olive oil and salt to stop it from getting too dry. It's left to rise for a further three hours. Finally, it's placed in a hot oven at 440°F, turned once and eaten warm.
In Liguria, focaccia is also made with a number of toppings, including onion and sage; cheese, olives and oregano; and zucchini, onions and oregano. But my favorite is called San Fruttuoso — anchovies, fresh tomato and olives. Something similar is farinata, a poor man's focaccia and apparently an invention of Roman troops when they occupied Genoa. Flour was in short supply, so they made a kind of batter with ground chickpeas, water, olive oil and salt and baked it in a hot pizza oven on a flat copper platter. They're still doing this today, and slices of the thin, crispy pancake, just out of the oven, make the perfect Ligurian snack. Via Fiume, 12, 16121 Genoa, Italy; saporidigenova.it
Pasta
Pasta Fresca Fabio e Alessia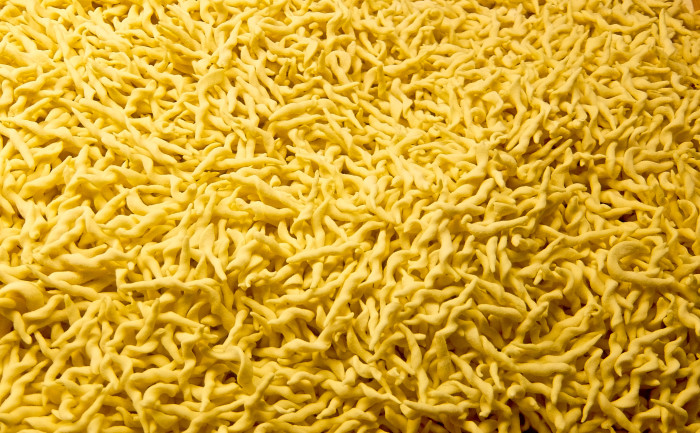 In this store, in the heart of the old town, the Carnivale family has been making fresh pasta daily for the last 40 years. Mom and Dad started the business, and now their children, Fabio and Alessia, carry on the tradition. They make typical Genoese pasta, including pansotti, which is similar to ravioli but is stuffed with ricotta and greens and usually served with walnut sauce. There's also croxetti, a flat coin-shaped pasta that is stamped with intricate patterns and designed for a meat-and-mushroom sauce. Perhaps the archetypal Ligurian pasta is trofie, small spiraled-worm shapes, made without eggs; its thin twists are designed to hold the perfect amount of pesto.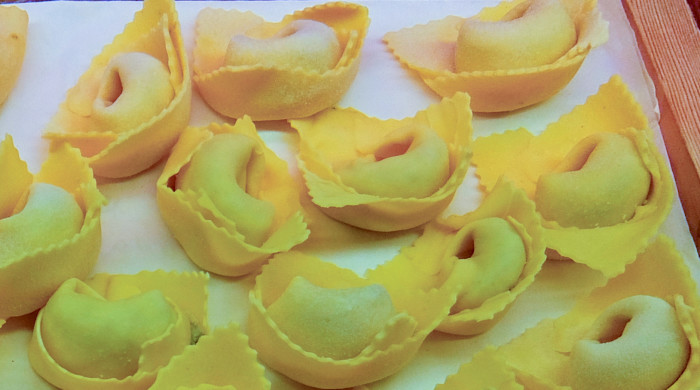 Production starts at 6:30 a.m., and the first pasta is ready when the shop opens an hour later. The real magic is the machinery, designed by Fabio's father, which not only rolls out the pasta sheets but also stamps out ravioli, already stuffed with filling. Peak time is around 11:30, when customers are coming in to buy their lunch, and the family obligingly sells their own sauces, also made fresh. In case you're wondering what they do with any leftover pasta — given they're selling the fresh variety — they tell me it will keep for up to four days, though it's something that rarely happens. 79/R, Via Di Canneto Il Lungo, 16123 Genoa, Italy
Gelato
Gelateria Capriccio

A five-minute walk away, on the edge of the old town, is an ice cream parlor that's been run by husband and wife Alberto and Germana Monfrini for 25 years. Everything is made in their back kitchen, and they only use natural ingredients for their semifreddos, gelatos, granitas and sorbets.
Italian ice cream, or gelato, dates back to the 16th century, when Bernardo Buontalenti, a native of Florence, delighted the court of Caterina de' Medici with his invention. It was a Sicilian, Francesco Procopio dei Coltelli, who introduced it to the rest of Europe at the Café Procope in Paris when it opened in 1686. Subsequent Italian emigration has made it available to the rest of the world.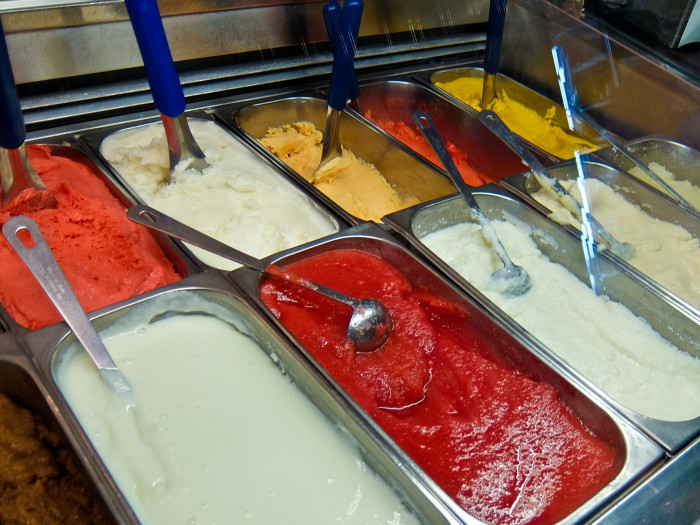 Sorbets have been made in Genoa since the 17th century, but the heyday of the gelateria (ice cream parlor) was at the beginning of the 20th century, when excess milk from the region's many cows was transformed into ice cream. In Italian, "gelato" literally translates to "frozen," and it contains much less air than typical American ice cream, as the churning process is slower. It's also healthier, as it's only made from natural ingredients and contains fewer calories. Milk, rather than cream, is the main ingredient, and there are no eggs used.
These days, there are only a handful of artisanal ice cream shops left in Genoa, but Alberto Monfrini is confident he'll continue. I watch him as he works. First, he mixes the ingredients — just sugar, milk, cream and carob flour — to thicken it. Next, the mixture is pasteurized by heating it to 185°F for three minutes. He lets it cool and stand for two hours before adding the flavorings, usually fresh fruit. Finally, he puts it in his small machine and, marvelously, the gelato is ready in 12 minutes.
Gelato is always served at slightly warmer temperatures than ice cream, which makes the texture softer and silkier. Exotic flavorings here include Friar's Cream, flavored with Vin Santo and cantucci, and Baroness of Carini, with courgette flowers, avocado and pistachio. His latest variety is what he calls Jim Morrison, which includes ground hemp seeds — not quite marijuana, though the plant does belong to the same species. I stick to a Pinguino, an ice cream cone dipped into hot chocolate sauce, which hardens to form the perfect casing. 29 Via di Porta Soprana, 16123 Genoa, Italy
Restaurants
Many restaurants serve their own homemade pasta, but it's always worth asking if it's fresh.
Friggitoria Carega is located under the arcades on the seafront and hasn't changed its decor since 1942. You'll get authentic Ligurian street food here, including farinata and fried catch of the day. 113 Via di Sottoripa, 16124 Genoa, Italy
Trattoria Dell'Acciughetta is an authentic trattoria with a modern twist — try their risotto with raw oysters. Piazza Sant'Elena, 16126 Genoa, Italy; acciughetta.it
Soul Kitchen has a limited menu, but — unusual for Italy — there is a choice of meat or vegetarian and vegan options. Piazza dell'Agnello, 41r, 16124 Genoa, Italy; soulkitchengenova.it
Trattoria da Mario is a no-frills working man's café with excellent pasta and fish. Two courses and a couple of glasses of wine will cost around $10. Salita S. Paolo, 28, 16100 Genoa, Italy; trattoriadamariogenova.com
Hotels
Le Nuvole Hotel is a converted palace and makes for a stylish base in the old town. Piazza delle Vigne, 6, 16123 Genoa, Italy; hotellenuvole.it
For more information:
Turismo Liguria has information about the region.