In Hungry Concierge, we travel the world to spot hotels that operate with their guests' food and drink needs squarely in mind — hotels, both big and small, that are located in neighborhoods rich with bar and restaurant options. Because there's nothing worse than having your trip derailed by crummy room service.
Located just a few blocks from the peaceful Burlington waterfront, the boutique property Hotel Vermont opened a few years ago and offers an ideal location for devouring and drinking your way through the town. After a day of hiking or skiing, you will appreciate staying here — and not only due to the proximity to beautiful Lake Champlain, the friendly staff, the contemporary design, or the insanely cozy flannel bathrobe in your room. (Side note: Flannel is an absolute must for Burlington; everybody wears it without even a hint of irony.) But you'll also love Hotel Vermont because it's situated just a few blocks from some of the best culinary spots in Burlington. You can choose from one of several nearby gastropubs, opt to stay in and eat at the hotel's seasonally oriented restaurant, Juniper, or sidle right next door for dinner at the legendary, wine-centric establishment Hen of the Woods.
THE HOTEL
As you'll see when you visit, Vermont is all about the local, the handcrafted and the bespoke. This is captured well at Hotel Vermont, surprisingly the first independent hotel to open in Burlington. Rooms feature aromatherapy beauty products from a local company, and bike rentals are courtesy of a nearby custom bike shop. The front desk can arrange for various local activities, including cycling, pottery classes and sailing day trips. Natural wood paneling throughout the hotel gives it a slightly rustic feel, although the overall vibe is modern and chic. The front lobby is a nice place to have a drink, chat with a friend or relax with a newspaper. Event spaces are available for presentations or meetings.
THE ROOMS
Simple design and a feeling of spaciousness make the rooms feel homey. King- and queen-sized platform beds, depending on your room, envelop your tired body, enticing you to sleep late. Turn-down service is provided. Some rooms have a full bathtub separate from the water closet, and larger suites are available with two beds. Most floors in the hotel have a little snack and drink station that's stocked with fresh fruit and pastries in the morning and tea, coffee and water throughout the day. Top-floor rooms have pleasant views, but some of the lower levels look out onto a parking lot, although the hotel has covered up the windows with a somewhat bizarre plastic art piece. There are two high-end suites with extra amenities and space, including a terrace.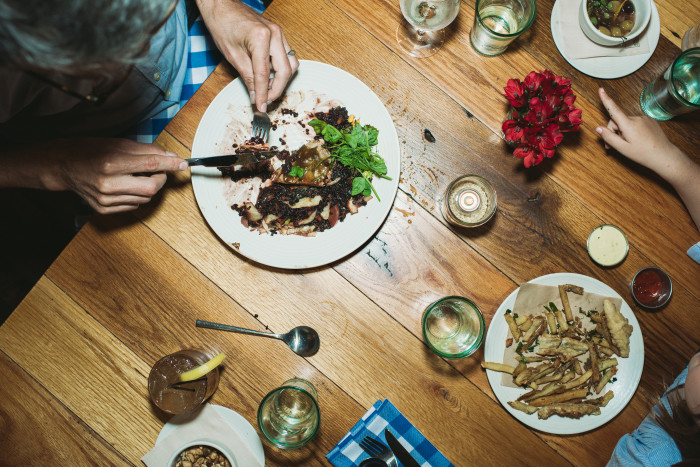 THE FOOD
Breakfast, lunch and dinner are served at the hotel restaurant Juniper, run by chef de cuisine Douglas Paine, and feature what's fresh, seasonal and local, accentuated by international flairs. Everything here is top quality in terms of ingredients, preparation and service. Don't miss the fish and chips, made with fresh catch from Lake Champlain, and be sure to save room for the cheese plate, featuring Vermont's award-winning creamery Jasper Hill.
At the hotel's beautiful ground-level bar, where the knowledgeable beverage manager, Cameron Keital, has created a program of craft cocktails, you can try the house spirits label that currently produces locally distilled vodka and gin. Take your cocktails onto the patio and sit by the fire pit on a chilly afternoon.
Just next door to Hotel Vermont is the new Burlington outpost of Hen of the Wood, whose original Waterbury location is considered one of the best restaurants in the northeast. The quiet, casual dining room is perfect for a long, cozy dinner. James Beard Award finalist chef Eric Warnstedt delivers a daily changing menu with dishes like ramp agnolotti heralding the arrival of spring, and hearty pork and game dishes in winter. You'd be remiss not to try the signature mushroom toast, of course. Lovers of natural wine will rejoice over the list at Hen of the Wood, which features organic, biodynamic and terroir-driven bottles from the best producers on the planet, as well as local natural winemaker Deirdre Heekin's label La Garagista. And for seafood, check out the neighboring Bleu restaurant, affiliated with Hotel Vermont.
THE NEIGHBORHOOD
Burlington is all about local craft beer. There are way more beer options to choose from at Burlington's beloved gastropubs, such as Farmhouse Tap & Grill or St. Paul Street, both near Hotel Vermont, than you could possibly imagine. But there is one brew in particular that you really need to try — if you can get your hands on it — called Heady Topper. It is allocated and released only on certain days of the week, and people line up at 9 a.m. to get their allocation. You are only supposed to drink it out of cans, because the founder, John Kimmich, thinks it tastes better without "inundating it with oxygen," as you would do by pouring it into a glass. And I don't want to unleash a stampede of cult-beer lovers on the staff of Hotel Vermont, but let's just say that if you show up there on the right day, you just might get ahold of a can. If beer is really your thing, take a stroll over to Vermont Pub and Brewery, one of the oldest craft breweries in town, owned by legendary microbrewer and author Greg Noonan, where Kimmich of Heady Topper previously worked.
Just a few short blocks away from Hotel Vermont is American Flatbread, which features handmade, wood-fired flatbreads at lunch, brunch and dinner. The flour is hand-milled on site for better flavor and health, and the flatbreads are topped with local cheeses, meats and veggies (vegan options are possible) and blasted in the oven right in front of the dining room.
For a hearty breakfast before a day of hiking, sailing or skiing, head to Pennycluse for enormous, savory plates of eggs, sausage, tomatoes and beans, or all manner of griddled cakes. You'll want to linger over coffee and enjoy the rotating exhibit of locally made artwork, and as long as it's not busy the staff won't mind. Burlington is worlds away from the hectic pace of city life. So relax, have another beer, and look forward to wrapping yourself in some flannel pajamas later on.
Hotel Vermont
41 Cherry St.
Burlington, VT 05401
855-650-0080
hotelvt.com
Rooms start at $189 per night