What To Grill For Memorial Day Weekend: Steaks And Chops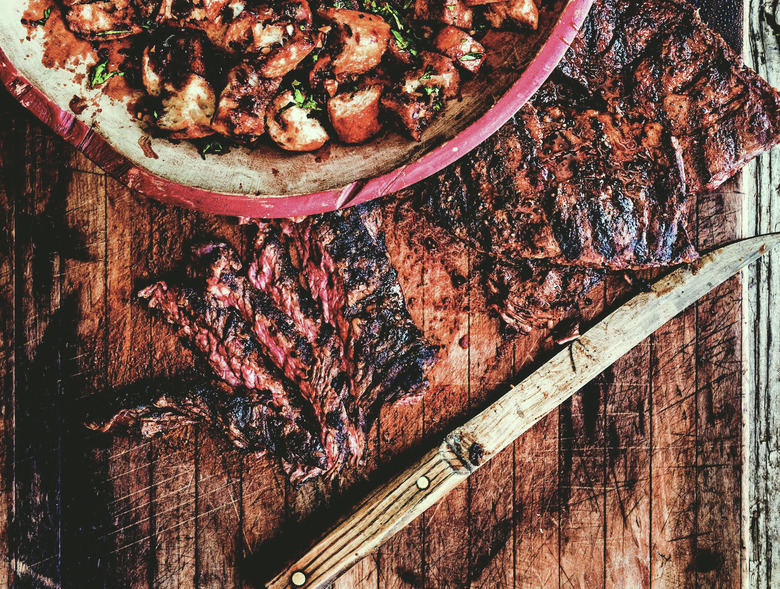 Photo: Ed Anderson
If you're getting your large-format grilling game on, there should be steaks and chops coming to room temperature this weekend. The cut is up to you, but might we suggest a handful of preparations to pique your interest? Heat that grill sky-high, focus your energy on making hatch marks your friends will all want to Instagram and make this Memorial Day memorable with this fine selection of awesome steaks, pork and lamb.
Recipe: Grilled Skirt Steaks With Barbecued Bread Salad
Chef Chris Schlesinger and Cook's Illustrated executive editor John Willoughby have combined their forces once more with their new cookbook, The Big-Flavor Grill. When it comes time to fire up the barbecue, this is one book you'll want by your side. These really simple and delicious recipes don't take a lot of time or effort, but are (as they say) big-flavor dishes. Try this easy spice-rubbed skirt steak recipe on for size. The bread salad takes about five minutes to make and really adds some flavor to your backyard BBQ feast.
Recipe: Grilled Veal Chops With Chanterelle Mushroom Stroganoff
Some people love veal for its flavor and tenderness and the fact that it's a little less fatty than cuts like a beef rib eye. Others disdain it for being a little less intense in flavor than beef. We like to pair something with it that adds to the meat's impact without diminishing its delicateness.
Recipe: Grilled Pork T-Bones With BBQ Butter
Just like beef T-bones, pork T-bones contain a lower piece of the loin (the strip loin section of a beef T-bone) and a section of the tenderloin (the fillet of the pig). I treat this simply: well seasoned, grilled to medium, and then topped with a thick pat of my BBQ Butter. Delish! The BBQ Butter can be made ahead and frozen. Just pull out a portion a couple of hours before needed. I also love to use it to top steaks, chops, and even breads for a nifty treat.
Recipe: Lamb Chops With Spinach Tomato Couscous
There's nothing like hearty lamb chops on a chilly night — they're a pleasant departure from beef and chicken and, surprisingly, just as easy to cook. Ask a butcher to french a rack of lamb and cut it into chops for you — the presentation is very impressive.
Recipe: Ribeye Steaks With Pistachio Butter And Asparagus 
Flavorful and generously marbled, ribeye makes a great splurge for a special meal, particularly when topped with a distinctively flavored butter. If you can't find unsalted pistachios, use unsalted butter to balance the salty nuts. The amount of pistachio butter is generous; if you like, turn the asparagus in some right after it comes off the grill and top the steaks with the rest.
Recipe: Pork Chops With Cherry Mustard
Cherries and mustard may sound like an unusual pairing, but they taste great together. Sweet, tart and hot, this sauce goes well with chicken and veal as well as pork.
Recipe: Ribeye With Goat Cheese And Meyer Lemon Honey Mustard
Ribeyes are the kind of steak I often order when I'm out. They have the most flavor, which comes from all that gorgeous marbling. This dish may sound like a crazy combination, but I have to tell you, it works. I just love the way the tangy goat cheese, bright mustard and fresh peppery watercress come together to complement the rich beefiness of these thick steaks. As a matter of fact, I think it works so well that I serve a burger with these same toppings at Bobby's Burger Palace; the Napa burger is one of my favorites.
Recipe: Spicy Grilled Jerk Pork Chops
Jerk is the classic Jamaican spice for grilling, and it's a big, bold, smoking-hot taste. I've used three chilies for this to create a medium heat level by jerk standards. Add or subtract to taste, but remember: If it's not hot, it's not jerk. Always wear food-service gloves when handling chilies because they can hurt if you get some under a nail or touch your eye. The classic sides to serve with this are rice and beans.
This post is updated from an earlier story.