12 Dishes And Drinks You Can't Miss In Las Vegas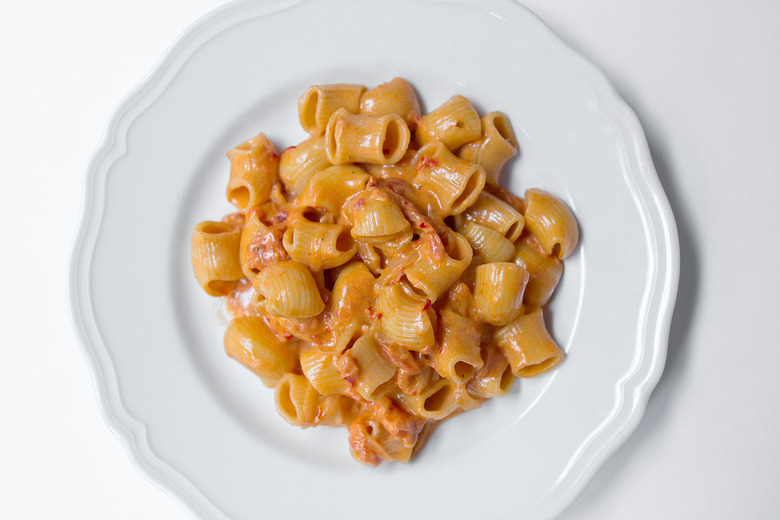 Carbone's Spicy Vodka Rigatoni features tender pasta knobs enrobed in a silky sauce of crushed tomatoes, Parmesan, cream, vodka, and chili flakes. (Photo courtesy of Carbone.
Whether you love or loathe Las Vegas, there's no denying that it's home to one of the most thrillingly diverse culinary scenes in the country. Long gone are the days when soulless steak houses and bad buffets were the only game in town.
Many credit Wolfgang Puck with ushering in a more sophisticated food movement in 1992, when the celebrity chef took a gamble by opening an offshoot of his popular Hollywood restaurant Spago. Its success was surprising and immediate, and it didn't take long for other big-name chefs, from Thomas Keller to Joël Robuchon, to take notice and follow suit, luring in high rollers with promises of spendy, finely crafted cuisine.
Those a little down on their luck found relief in the unstoppable trend of chef-driven comfort food in recent years, as it weaved its way through the city, and spread its gospel of belly-busting fare at more forgiving prices.
In short: There's something for every appetite and every budget. Here are 12 dishes and drinks you can't miss during your next visit to Sin City.
Spicy Vodka Rigatoni at Carbone
Imagine dining captains clad in Zac Posen tuxedos swirling around a dining room decked out with a larger-than-life chandelier, gold-fabric-covered booths, and ruby velvet curtains. Now imagine your captain presenting a gleaming white platter of tender pasta knobs enrobed in a silky sauce of crushed tomatoes, Parmesan, cream, vodka and just enough chili flakes for a lip-smacking punch. 3730 S. Las Vegas Blvd.; 877-230-2742; aria.com
Farro Porridge at Harvest by Roy Ellamar
Don't let the word "porridge" throw you off: There's nothing humble about chef Roy Ellamar's version. His uses a creamy base of nutty farro, which is topped with a mix of earthy mushrooms, a slow-cooked egg and a healthy shaving of black truffle. Break the yolk and gently mix everything together. It's so decadent and indulgent, you'll forget it's vegetarian. 3600 S. Las Vegas Blvd.; 702-693-8865; bellagio.com
Atomic Fizz at T-Mobile Arena
The most surprising thing about Vegas's newest hot spot, a 20,000-seat live-entertainment venue, is not that the Killers and Wayne Newton performed together opening night (true story). It's that famed bartender Tony Abou-Ganim developed a menu of craft cocktails, including the Atomic Fizz, which arrives courtesy of a state-of-the-art tap system. The easy-drinking blend of vodka, cactus pear puree, lemon juice, Aperol and sparkling water stays cool and fresh until it's dispensed. 3780 S. Las Vegas Blvd.; 702-692-1300; t-mobilearena.com
"Toshi's Choice" Omakase at Blue Ribbon Sushi Bar & Grill
Believe it or not, a single Ben Franklin will get you far (and full) at this beloved sushi spot from brothers Bruce and Eric Bromberg. Though the starting price of the head sushi chef's omakase is $100, that's all you'll need for a staggering display of meticulously formed and artfully plated seafood, from crowd-pleasing favorites (toro and uni) to lesser-known delicacies (Japanese horse mackerel and jellyfish). 3708 S. Las Vegas Blvd.; 702-736-0808; blueribbonrestaurants.com
Bardot's Chicken Dip is a hot sandwich with roast chicken, mushroom stuffing, Gruyère cheese, and green beans, plus white-wine gravy on the side for dunking. (Photo: Katie Chang.)

[/caption]
Chicken French Dip at Bardot
Only available during weekend brunch, this original hot sandwich by chef Michael Mina boasts tender roast chicken, mushroom stuffing, Gruyère cheese, and crispy green beans in a soft white roll with white-wine gravy on the side for dunking. It tastes like a nod to all your Thanksgiving favorites, with a refined French twist. 3730 S. Las Vegas Blvd.; 877-230-2742; michaelmina.net
Twenty-Vegetable Fried Rice at China Poblano
With this exuberant mishmash of Chinese and Mexican cuisine, chef José Andrés showcases how beautiful, versatile, and delicious vegetables are. They key to making this involved dish work is by not overworking any of the ingredients. Vegetables are either blanched or used raw, while the rice and egg are quickly seared in a wok so they stay light and fluffy. 3708 S. Las Vegas Blvd.; 702-698-7900; chinapoblano.com
Nashville Hot Chicken and Waffle at Bruxie
The Park, the newly opened outdoor green space between New York-New York and the Monte Carlo, is where visitors can seek refuge from the madness of the Strip with fresh air and casual, affordable eats. One of the best is this handheld treat, a playful spin on two Southern classics. A spicy chicken cutlet, shredded lettuce and pickles are wedged inside a crispy, not-too-sweet waffle. 3782 S. Las Vegas Blvd.; 702-728-2981; theparkvegas.com
New Yorker Pie at Little Tony's by Tony Gemignani
Gemignani is a superstar in the world of pizza, opening perpetually packed restaurants while racking up awards. As with the best New York–style pies, the New Yorker Pie starts with a foldable crust, tomato sauce, and mozzarella. But what makes this pie an award winner is the house-made calabrese honey sausage, pepperoni, loads of fresh garlic, and whipped ricotta, which is dotted all over the pie right before serving. 2411 W. Sahara Ave; 702-898-2813; littletonyslasvegas.com
Meatballs at Rao's
The bad: You probably won't ever get a table at Rao's in New York. The good: Scoring one at the Vegas location is a breeze. Even better: The menus at both restaurants are identical, so you can finally indulge in owner Frank Pellegrino's legendary meatballs. The baseball-sized beauties are impossibly fluffy and paired perfectly with a bright, tangy marinara. Consider them American-Italian cooking at its simplest (and best). 3570 Las Vegas Blvd. Overpass; 702-731-7267; caesars.com
Fresh Pressed Cocktail at Clique Bar & Lounge
While cocktails may never be healthy, they can certainly be more healthful, as evidenced by this refreshing, ruby-hued concoction. Fresh-pressed beet, carrot, ginger, and lemon juices are shaken with your choice of tequila or vodka and poured over crushed ice into a tall glass. Every sip is so spirited and smooth, you'll forget that you're also doing your body some good. 3708 S. Las Vegas Blvd.; 702-489-2129; cliquelv.com
XiangXiang Crispy Duck Wings at Tom's Urban  
Leave it to Tom Ryan, the culinary mastermind behind McDonald's McGriddles and Pizza Hut's Stuffed Crust Pizza, to come up with these dangerously addictive wings. Instead of chicken, Ryan's version stars tender duck meat and pairs a crackly crust with a hoisin-based glaze that's equal parts tangy, sweet, and savory. It's impossible to eat just one. 3790 S. Las Vegas Blvd.; 702-740-6766; tomsurban.com
Nom Nom Burger at Holsteins Shakes and Buns
Made with hand-ground Kobe beef, Thousand Island dressing and cheddar, this burger is already sublime on its own. But add some thick-cut potato chips, and voilà: You've reached a new level of patty perfection, with each bite providing a satisfying contrast of textures. Wash it all down with a boozy, minty Frozen Grasshopper shake. 3708 S. Las Vegas Blvd.; 702-698-7940; holsteinsburgers.com