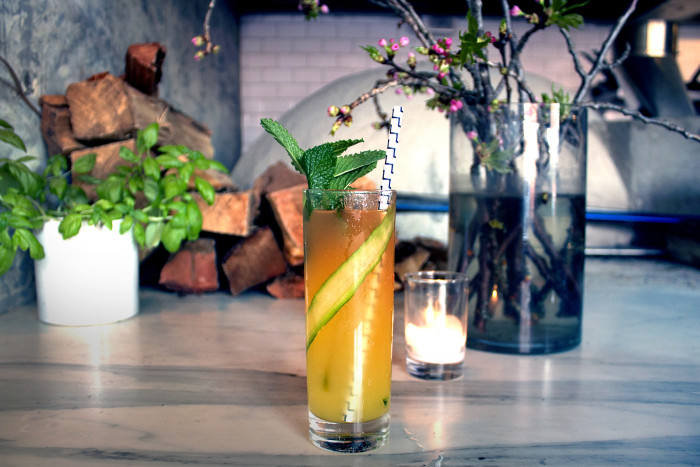 When perusing a cocktail list for the first time, you don't tend to miss a word like calamansi. The citrus — a Southeast Asian cross between mandarin oranges and kumquats — might be common in Filipino, Malaysian and Indian cuisine, but it's seldom seen in cocktails. For Brooklyn's casual Freek's Mill restaurant, a newcomer to the evolving Gowanus Canal neighborhood, the Spring Mill is the restaurant's answer to the seasonal spritz, and with ingredients like mint, cucumber, honey and gin, it ticks all the right boxes.
Bar manager Jonathan Kobritz describes the calamansi citrus as producing "a brilliant acidity and tartness, while still being sweet enough to the palate and emphasizing the cooling refreshing botanicals within a London dry style gin." Boasting a low alcohol content and designed to be more like a wine, the Spring Mill pairs well with the restaurant's many small plates. The use of juiced cucumber also gives this drink a cleansing feel, along with a lingering earthiness from the honey.
As the aroma of sweet smoke from the wood-fired oven wafts across the room, it only enhances the connection to the meal at hand. Similarly, the low-impact flavors of the Spring Mill, framed by the gin and vermouth's herbaceous complexities, enhance the palate with each sip. If you haven't heard of calamansi before, this fresh, bright and floral sipper might be the best place to start.
The Spring Mill
Servings: 1 cocktail
Ingredients
1 ounce Beefeater gin
1 ounce Dolin Blanc vermouth
1 1/2 ounces cucumber-calamansi-honey mix*
3 dashes Peychaud's bitters
*Cucumber-calamansi-honey mix:
Combine 1 part cucumber water (juiced cucumbers), 1 part honey and 2 parts frozen calamansi lime puree.
Blend together and store for later use.
Directions:
Combine ingredients in a shaker tin and dry shake without ice to blend ingredients.
Add ice to a chilled Collins glass, and strain ingredients over top, then top with soda.
Dash 3 dashes of Peychaud's bitters on top and garnish with a cucumber horseback (long, thin strip) curved around the glass.
Finish garnish with a mint sprig and add a straw.
Prep time: 3 minutes
Difficulty: Easy