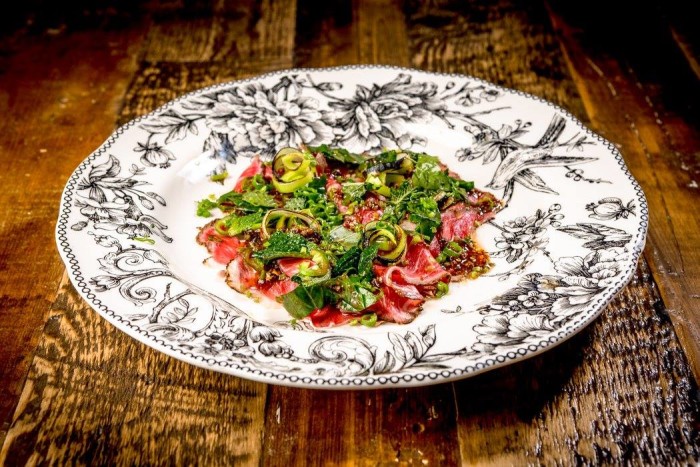 With its waterside setting, Boston is probably best known for its seafood. But the city's rich culinary legacy is much greater than creamy clam chowder. Back in the 1960s, for instance, famed cookbook author Julia Child lived in nearby Cambridge, where she researched and tested recipes from her years in France.
In recent years, Beantown's food and drink scene has made tremendous strides. Sure, there has been a big uptick in notable restaurants and cocktail bars — much like there has been across the country. But just as important, the level of hospitality is exceptionally high, with knowledgeable staff all across the city and great camaraderie among members of the industry.
Food-minded travelers will find an accommodating home base at Hotel Commonwealth, which offers a great location (gazing out on historic Fenway Park) and houses no fewer than three stellar bars and restaurants: Eastern Standard, Island Creek Oyster Bar and the Hawthorne (more below). Commonwealth makes it all too easy: You can roll downstairs for a top-notch cocktail or the freshest of oysters at restaurants and bars you should have on your go-to list anyway. But make sure to step outside of the hotel, too, because there are some strong draws across the city, on up through neighboring communities Cambridge and Somerville.
Here are a few of the strongest:
Seafood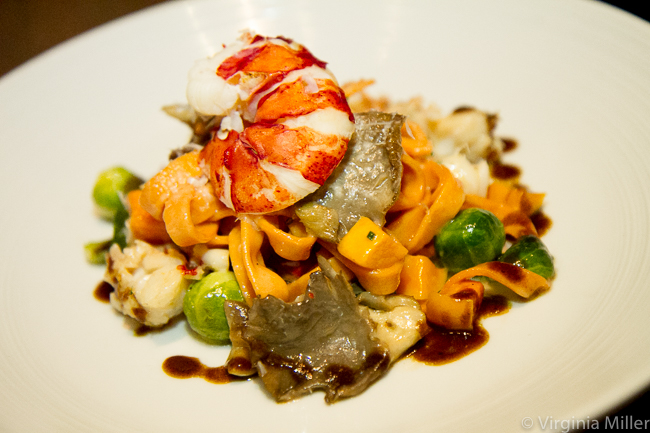 This is New England, after all, and it's no cliché to say that New England seafood is some of the best in the country, whether it's succulent Maine lobster or local Massachusetts oysters. Island Creek Oyster Bar is as good as it gets when it comes to experiencing New England seafood, choosing from a changing graph of oysters or crudo of the day, like fluke in sesame, orange and lime. Ethel's lobster roll on a house rosemary bun is signature, but so are decadent lobster roe noodles laden with braised short rib and grilled lobster (the ultimate "surf and turf"). Then there's the creamy lobster bisque. Have gracious wine director Noell Dorsey pair a wine or sherry from the thoughtful collection. 500 Commonwealth Ave., Boston, MA 02215; 617-532-5300; islandcreekoysterbar.com
Island Creek's sister restaurant, Row 34, is the newer of the two, featuring a heavy focus on craft beer with an extensive menu of about 25 varieties on draft, alongside wines from regions like Jura, Styria and Rioja. The buttered lobster roll is done in the traditional Connecticut style, glorious with buttery lobster and a squeeze of lemon. Don't miss the downright dreamy Old Bay onion rings. 383 Congress St., Fort Point, MA 02210; 617-553-5900; row34.com
On the sushi side, Uni expanded earlier this year from the cozy basement sushi bar (which is still there) to a bigger restaurant excelling in nigiri and raw dishes like spicy tuna and foie gras tataki in aji amarillo sauce. Besides fish, another draw is bar manager Jason Kilgore's elegant cocktails, like Shulz & Brown, combining rye whiskey, shochu, peanut, lime and bitters. Note the thoughtful wine list with orange wines and bottles from wine-geek region favorites like Jura, Chablis and New York's Finger Lakes. 370 Commonwealth Ave., Boston, MA 02215; 617-536-7200; uni-boston.com
Mediterranean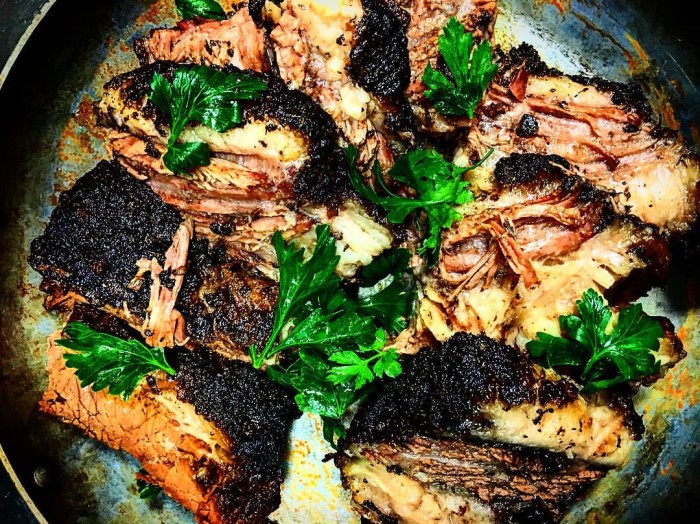 Some of the more exciting Mediterranean food in the U.S. is (surprisingly) found in Boston, and that is thanks in large part to James Beard Award–winning chef Ana Sortun, whose restaurant Oleana has been making waves since 2001. She went on to open Sarma in 2013, modeled after a Turkish meyhane/tavern, focused on meze (small plates) and helmed by chef de cuisine Cassandra "Cassie" Piuma. At roomy Sarma, changing plates of the moment pass by and you can point and choose and also order from the menu meze like seven-layer hummus, sugarsnap peas in macadamia-miso tarator (a soup-like sauce) or Tunisian steak tartare. Sarma's cocktails are likewise excellent and pull from the Mediterranean, as with the Anointed Sour, featuring Spanish Gin Mare, lemon, Manzanilla sherry and olive oil syrup for lush texture. 249 Pearl St., Somerville, MA 02145; 617-764-4464; sarmarestaurant.com
Committee pulls from Mediterranean/Greek cuisine in a different way. It's a spacious restaurant serving warm and cold meze with the surprise being the bar, heavy on ouzo, anisettes and rare spirits from Greece and Lebanon (think arak but also the likes of Haraki Tsikoudia from Crete). Beverage director Peter Szigeti hails from Budapest and has worked at bars all over Asia and Europe, bringing an international sensibility to the cocktails with offerings like the silky Bohemian Punch, which mixes Becherovka (an herbal liqueur from Czech Republic) with spiced honey, lemon, pear, black walnut bitters and Q tonic water. 50 Northern Ave., Boston, MA 02210; 617-737-5051; committeeboston.com
Asian Fusion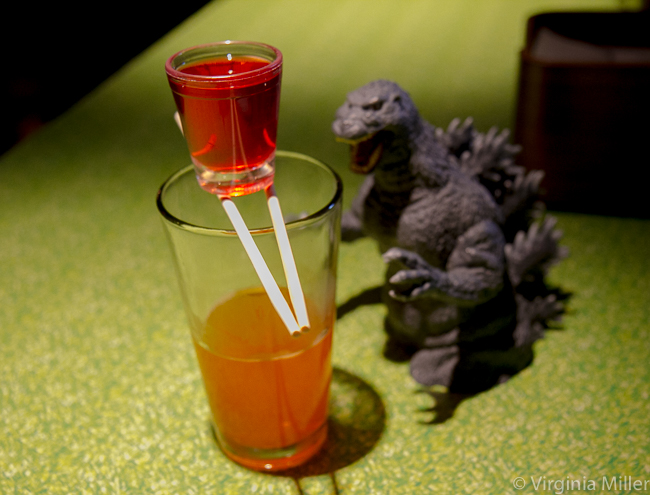 As with many U.S. cities, Boston has its share of interesting culinary mashups. James Beard Award–nominated Myers + Chang is a local pioneer, opened in 2007 by Joanne Chang and her husband, Christopher Myers (she is also behind the fantastic Boston bakery Flour). With one of the friendliest waitstaff in Boston, M + C turns out food drawing influences from China, Taiwan, Thailand and Vietnam, including its beloved spicy-cold dan dan noodles, sweet and sour Brussels sprouts and plump "lemony shrimp" dumplings, served speedily and with a smile. 1145 Washington St., Boston, MA 02118; 617-542-5200; myersandchang.com
It doesn't get cooler than Hojoko, from the owners of sushi temple and worthwhile splurge O Ya. Pull up to the long, green bar or a vintage Pac-Man game and sip boozy slushies, quality sakes or playful cocktails from bar managers' Daren Swisher and Joe Cammarata, paired with excellent modern Japanese-style izakaya plates. It's hard to resist the okonomiyaki or house-made foie gras "spam" with robata-grilled pineapple. Don't miss the way-too-fun "bombs," like Irish whiskey with a house cucumber shrub soda or coconut-washed Campari with Mexican Fanta (if you're lucky, the staff might even bring out a toy Godzilla to "help" dunk the shot in the soda). 1271 Boylston St., Boston, MA 02215; 617-670-0507; hojokoboston.com
Tiger Mama, focused on Southeast Asian cuisine, just opened in December 2015 from California-born chef Tiffani Faison. In an industrial-cool space, dishes like chilled, garlic-poached salmon chopped salad and crispy chili chicken in coconut oyster sauce tossed with long beans and rice gratify in heat and heartiness. Cocktails also intrigue, like the fantastic flip (whole egg cocktail) disguised as a light and frothy fizz: the Indo-Fizz combined Old Monk 7-year-old rum, coconut milk, whole egg, fresh turmeric and ginger honey syrup. 1363 Boylston St., Boston, MA 02215; 617-425-MAMA; tigermamaboston.com
Lunch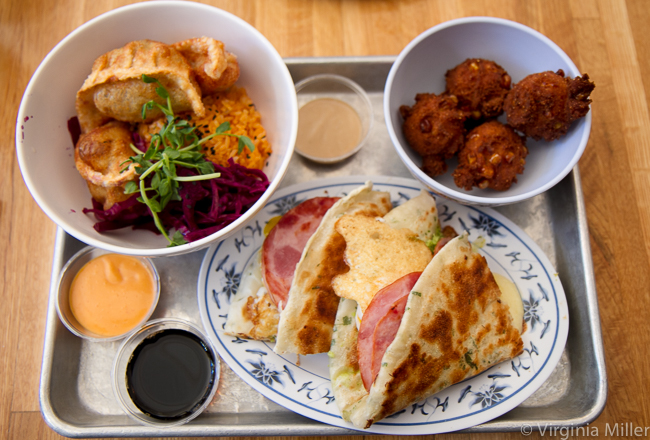 The Boston area features many all-day gems with personality. Mei Mei, which started as (and still runs) a food truck, can be uneven (case in point: the unexpectedly dry, bready dumplings), but the charming, quirky café is a destination because of those scallion pancakes alone. Thick, Chinese-style pancakes are packed, sandwich-like, with pesto, cheddar and two eggs — plus ham, turkey or bacon, if you so desire — in the Double Awesome. Or the Kimchi Dog pancake is layered with Piggery farm beef and pork hot dog, Hawthorne Valley kimchi and sriracha aioli. 506 Park Dr., Boston, MA 02215; 857-250-4959; meimeiboston.com
Ames Street Deli is an airy, all-day cafe in Cambridge where drinks are grouped in sections like "Refreshing: Wicked Taaaht & Tangy", espresso drinks are properly made and there are quality local beers, like Jack's Abby Smoke & Daggers Nitro, on draft. And that breakfast sandwich on an English muffin, laden with egg, piquillo cheese, kale and a juicy house fennel pork sausage (an add-on), is the right way to start the day. 73 Ames St., Kendall Square, Cambridge, MA 02142; 617-374-0701; amesstreetdeli.com
Cocktails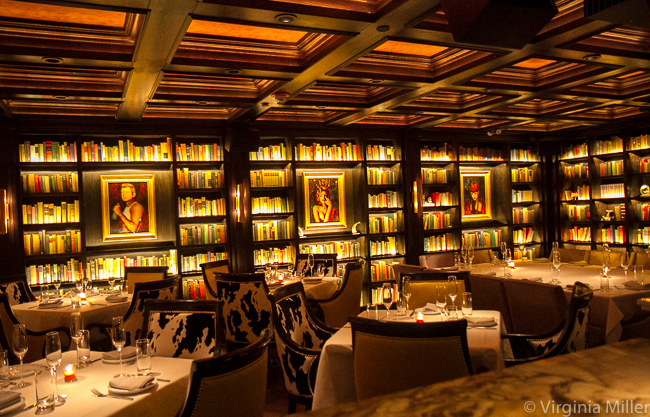 Yvonne's is easily one of the most stunning dining rooms and bars in Boston — or in any city, for that matter. Lush and hidden from the street, the massive, historic space has been revived down to a dramatic, vintage wood bar that runs the length of the dining room, opulent with chandeliers and booths. The bar area and tables are equally dramatic, with Old World–style paintings of actors Bill Murray and Christopher Walken punctuating the walls between fireplaces and bookshelves. Thankfully, friendly service, inspired small plates (rangoon crispy eggplant in pineapple duck sauce) and gorgeous cocktails make it worth your while. On the lower-proof side, the Italian-inspired Uffizi is a beauty of Bonal Gentiane Quina, Zucca Rabarbaro (rhubarb) Amaro, white grapefruit and seashell salt. 2 Winter Pl., Boston, MA 02108; 617-267-0047; yvonnesboston.com
Backbar has been a bar great for years, hidden behind Journeyman restaurant in the town of Somerville. Besides weekly-changing milk punches and a lush house egg nog — not to mention addictive house hot dogs or carrot miso dog on poppy seed buns — there are drinks like the Ricky Bobby Burns, a bracing mix of Dewars 12 Scotch, Cynar, Campari and Benedictine, aromatic with burnt cedar. 7 Sanborn Court, Union Square, Somerville, MA 02143; 617-718-0249; backbarunion.com
The welcoming Craigie on Main, chef Tony Maws's beloved restaurant in Cambridge, wins with drinks like the Apples to Apples, a tall, refreshing mix of Lustau Amontillado sherry, maple-roasted syrup, cranberry simple syrup, orange curacao, caramelized apples, cinnamon and nutmeg. Despite the syrups, it's not too sweet, as some seemingly spirituous drinks here can be; rather, the complexity and nuttiness of the sherry shines. 853 Main St., Cambridge, MA 02139; 617-497-5511; craigieonmain.com
More about the sherry collection than the cocktails, Straight Law at Taberna de Haro feels like being transported to Spain with its Spanish bites and extensive sherry book with thoughtful notes, available in two-ounce pours or flights of four for $25. 999 Beacon St., Brookline, MA 02446; 617-277-8272; tabernaboston.com/straightlawbar
When you just want loud and fun, but still need quality, Brick + Mortar is the rowdy industry favorite in Cambridge, packed even on a Monday night, serving joys like Under the Gun (Altos Tequila, velvet falernum, creme de cassis, lime, chili bitters) from a bar staff who knows its spirits but keep it low key. 567 Massachusetts Ave., Cambridge, MA 02139; 617-491-0016; brickmortarltd.com