Despite France's colonial past, Paris hasn't always been the place for great Vietnamese food. Recently, that's started to change, and it's now possible to find a world-class bowl of pho, as well as other Southeast Asian specialties, at a number of restaurants around the city.
The culinary exchange between Asia and Paris over the past decade or so has been very fruitful, with famed chefs like Alain Ducasse and Joël Robuchon establishing outposts in places like Hong Kong, Singapore and Japan and Paris experiencing an influx of Southeast Asian chefs.
This has resulted in a much more diverse food city than you would have found in Paris as recently as the late 20th century, when you'd have been ill advised to walk into many of the Chinese or even Vietnamese restaurants scattered around the arrondissements. Here's a guide to the best Asian food in Paris.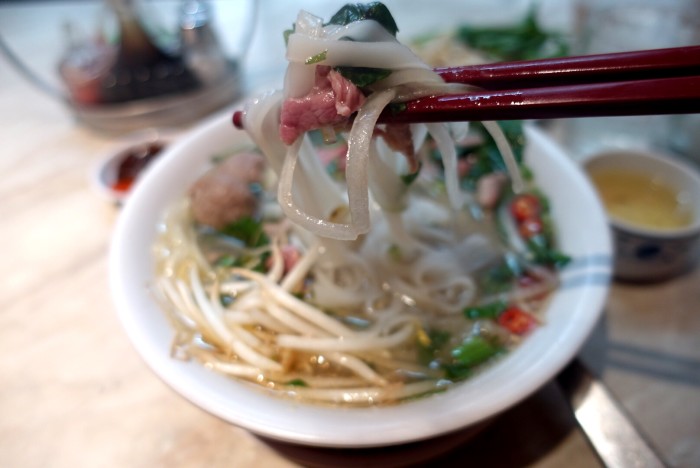 Song Heng
Easily the best pho spot in Paris and possibly one of the best in the world, Song Heng serves only two items, pho and bo bun, and they do both very well. It's a tiny shop tucked away in an alley in the upper Marais, where fans line up around the corner to snag a table. Once inside, guests are quickly approached by a friendly Cambodian woman (the restaurant is owned and operated by Cambodians) and asked two questions: "Soupe ou bo bun? Petit ou grand?" ("Pho or bo bun? Small or large?) Order a bowl of pho for yourself and a bo bun to share. 3 Rue Volta, 75003 Paris, France; +33 1 42 78 31 70; facebook.com/pages/Song-Heng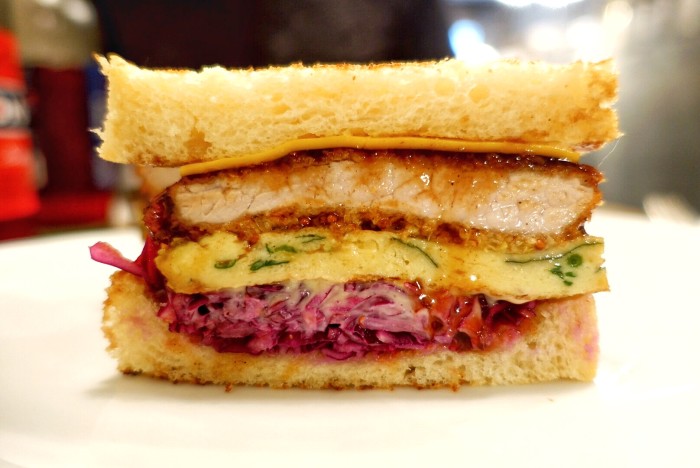 Abri
At his pocket-sized restaurant, chef Katsuaki Okiyama (Robuchon, Taillevent and l'Agapé) typically serves French dishes inspired by Japanese ingredients. However, for lunch on Mondays and Saturdays only, chef Okiyama serves an epic Katsu Sando piled high with a crispy pork cutlet, a cloud-like yet perfectly dense vegetable omelet, cabbage slaw, homemade mayo, Dijon mustard, Mimolette cheese and tonkatsu sauce on toast. For 13€ (about $15, including a beverage and dessert), it's one of the most satisfying sandwiches in all of Paris. 92 Rue du Faubourg Poissonnière, 75010 Paris, France; +33 1 83 97 00 00; facebook.com/pages/Abri
Hero
A hip, fun and lively Korean restaurant run by the team behind Candeleria, Glass and Mary Celeste, Hero is a great find in Paris for crunchy, juicy, saucy and spicy Korean fried chicken and inventive cocktails. The spot also serves pork belly buns, assorted ban chan and ddukbokki (spicy Korean rice cakes). Don't be afraid to get messy — there's a sink in the middle of the dining room for washing up after the meal. 289 Rue St Denis, 75002 Paris, France; quixotic-projects.com/venue/hero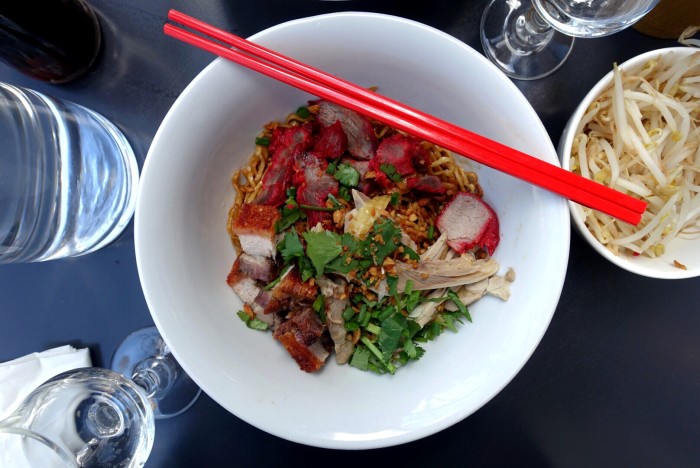 Lao Douang Chan
Lao Duong Chan specializes in Laotian cuisine in Paris's Chinatown district in the 13th arrondissement. The real star of the show here is the Nouilles aux Trois Trésors, or Three Treasure Noodles. I prefer the dry version, with the soup on the side, so I can really savor the noodles. The handmade noodles are tossed in dark soy and topped with crispy pork, char siu pork, chicken, fried shallots, coriander and green onion. Order the large and don't share with anyone. 161 Avenue de Choisy, 75013 Paris, France; +33 1 44 24 80 80
Hang Meas
Hang Meas is a delicious Cambodian restaurant, also located in Paris's Chinatown. It serves authentic Khmer dishes such as nom krok, a rice and coconut cream pancake with shrimp and scallions, served with coconut milk and fish sauce for dipping; nom bahn chok, a green fish curry served over noodles with banana blossoms, mint, cucumber and bean sprouts; and prahok ktiss, spicy pork dip with coconut milk and fresh vegetables. 7 Rue Gandon, 75013 Paris, France; +33 1 45 86 80 06; facebook.com/Hang-Meas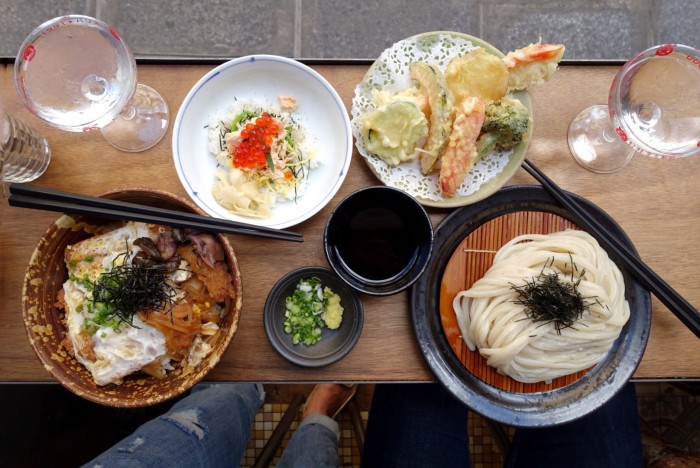 Udon Bistro Kunitoraya
Chef Masafumi Nomoto serves handmade udon that is definitely worth queuing for — as you'll need to do. Join the crowds and you won't be disappointed with sublime shrimp tempura udon, beef curry udon, ten-zaru udon and the best katsudon in Paris. Grab a seat at the counter by the window and enjoy the view while slurping hot noodles. 1 Rue Villedo, 75001 Paris, France; +33.1.47.03.33.65; kunitoraya.com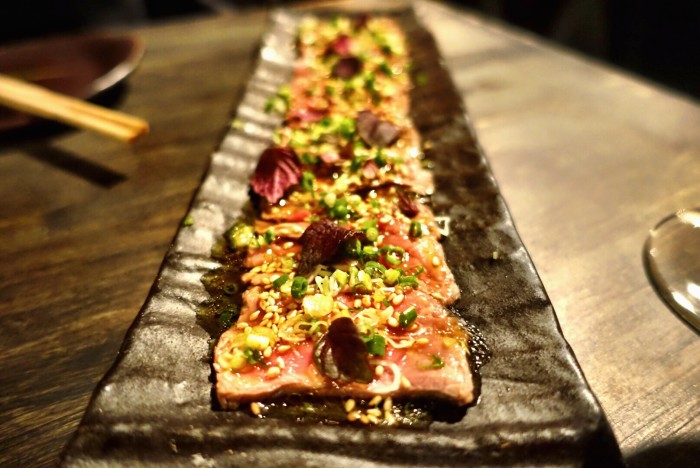 Lengué
Lengué is a respite in the very touristy St. Michel district. Hidden away in a small alley, this Japanese izakaya is the perfect place to sip on sake, shochu, Japanese beers and French wines while sharing Japanese hot and cold plates such as wagyu carpaccio, karaage, gyoza, marinated octopus, tamago with grilled eel, lotus root with sesame, and agedashi tofu. 31 Rue de la Parcheminerie, 75005 Paris, France; +33 1 46 33 75 10; lengue.fr
Deux Fois Plus de Piment
This hole-in-the-wall Szechuan restaurant located in the 11th arrondissement is perfect to satisfy any spice cravings. The pork dumplings are delicious, and the cold sesame noodles are a tasty addition to any dish on the menu. Other top picks are the vinegar beef, ma po tofu, and pork with leeks and green onions. Diners have the option of choosing a heat level between 1 and 5, so if heat is what you're after, be careful what you wish for. 33 Rue Saint-Sébastien, 75011 Paris, France; +33 1 58 30 99 35; facebook.com/Deux-fois-plus-de-piment-restaurant-de-Sichuan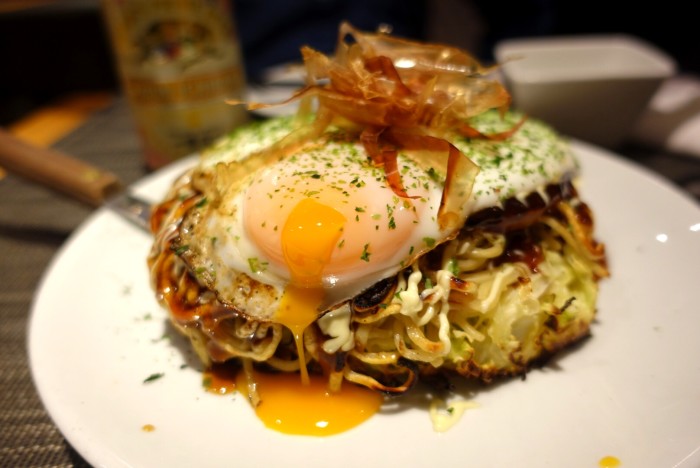 Happa Tei
Located in Paris's Japan Town on Rue Sainte-Anne, Happa Tei is where Osakan cuisine reigns supreme. Happa Tei specializes in okonomiyaki: savory Japanese pancakes, or "Japanese pizza," filled with cabbage, pork, squid and/or shrimp; and takoyaki, a slightly crispy pan-fried ball of dough with a creamy center filled with tako (octopus). Okonomiyaki and takoyaki are both topped with their respective sauces, bonito flakes, kewpie, negi and/or aonori (powdered seaweed). Happa Tei also offers yakisoba, and I love the okonomiyaki topped with yakisoba and a fried egg, also known as Hiroshima okonomiyaki. 64 Rue Sainte-Anne, 75002 Paris, France; +33 1 42 96 60 40; facebook.com/happa.tei