Behold: Babu Ji's Indian Jewish Bagel Mashup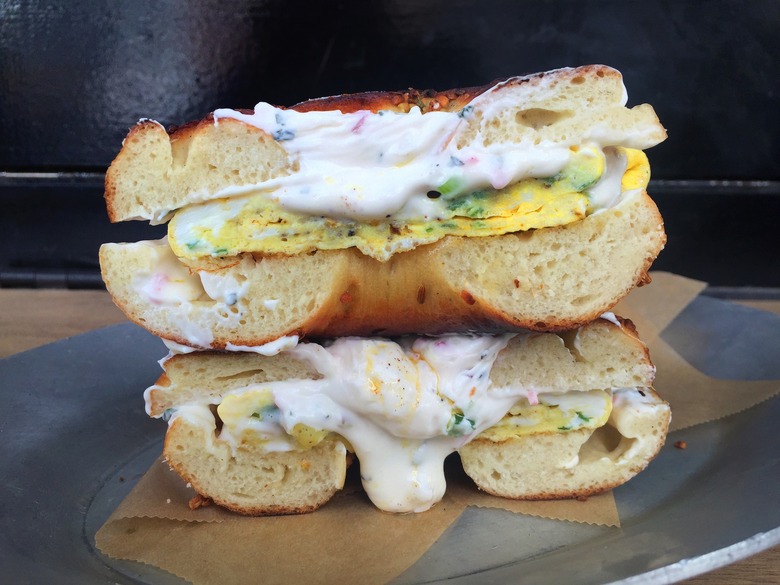 Beloved modern Indian bistro Babu Ji is a must-visit for lovers of all things chili and spice, named for "what we New Yorkers might call the mayor of the block." Well, if it's the mayor of a New York City block you're talking about, he's going to need an egg and cheese bagel sandwich befitting of the name. Owners Jessi and Jennifer Singh teamed up with East Village breakfast destination Black Seed Bagels (bringer-back of the pizza bagel) to create this fusion of Indian street food and a NYC staple that hit their menu this week. It's amazing — a burned garlic- and fennel-studded bagel with spiced vegetable scrambled eggs and a raita-themed cream cheese that melts like its yogurt-based namesake inside a toasty cocoon.
We spoke with chef Jessi Singh about this lovely hybrid, and even got the recipe — try it at Black Seed until May 24 or at home any time you like!
Were you inspired more by Indian street food or Jewish deli cuisine for this bagel creation?
My inspiration for this sandwich creation came from a few different places, one being whenever I go to Black Seed, I always order their egg sandwich. It's one of my favorites in the neighborhood, and when I think of a New York bagel sandwich, I think of a bagel with egg and cheese, so I knew I wanted to do something along those lines, which let me to Indian-style scrambled eggs. The eggs came from a popular Indian dish called egg bhurji, which is a popular dish in north and western India. I thought, why not put that on a bagel? The cream cheese is similar to veggie cream cheese, but it's an Indian version: finely diced red onion, diced watermelon radish, lime juice, seeded diced serrano chilies, mint.
How do you feel about Jewish deli food in general?
I really respect Jewish food. It's very much like Indian in the sense that it's been around for thousands of years and is very traditional in culture and history. It's kept its own identity over time and is still steeped in Old World traditions.
How did you end up collaborating with Black Seed Bagels?
There are many places in New York to grab a bagel, but majority of the time we aren't seeing how it's made or where it's coming from. At Black Seed you see the bagels being baked fresh in front of you. I also really like the people behind it. Noah Bernamoff, Matt Kliegman and Dianna Daoheung are all great, passionate and enthusiastic people about their craft, and it shows in their food.
Black Seed's Babu Ji Bagel
Serves 4
4 large eggs
2 teaspoons ginger, finely diced
1 green chili, finely chopped
1/2 cup tomatoes diced
1/4 cup red onion, finely diced
2 scallions, finely sliced
1/3 cup milk
1 teaspoon ground turmeric
1 teaspoon garam masala
Salt to taste
Extra-virgin olive oil
A knob of butter
A spring of cilantro, finely chopped
4 bagels
Raita cream cheese (see formula above)
In a medium bowl, whisk eggs, milk and spices.
Combine all chopped ingredients into the egg mix.
Heat a frying pan to medium-low with a dash of olive oil.
Add egg mix and cook, stirring until eggs are nice and soft, about five minutes.
Meanwhile, toast bagels in a hot oven till nice and toasty, then top with raita cream cheese while still hot, so it melts a little.
Add the knob of butter and cilantro, and take off the heat.
Add scrambled egg mix on top of bagel, garnish with fresh cilantro and serve immediately.