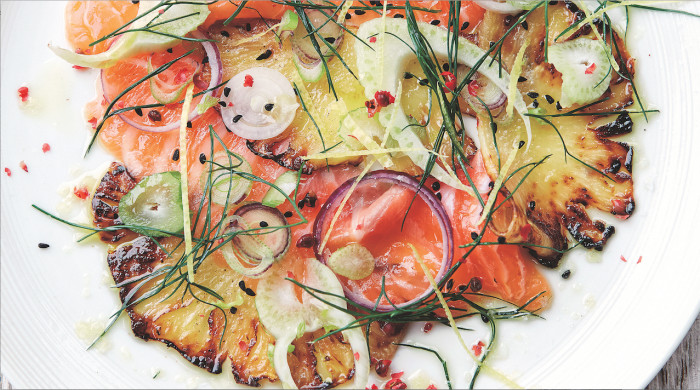 Let's celebrate the start of wild salmon season! More than 90 percent of the

wild

salmon

harvested in the United States comes from Alaska, so no matter which variety you come across, you can guarantee it will be delicious in these easy, healthy recipes. Keep an eye out for sockeye, king, keta and coho varieties, and get cooking.

A fatty fish like salmon goes well with acidic ingredients, and here caramelized pineapple bolsters the lemon tang. This is gorgeous on its own as an appetizer or as part of a selection for a main dish.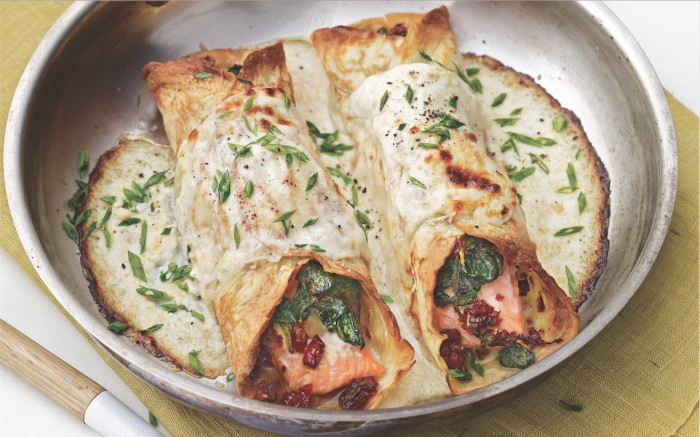 Crêpes are traditionally made in special, shallow steel pans, but I find that most home cooks, especially those new to crêpes, have an easier time with a small nonstick pan with sloping sides and an 8-inch-diameter flat bottom — inexpensive and perfect for crêpe making. If you're new to crêpe making, I suggest making a double batch of the batter and using a bit more batter than what's called for (use a smidge over 1⁄4 cup) while you get used to rotating and tilting the pan to coat it evenly. The crêpes will be a bit thicker but still good. As you move through the batch, reduce the amount of batter until the crêpes are thin and delicate.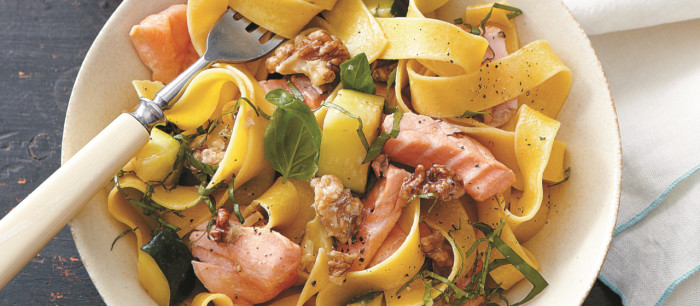 Pappardelle and salmon look beautiful together. This dish is tempting even for those who don't like fish. I like to garnish the dish with grated Parmigiano-Reggiano as well as with chopped walnuts, but you might prefer a simpler flavor.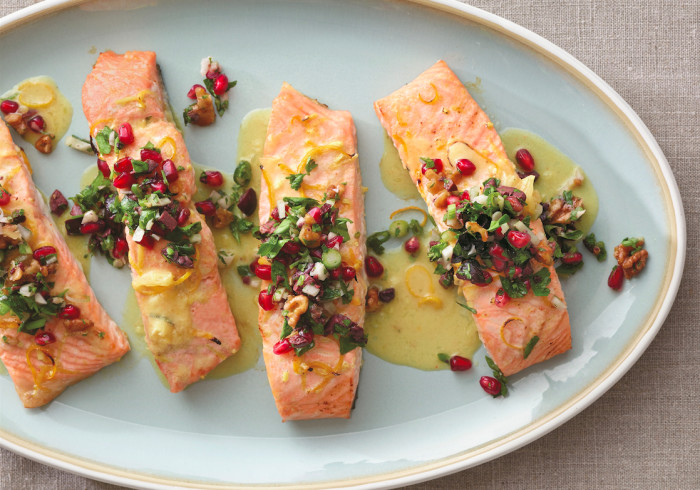 All I can say is get out your camera, because when you make this dish you're going to want to take a picture before you serve it. It's just that pretty, with the peach of the salmon, the ruby-red jewels of the pomegranate seeds, the vibrant green of the parsley. The taste is no less sensational, with the citrus and herbs playing wonderfully off of the salmon's healthy blend of omega-3-rich fats. This one will energize all your senses.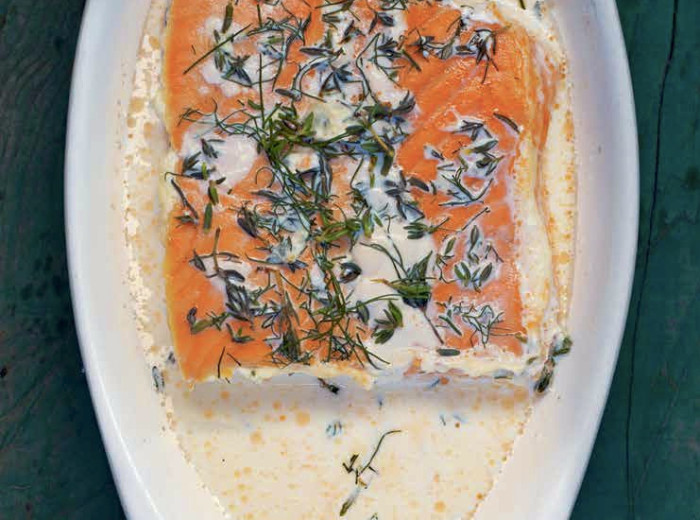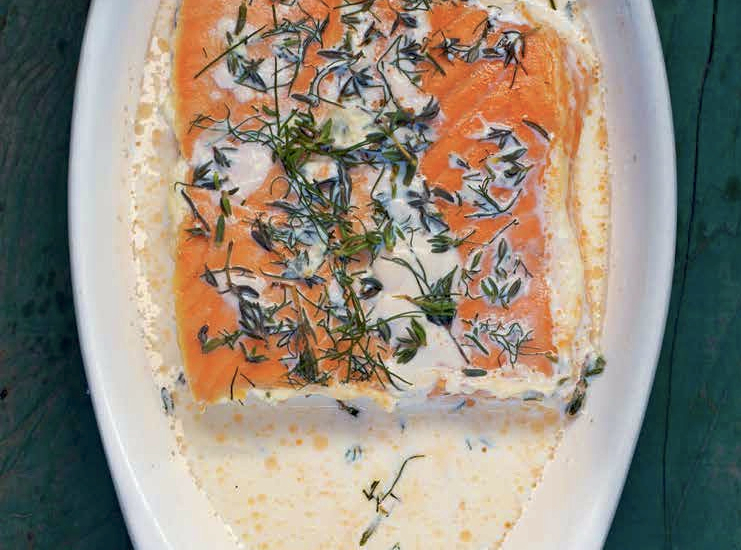 A rich and buttery fish, salmon pairs beautifully with cream. While heavy cream may threaten to overpower the delicate nature of most fish, salmon's distinct flavor shines, and the cream melts into a simple sauce as it bakes. A sprinkling of parsley and dill infuses the rich sauce with a sparkle of brightness.
The combination of salmon marinated with orange occurs frequently in Italian cookery. However, fish kebabs — found mainly in the south of Italy — traditionally contain lemon slices. By all means try this, but I often think the sharpness of the lemons overpowers the delicate fish, whereas orange gives an amazing sweet contrast without the acidity.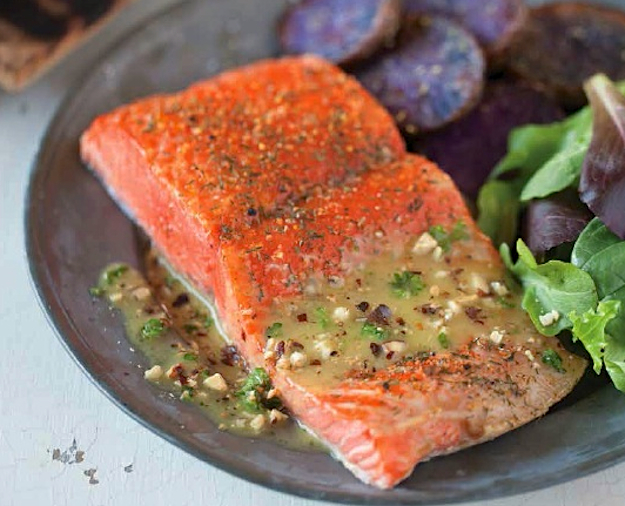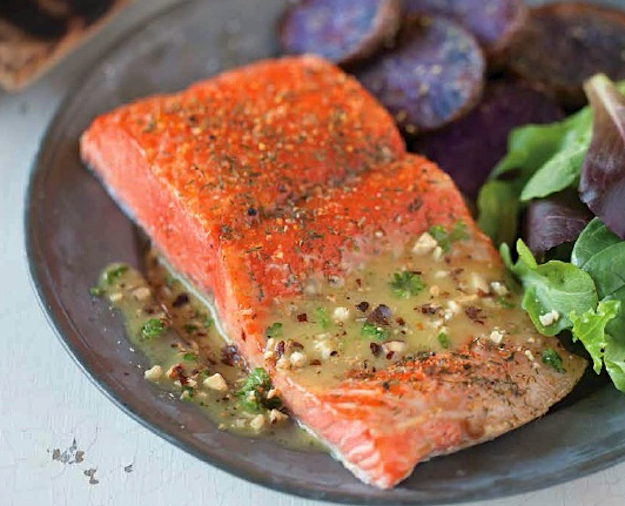 For centuries, natives of the Pacific Northwest roasted salmon on planks carved from the same cedars that provided material for their canoes, houses, and clothes. Before modern cooking techniques, the plank served as both cooking vessel and dinner plate. What our modern dining habits can't replace is the sweet, smoky flavor that cooking on a cedar plank provides, which is why Ivar's Salmon House still roasts salmon over an alder grill in the middle of the restaurant all the time.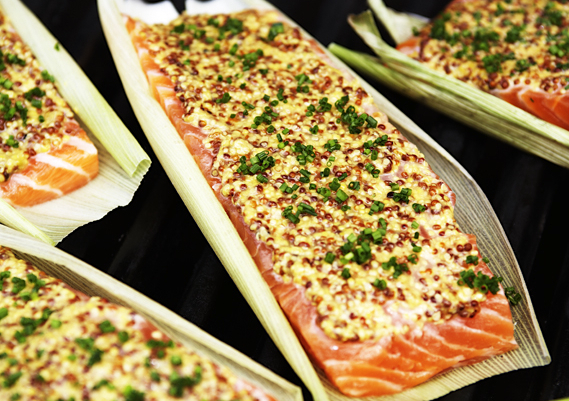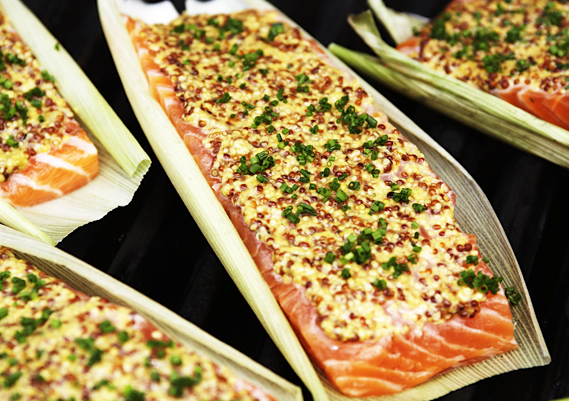 We may have all the tips for great grilled seafood in the world, but if your fillets are sticking to the barbie no matter how well you preheat or oil, Nils Noren has the easiest grilled fish hack you've never used. You've probably got access to corn since it's grilling season. Throw it on with this easy corn recipe, reserve the husks and watch your salmon come right off the grill with nary an errant flake (in other words, it won't stick but will still have that great smoky flavor).