The Online Reservations War Heats Up: NYC-Based Reserve Launches Instant Booking Service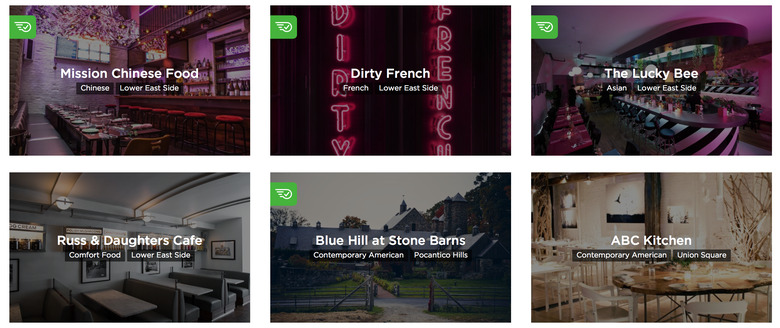 A few NYC restaurants bookable through Reserve. Instant-reservation availability is indicated by a green check m
We've spoken time and time again about how making prime-time reservations at popular restaurants in major cities is harder than ever these days. Want to book an 8 p.m. table at your new neighborhood hot spot in NYC? Chances are you'll need to wait a month or two. Between the small physical spaces of some of these spots, the continued growth of third-party and pay-for-play reservation apps, the increased practice of setting aside tables for VIPs and industry folk and the spreading general notion of exclusivity, diners are left with the dreaded choice of "5 p.m. or 10:30 p.m.?" Or they can take their chances with walking in. Or know someone who knows someone who thinks he or she may have an "in." Good luck with that.
So just what is the state of the reservation-app scene? While OpenTable has been the industry leader for well over a decade, having partnered with more than 30,000 restaurants in the U.S., apps such as Reserve, Resy and Yelp's SeatMe have slowly encroached on its territory. Logging on to OpenTable and choosing from a plethora of attractive dining options is officially a thing of the past.
Earlier today, NYC-based Reserve launched an instant-reservation service that mirrors the business model of its main competitor, OpenTable. Formerly consisting solely of a personalized concierge service that allowed users to request reservations during a certain time window, Reserve is now offering instant bookings at 150 of the company's approximately 500 restaurant partners in seven major U.S. cities (in addition to its existing service).
With this service, the app is banking on appealing to diners who are looking to book tables at hip and popular restaurants that aren't available on OpenTable. The app also differentiates itself by charging partner restaurants a flat monthly rate — with no additional fees for booking — unlike OpenTable, which charges restaurants up to $1 for each reservation made through its site. In continuing with this full-fledged hospitality approach, all participating restaurants are able to "manage guest notes, seat walk-in guests and add diners to a waitlist when the restaurant is busy," according to Nadja Blagojevic, Reserve's head of content and communications. The app has also added a mobile-payment system that allows diners to prepay checks.
Reserve may have just a small fraction of Open Table's available inventory, but in the ever-evolving restaurant-reservation game, customized interaction, curated selection and ease of transaction may eventually trump sheer volume — if they haven't already. Stay tuned.