There's poetry in the kitchens of Portugal's new breed of chefs, who are going back to their roots with international attitude to create a thriving restaurant scene.

In our second look at the faces and places behind the contemporary flavors of Portugal (read the first installment here), we visit Belcanto and Alma in Lisbon, and Herdade do Esporão in the Alentejo wine region.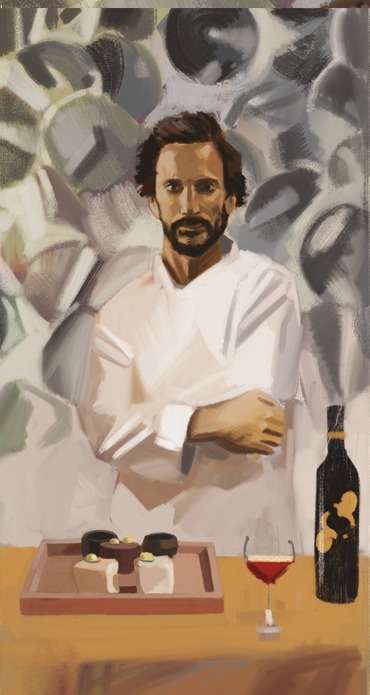 Belcanto – Chef José Avillez
Largo de São Carlos 10, Lisbon, Portugal
Chef José Avillez recently renovated his restaurant Belcanto, a culinary destination in the historically aristocratic and artistic Chiado neighborhood, an area now home to luxury brands that have set up shop in the restored 18th-century buildings.
"Now 75 percent of the restaurant is the kitchen and 20 is the dining room," says Avillez, as he takes us on a tour of the huge back of the house. The members of the kitchen team, looking jaunty in ivy caps and matching aprons, have room to move as they prepare the lunch service. "It's not so good for business, but it's better for our work."
Seating is limited to ten tables in the dining room, which has the feel of a posh family home updated to meet the tastes of a new generation. But business is obviously excellent at Belcanto, which has earned two Michelin stars since Avillez took over the circa-1950s restaurant in 2012. The majority of the clientele are not Lisbon natives; the trendsetting chef attests that some people fly in just to experience the restaurant's beautifully designed food and Portuguese wines.
Diners can choose from two tasting menus: the Discovery (145 euros) or the Lisbon (120 euros), plus an accompanying selection of nine or five wines (80 or 90 euros). While the clean, earth-toned room is not stuffy, the gloved service rivals that of Downton Abbey.
Avillez's cooking, pulled from Portuguese culinary patrimony and influenced by the cuisine of countries that have had a historic relationship with Portugal as well as other international trends, is conceptually complex and whimsically presented.
A Belcanto signature is an instant classic of lighthearted luxe comfort food called The Garden of the Goose That Laid the Golden Egg. Avillez presents a runny egg as a treasure wrapped in gold leaf that when opened soaks its nest of crunchy bread and mushrooms. (For a slideshow of photos from these chefs' restaurants, scroll down.)
A minimal display of salty fruits of the sea arrives on a "porthole." Avillez calls the dish My Bottom of the Ocean. A snack of potato chips are served hanging in a bag, meant to recall the sight of laundry swaying on clotheslines stretched between buildings in urban Lisbon.
Avillez, 36, is a widely acknowledged pioneer of new Portuguese cooking. He worked under Spain's famous son Ferran Adrià and renowned French chef Eric Frechon before returning to Lisbon to make his mark. He has since set a benchmark for younger Portuguese chefs and has also set an example as an entrepreneur. Avillez currently owns five restaurants in Lisbon and one in Oporto, including a Portuguese-style pizzeria and a gastrobar. He has about 180 employees and, by his estimate, serves about 20,000 people a month.
"Farmers, fishermen — the whole chain is responding to the new restaurant movement here," notes the chef. "People are talking about Lisbon and about Portugal. This is about the rebirth of our cuisine."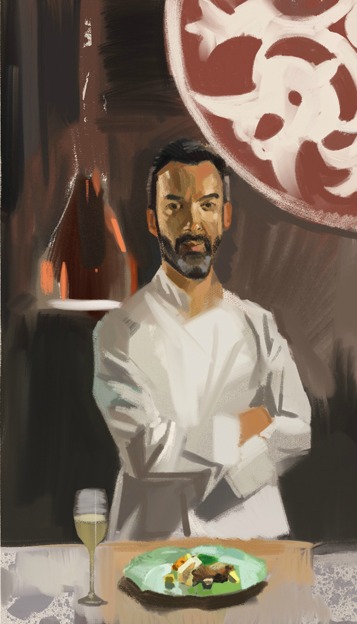 Alma – Chef Henrique Sá Pessoa
R. Anchieta 15, Lisbon, Portugal
Chef Henrique Sá Pessoa is known throughout Portugal, recognized from his long-running television show, Secret Ingredient, which is also the title of the only one of his five cookbooks currently available in English.
Sá Pessoa uses words like "Zen," "modesty" and "care" to describe his approach to cooking and eating. At Lisbon's Alma, he moves quietly from the open kitchen to the dining room, where he greets customers with the warmth given regulars, though they may or may not be.
"This is not a special-occasion restaurant," Sá Pessoa says, personally bringing our plates to the table. "We want customers to come back and eat here frequently."
The restaurant, seductively lit and featuring clean-lined wood furniture, stone arches and floors, is the second location for Alma. Sá Pessoa opened his new restaurant last year after closing a former venue with the same name that had brought the approachable celebrity chef accolades.
Sá Pessoa is setting the bar higher with the new Alma, which, like Belcanto, is located in the buzzing Chiado neighborhood. True to the restaurant's name, the menu features Sá Pessoa's own refined take on Portuguese soul food, often with Asian elements. There's a reverence for local products and a focus on healthy cuisine that reflects the chef's stints in the United States and Australia.
Sá Pessoa graduated from the Pennsylvania Institute of Culinary Arts and cooked at the Sheraton Park Lane in London and the Sheraton on the Park in Sydney. Returning to Lisbon, he worked his way up through several restaurants, winning the Portuguese Chef of the Year Award in 2005 at the age of 29. In 2007, he was named best chef by the Portuguese Academy of Gastronomy.
"The new generation of chefs in Portugal is more international," he says. "They have trained abroad — that is the difference."
Sá Pessoa brings his experience to dishes like his signature confit suckling pig with sweet potato puree, bok choy and orange juice. He was instrumental in elevating the mackerel's status from "trash fish" to a feature of fine-dining menus in Lisbon.
With tasting menus priced at 60 and 80 euros, Alma's menu combines traditional Portuguese references (a tribute to the sardine and red pepper barbecue with charred red pepper served on bamboo charcoal) with global eating trends (glazed baby carrots are paired with goat cheese, dried fruit and bulgur).
Desserts, including the addictive olive oil cake, and a Granny Smith apple sorbet with caipirinha merengue, are unforgettable.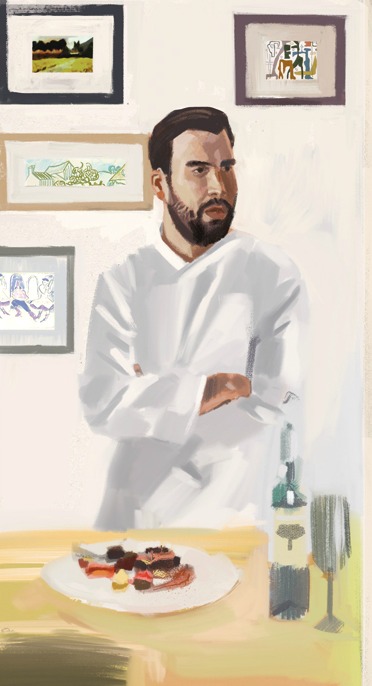 Herdade do Esporão – Chef Pedro Pena Bastos
Reguengos de Monsaraz, Distrito de Évora, Alentejo
Herdade do Esporão is located in a low whitewashed building with a tile roof on the 13th-century estate of Portugal's largest privately owned wine company, a drive of just under two hours from Lisbon. The restaurant's modern interior, artfully decorated with a kind of minimalist ranch aesthetic and hung with original paintings commissioned for the labels of Esporão-produced wines, has sweeping views of the vineyards and the surrounding lands that provide inspiration and ingredients for chef Pedro Pena Bastos's menus.
"This is a different pace, a different rhythm," Bastos says of the Alentejo region, where he lives in a medieval village not far from the restaurant. "We know guys who make cheese in their house by hand. It's an underground circuit."
Originally from the Oporto region, Bastos, who is now 25 years old, left Portugal to train abroad; he found work at the Ledbury in London.
"I bought a one-way ticket to London," he recalls. "I did not expect to come back."
Bastos arrived at Herdade do Esporão in 2014, where he created menus that "follow the cycle of nature." He talks with enthusiasm about foraging and serves his food on exquisite plates made from local stone and cork from the area's characteristic forests.
The restaurant serves only lunch. In warm weather, there is seating at outdoor tables on a terrace at the edge of the fields. A recent menu featured wild mushroom beignets in a nest with pine salt, wood pigeon and rhubarb; pig's head with shiso and young shallots; and turbot, wild crayfish, kalte tops and girolles. (Menu 60 euros, with à la carte options).
The young chef makes his own bread – very crusty – and butter that is aged for a month.
"My grandmother kept the butter out," Bastos explains. "After three or four days, it started to have a cheesy flavor. That fascinated me as a boy. My goal was to replicate it."
The Herdade do Esporão vineyard has been owned by the Roquette family since 1973. The estate, which also produces internationally acclaimed olive oil in addition to some of Portugal's outstanding wines, is known for experimentation. The owners' current generation is focused on a transition to organic wines and sustainable practices. In addition to saving water and other resources in the wine production process, they have brought livestock back to the land, which was originally a farm. The vineyard workers make up a majority of the working population of the surrounding area and are employed year round. Most of the restaurant staff grew up in the area.
Esporão has been a pioneer in oenotourism in Portugal. Now the restaurant is attracting attention on its own with the chef's rustic take on new cuisine.
"It's taken two years to get to this level," Bastos says. "This is local food, it's not Portuguese gastronomy. The idea is not to reproduce what's traditional here, but to be inspired by it. We want to not go higher, but to go deep, to try new things. It's about how can we embrace the Alentejo in the very best way."
Below, a slideshow featuring dishes and interior photos from Belcanto, Alma and Herdade do Esporão: