Of the actor Robin Williams's many classic lines in the 1987 film Good Morning, Vietnam, the most relevant during a visit to South Vietnam might be his bit about Ho Chi Minh City's climate: "The weather out there today is hot and shitty with continued hot and shitty in the afternoon. Tomorrow a chance of continued crappy with a pissy weather front coming down from the north. Basically, it's hotter than a snake's ass in a wagon rut."
Thank God for Vietnamese iced coffee.
In a city where an estimated 3 million motorbikes turn crossing the street into a psychotic game of Frogger and 3 million–degree temperatures (give or take) can turn a visitor into a character from the 1989 heat wave drama Do the Right Thing, Vietnamese iced coffee (ca phe sua da) can offer a quick reprieve from the continuous hot and crappy conditions of Ho Chi Minh City (formerly known as Saigon).
In terms of ambience, the café scene in Ho Chi Minh City rivals anywhere on earth, and the best coffee shops offer not only a place to cool down, but an escape from the general chaos of the city. I challenge you to find a city with more or better cafés than Ho Chi Minh City. Does your city sell iced coffee off the back of tricycles? Does it have a coffee shop with a piano and dining table hanging upside down from the ceiling like a scene out of Alice in Wonderland? Can you ask the hostess to sit at the table next to the waterfall?
Ho Chi Minh City's got coffee shops with all those things and more, but good luck finding them — at least not without a little help. Many of the best spots for coffee are hidden down little alleyways, behind garages or in nondescript apartment buildings, like modern-day speakeasies without any of the pretension.
Your coffee beans probably weren't brought over on a sailboat from Guatemala or roasted in house. And your milk wasn't condensed at the local dairy. But if it's hot enough outside, it'll taste like it was.
---
Many of Ho Chi Minh City's best spots for coffee are hidden down little alleyways, behind garages, or in nondescript apartment buildings, like modern-day speakeasies without any of the pretension.
---
The French brought coffee to Vietnam during occupation in the 19th century, and shortly after the war, the government implemented a large-scale coffee production program that has made the country the second-biggest producer in the world. But producing a lot of coffee doesn't mean it's very good. Instead, most of Vietnam's Robusta beans wind up in instant coffee, Folgers or the stuff you find at a gas station.
While Americans were still figuring out that the best part of waking up could be something better than Folgers in their cup, the Vietnamese just dumped their strong, bitter coffee over an unnecessary amount of condensed milk, creating a shockingly tasty, if a little cloying, beverage.
So rather than trying to reinvent an already delicious wheel, most Ho Chi Minh City cafés focus more on design than on coffee quality.
Of course, that's not to say that no care is put into the coffee. Even at many of the roadside cafés with plastic stools, the coffee is made in a phin, a metal filter that drips coffee into a glass filled with condensed milk. The coffee drips at roughly the pace of that old lady in pajamas you'll find walking through the vegetable market, which is nice because it gives you plenty of time to relax and enjoy the atmosphere.
In a city where bars are either gross backpacker establishments or overpriced, underqualified cocktail bars catering to Ho Chi Minh City's elite, independent cafés are a savior. Many of them serve booze, offer live music and stay open late into the night.
The largest collection of speakeasy cafés can be found on a quiet street in District 1, inside a nondescript four-story concrete building that looks more suited to house squatters than businesses. The side of the building has a small parking lot for scooters, with laundry hanging from the apartments above. The entrance is dark and bare, with wrought-iron bars on the windows of the winding stairway. But floors two through four are filled with cafés, including popular spots Things, Mockingbird and Banksy.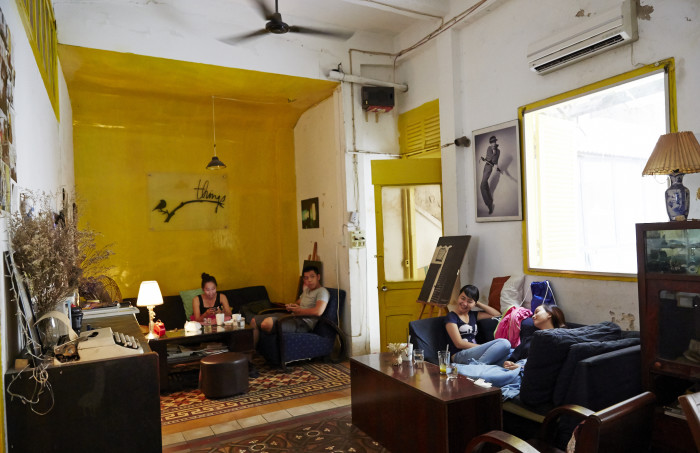 Things Café
This café looks kind of like what I imagine the actress Greta Gerwig's apartment to look like, or at least one of her characters' apartments to look like, right down to the random rack of vintage clothing and the peeling wall revealing exposed brick. This is the kind of homey spot where you could sit for hours, people-watching and staring at oddities like antique phones, typewriters and sewing machines. Tầng 1, 14 Tôn Thất Đạm, Nguyễn Thái Bình, Hồ Chí Minh, Vietnam; +84 128 657 5464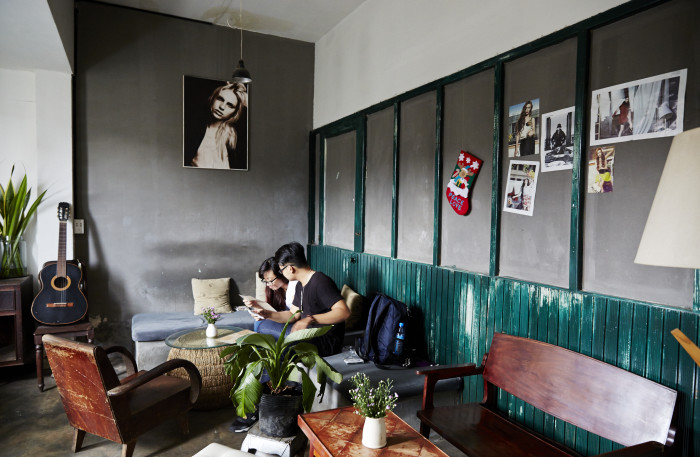 Mockingbird is a bright, sunny spot at the back of the top floor, with torn-out pages of old books and fashion-magazine clippings scattered across the mostly bare walls. An outdoor seating area is perched high above the street, which has huge glassless windows cut out of the concrete wall, offering views of life down below. Tầng 4, 14, Đường Tôn Thất Đạm, Quận 1, Hồ Chí Minh, Vietnam; +84 90 566 76 27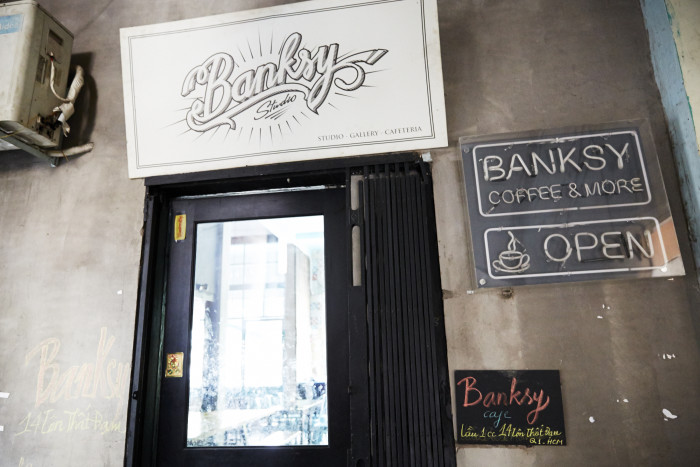 Named after exactly who you think, Bansky Studio Café has a wide mix of knickknacks, a stripped-down motorcycle and several prints of Banksy's street art. Guests sit in blue and purple faux-velvet couches, or chairs wrapped in nylon art prints. Lầu 1, 14 Tôn Thất Đạm, Nguyễn Thái Bình, Hồ Chí Minh, Vietnam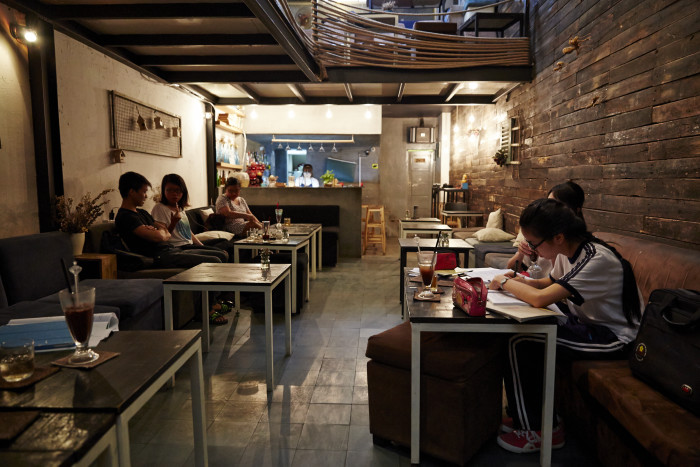 Yen Café, in District 3, is so difficult to find it's amazing it has stayed in business. Yen has an eclectic vibe that's similar to many of the other hidden cafés, but it remains comparatively minimal, with mostly empty wood box shelves holding a few books, a mug or an empty glass bottle. Retro cameras sit on tables and painted window shutters adorn walls. Upstairs, a narrow L-shaped balcony with low seats and thin tables looks down on the action — and live music — below. TP., 9 Phạm Đình Toái, phường 6, Hồ Chí Minh, Vietnam; +84 90 849 54 79
Down an unmarked alleyway, through a motorbike garage, past a kitchen and up a squeaky staircase, Vừng ơi mở ra café opens up into a large, cozy space. The walls of each of the two rooms are all painted a different color and remain largely naked, except for a few pictures and haphazardly framed records. The ceiling is covered in a few wide strips of flowing fabric. The abundant seating is designed for optimal viewing of the nightly live music. On the night I was here, there was a pianist, a violinist and a girl with a hypnotic voice signing in English, Vietnamese and French. 17 Ngô Thời Nhiệm, Trần Hưng Đạo, tp. Quy Nhơn, Bình Định, Vietnam; +84 8 2215 7813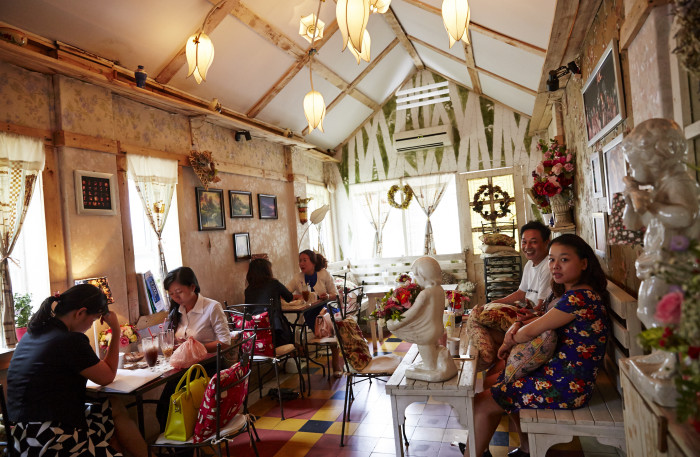 Not all of the city's hidden cafés look like a curiosities shop. To name a selecct few, the Fig Café opens out into a full-fledged garden, a man-made pond with lilies, water plants and a stone Buddha sitting on top. Gac Hoa Café is tucked above a flower shop and decorated to match, with floral lampshades, wreaths and a plethora of plants and flower vases. Ghế Đẩu Café, which sits on a slab of concrete with a roof of trees, hosts old men playing mahjong and chain-smoking cigarettes.
At all of these cafés, the coffee drips slowly and you can sit as long as you want, soak up the free Wi-Fi, cool down and clear your mind before working up the courage to head back into the heat and cross the street again.