Get To Know Mexican Desserts With Pastry Chef Pichet Ong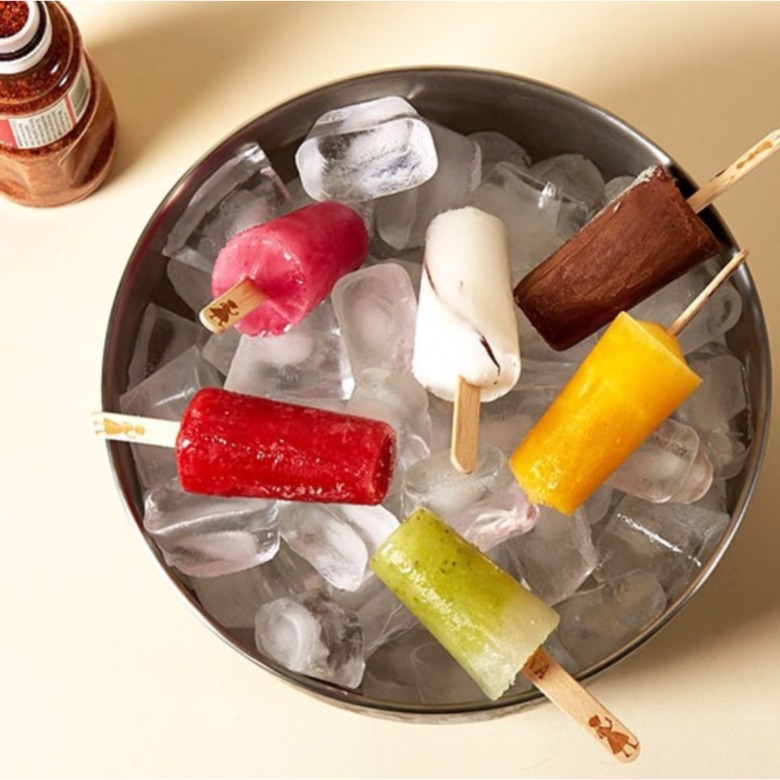 The fried churro is a staple snack in Mexico and can be found anywhere from cafés to the streets of Mexico City or New York. (Photo: Melissa H
New York pastry chef Pichet Ong grew up in Thailand, Hong Kong and Singapore and has toured the world extensively in search of the best things to eat.
When it comes to Mexican postres in America, desserts such as tres leches, churros and flan often come to mind. They can be found everywhere, even in non-Mexican restaurants. When Spice Market opened in New York City, flan and arroz con leche were menu staples, along with mojitos, margaritas, and tamarind sorbets. I realized then that many ingredients overlapped with a Southeast Asian dessert pantry, particularly when it comes to fruits and spices.
A decade later, I'm now working with Julian Medina's Yerba Buena group of Mexican and Latin American restaurants, and my knowledge of the Mexican pantry has grown — but I'm still by no means an expert. I've reached out to several pastry specialists around to country with ties to Mexico to compare notes on what Mexican desserts mean to them, and some of their inspired recipes are featured here at the end!
But first let's get to know some iconic Mexican desserts to better understand what's out there today.
Tres Leches
Tres leches is probably the most common dessert in Mexican restaurants and a favorite of every pastry chef I talked to. The direct translation of tres leches is three milks — with evaporated milk, condensed milk, and heavy cream used and served with butter or sponge cake that soaks up the flavorful milk. At Coppelia in NYC, I add coconut milk and serve it with seasonal fruit, such as Ataufo mangoes.
Churros
This is a staple snack in Mexico and can be found anywhere from cafés to the streets of Mexico City or New York. It is a fried pastry with a recipe similar to that of pâte à choux, often doubled up with eclairs in a panadería (pastry shop). It is usually eaten as a snack with café con leche or champurrado, a cinnamon-spiced chocolate drink thickened with masa.
Ate de Membrillo
Ate is a sweet and sticky jelly or paste made from quince and pulpy citrus. It is usually served with cheeses such as Mexican Manchego or Chihuahua as dessert in a typical Mexican home, or at breakfast spread over bread or stuffed in pastry.
Buñuelos
It is a fried dough ball, the Mexican equivalent of a donut. Unlike churros, the recipe calls for yeast, and once fried, it is spiced with anise, sugared, or filled with fruit paste — guava and quince are the most common. In Mexico, this sweet specialty is soaked in syrup made from pilocillo (Mexican dark brown sugar) and cinnamon; it's a staple at carnivals and during the nine days of observance prior to Christmas, Las Posadas.
Flan or Crème Caramel
Many variations of steamed custard with a liquid caramel top exist all around the world. In my book, flan has a pastry base and is the more common name in Mexico. Of the varieties, I love the thick, richy, egg-yolky version that many call Crème Catalan. In Mexico, flan Napolitano has added cream cheese for extra richness. My favorite is the dramatic flan impossible, a separated layering of cocoa cake and custard that happens when steam baking — it's like getting two desserts in one!
Raspado and Paletas
In warmer climates south of the border, nothing is more satisfying than snow cones and popsicles. In Mexico, ice is shaved into a ball and then topped off with flavored syrups, sweet milk, or hot sauce. Paletas, now very popular in the U.S., are made with fresh fruit juice that is frozen and served on a stick. Fany Gerson of Dough and La Newyorkina makes delicious fruit-forward ones in flavors such as cucumber-lime, mango chili, horchata, and avocado-passionfruit. (Note: Her paletería is opening soon in the West Village!)
♦♦♦
Some ingredients — or iconic pastries — that are being used now in American restaurants have roots in the Mexican pantry.  Here are some inspirations from pastry specialists across the country:
California-based pastry chef Luis Villavelazquez likes the floral notes, such as hibiscus and chamomile, in Mexican desserts. He also likes goat's milk for its rich, savory profile that gives complexity to a simple dessert. It is commonly used as the base for making cajeta, a caramel that is widely used to sweeten Mexican desserts. Here he infuses goat's milk with chamomile and serves it with roasted peaches and cinnamon crisp in a breakfast-inspired postre.
Chamomile Goat's Milk Tea
Ingredients
1 ounce fresh chamomile
2 cups St Benoit Jersey Milk
1 cup goat's milk
2 ounces sugar
1/8 teaspoon salt
Directions
Bring milk, sugar, and salt to a scald, and add in chamomile.
Turn off heat and cover with plastic wrap to infuse for 10 minutes.
Strain and let cool.
Serve at room temperature or cold.
Canela Crisp
Ingredients
2 ounces butter
2 ounces all-purpose flour
2 ounces sugar
3 ounces oats
2 tablespoons ground Mexican cinnamon
Directions
In the bowl of a mixer with the paddle attachment, mix butter, cinnamon, and sugar just to combine. Add in flour and mix just until dough forms.
Roll dough in between parchment until ¼-inch thick.
Freeze for an hour until firm.
Cut cookie into desired shapes, depending on the size of serving bowl.
Place on half sheet pan lined with parchment and bake for 5-7 minutes until golden brown. Let cook before serving.
Pastry sous chef Margarito Lopez from José Andrés's Think Food Group likes to play with canela, agua de Jamaica (hibiscus drink), piloncillo, tamarind, and dried chilies. At Oyamel, along with pastry chef Rick Billings, he took the inspiration from the strawberry margarita cocktail to reconstruct a dessert based on pairing of strawberries and mezcal in a hibiscus soup. He finishes it off with sal de gusano (a spicy, smoky salt condiment made from worms), which he uses to season the oven-dried meringue laced with freeze-dried strawberries.
Mezcal Sorbet
Ingredients
250 grams water
250 grams sugar
3 grams xanthan gum
250 grams lime juice
200 grams whole milk
75 grams good smoky mezcal, like Del Maguey Vida
Directions
In a pot, gently heat up the milk and water to dissolve the sugar, pull off the heat and let cool completely.
Next add in the milk, lime juice, and mezcal.
Blend in the xanthan gum with the help of a blender.
Let sorbet base mature overnight.
Process sorbet in an ice cream machine.
While living in Mexico City, the Texas-based pastry vagabond Joe Baker remembers peeking into the bakeries and seeing rows of little puerquitos, or pig cookies. Deliciously dark and earthy with a hint of spice and a smooth, sweet glaze, these fun cookies top the list of his favorite treats from Mexico. There, each shop used a different-shaped pig — some had big, bloated hogs while others featured more elegant swine. Here, in his version of puerquitos, he uses lard for a fine crumb, and piloncillo, a dark brown sugar which imparts a gently sweet, toffee-like quality when cooked. (Tip: If using piloncillo, it has to be finely grated prior to mixing.)
Puerquitos
(makes 12 cookies)
Ingredients
1 cup all-purpose flour
1/2 teaspoon unsweetened cocoa powder
1/4 cup grated piloncillo or dark brown sugar
2 teaspoons baking powder
1 teaspoon freshly ground cinnamon
Pinch of sea salt
1/4 cup cold lard or butter
1/6 cup milk
1 teaspoon vanilla extract, or one Mexican vanilla bean scraped into the milk
Glaze (optional)
1/4 cup powdered sugar
1 teaspoon goat's or cow's milk
1/4 teaspoon vanilla extract, or 1/2 a Mexican vanilla bean scraped
Directions
In a food processor, cut the flour, cocoa, sugar, baking powder, spice, and salt together until finely mixed.
Add the lard and pulse until a slightly sandy mixture is achieved.
Add the remaining ingredients and process until dough starts to come together. Remove dough from machine and fold by hand until smooth and even. Wrap the dough tightly in plastic wrap and chill at least 20 minutes.
Preheat oven to 400°F.
Remove the dough from the wrapping and roll to 1/4-inch thick without using flour, if possible (just roll it in the plastic wrap). Flour your cookie cutter of choice and cut the dough, then transfer cookies to a parchment-lined baking tray 1 inch apart.  The cookies don't spread much, so they can be close together.
Bake at preheated 400°F oven until the tops are gently browned, about 12-15 minutes. Remove from oven and let cool on tray.
If applying glaze to the cookies, use a brush and apply a thin layer of glaze that fills in all the crevices to create a uniform, thin finish while the cookies are hot. Once glazed, transfer the cookies to a cooling rack to avoid melting the glaze completely. Store the cookies in an airtight container.
The poster child of Mexican pastry is pan dulce, which literally translates as "sweet bread." I've long been fascinated with the idea of crusting bread with a cookie or another dough for that extra crunch and sweetness. Its origin for me is unclear; however, the first time I had something similar was at dim sum shop Tim Ho Wan over three decades ago. Since then, I've had other sugar shelled versions, such as pan de huevo, during my travels in Mexico. In Japan it's known as Melon Pans and served on its own or with ice cream. Here in the U.S. conchas, meaning shells, can be found in many panaderias coast to coast, at 24-hour Latin diner Coppelia in New York City or in fine-dining restaurants, such as Blackbird in Chicago. At Winsome in Echo Park, California, I spotted a matcha concha, which inspired me to make one for myself. I enlisted another matcha and concha fan, Jen Yee, pastry chef at Lafayette, for additional styling. We tried different plate-ups but liked the idea of an ice cream sandwich with coconut and mango. You may soon find more varieties — perhaps with a black charcoal crust — in a bakery near you!
Matcha Concha
Bread dough
(28 pieces)
Ingredients
1 cup plus 3 tablespoons milk
1 tablespoon green tea
4 cups bread flour
1 teaspoon salt
2 tablespoons yeast, instant dry
½ cup sugar
3 tablespoons condensed milk
2 eggs
1 stick butter, soft (115 grams)
Sweet Matcha Topping
2 tablespoon matcha powder
1/3 cup confectioner's sugar
¼ cup sugar
2/3 cup plus 1 tablespoon all-purpose flour
2 tablespoon rice flour
¼ teaspoon salt
1 stick butter, soft (115 grams)
½ teaspoon lemon zest
Directions
In a pot, bring milk to a scald, stir in tea and remove from heat. Let sit for 5 minutes, strain through fine mesh sieve, pushing out as much milk as possible.
Meanwhile, in the bowl of a mixer using the paddle attachment, whisk together flour, salt, yeast, and sugar just to combine.
Mix in eggs at medium speed, followed by milk tea until combined, about 2 minutes.
Gradually add in butter, and continue mixing at medium speed until combined, about a minute.
As soon as dough pulls together enough, turn it onto a floured surface.
Knead for 8 minutes until smooth and elastic, using more flour if necessary. Put ball into a larger mixing bowl lightly lined with butter. Turn dough once to coat. Cover and let proof in warm place, until dough doubles in volume, about an hour, and punch it down.
In the meantime, make the topping.
First sift together matcha, sugars, flours, and salt.
In bowl of mixer with paddle attachment, mix in butter and lemon zest and paddle until smooth and homogenous, about 4 minutes.
Divide topping batter in half. And roll each half between 2 pieces of half sheet pan size (17 by 12 inches) parchment until ¼-inch thick. Refrigerate dough until firm, at least 90 minutes.
On a lightly floured surface, divide proofed dough into individual balls of 40 grams each.
Shape them so that they are round and place them on a greased baking tray, leaving 3 inches between the balls and pat them flat; they should be two and a half inches in diameter. Spray the entire tray with water to moisten.
Remove chilled matcha topping from fridge and, working quickly, use circle cutter of two and a half inches to cut and score crescent lines, ½ inch apart.
Top each dough with marked matcha topping and let tray proof in warm place until balls double in volume, about 45 minutes.
Bake in preheated 375-degree convection oven until top is dry, with base under the matcha topping lightly browned. At this point, the breads should be easily pulled from the paper, about 8 minutes total.
Let cool completely before serving.