Tanta chef Jesus Delgado is serious about fresh seafood. While he's been getting accustomed to lakefront life in Chicago since the River North restaurant's August 2013 opening, he travels back frequently to his home country of Peru. So much so, in fact, that he recently bought a hostel and bar in Mancora, a surf town in the country's northwestern region, where he spent nearly all of 2007.

"Every day I would go with my kid to see all of this super-fresh seafood that the divers were catching and selling for really cheap, from octopus and oysters to scallops," he recalls. "I'd say, 'I'll take that, that and that,' and we'd go back home and start cooking — it was one of the best years of my life."
He weaves that hyper-fresh approach into his work at Tanta, where seafood dishes feature the global influences on the South American country and circulate around the catch of the day. "We use the freshest fish, no matter what," he says. "Sometimes that's mahimahi from Ecuador; sometimes it's fluke from the East Coast."
Just one section of the menu that sees that variety is their selection of cebiches. "Every country has their own cebiche, but Peru is the land of the cebiche," he says of the dish, which calls for five base ingredients: limes, onions, chili, fish and salt. When you see cebiches in your travels through Mexico and other parts of Latin America, explains Delgado, is when those versions start to get a little — well — dicey. "Other countries cut the fish into very small cubes, but we cut them into large cubes so that the lime cooks just the outside of the fish, thereby not overcooking it." Time is also a factor. While people in most countries marinate their cebiches in lime for hours or even overnight, Delgado argues that less is more. "We marinate ours for just 30 seconds — that's the Peruvian way," he says. It was a method the country picked up from the Japanese, who settled in Peru about 100 years ago. "We saw that they ate their fish raw in sashimi form, so we said to ourselves, 'Why are we marinating our high-quality fish for so long? If it's fresh, it tastes better raw in every way, from the flavor to the texture.'"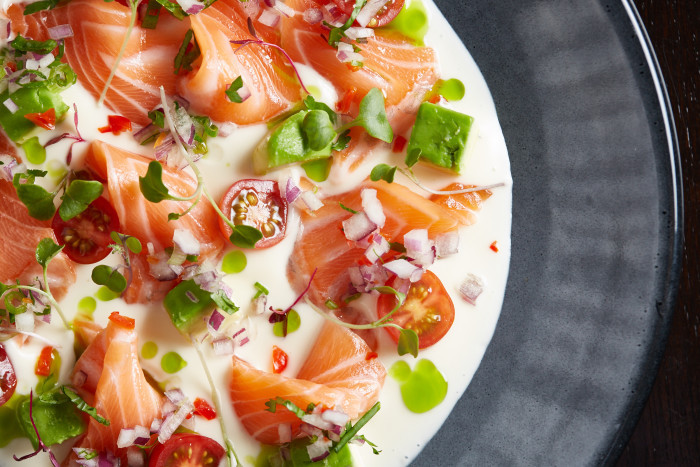 Another nod to the Japanese can be found in the restaurant's lineup of tiraditos: thin, sashimi-like slices of fish that are cooked in the same marinade as cebiche. Delgado's favorite on the menu is the Cremoso: seven slices of catch-of-the-day fish (right now it's salmon) atop a bed of a mayo they make by emulsifying scallops, oil and lime.
And while Japanese flavors and techniques have surely played into the cuisine of Peru, it's China that has had the biggest impact on the country's fare — and on the personal tastes of Delgado, whose grandfather was Chinese. "We grew up eating rice every day," he says. As such, one of his favorite dishes is arroz con mariscos, or rice with seafood. At Tanta that dish gets reinterpreted as arroz criollo, or Creole rice: a paella-esque plate of chili paste, calamari, octopus and shrimp made in a wok. "We make it in the wok because it tastes better," Delgado explains. "It's a little smoky, and the water evaporates faster than it would in a sauté pan."
Arroz con mariscos and cebiche make up two of the three dishes typically ordered in any of Peru's cebicherias, or seafood restaurants. "There's a traditional combo in Peru: Cebiche, arroz con mariscos and jalea, or deep-fried seafood," he says. At the restaurant Delgado fries up octopus, whitefish, calamari and shrimp after dressing them in flour, lime, garlic and salt. Once crispy, they're served alongside salsa criolla, an onion-heavy salad that's also full of lime and cilantro.
After those three dishes land on the table comes the next big tradition in Peruvian dining: sharing. "Everybody orders the three to share, and it's a lot of fun for the whole table because you can order more and mix up flavors with others," says Delgado. The chef hopes guests at Tanta follow suite. "That's how we eat in Peru, and we're trying to share our traditions with our guests so that they can have that same all-encompassing experience with the menu."
---
Cebiche Chalaco
Ingredients
4 oz white fish (cut into 2cm/2cm cubes)
2 oz calamari
1 teaspoon chopped habanero
1 teaspoon chopped celery
1/2 teaspoon chopped cilantro
3 limes
1/2 cup leche de tigre
1 oz rocoto chili paste
2 oz julienne red onions
1/2 teaspoon garlic puree
1 cup flour
1 oz cooked choclo
1 oz cooked sweet potatoes
1 cup vegetable oil
salt
Directions:
Place the fish in a bowl and season with salt, garlic, lime juice, cilantro, habanero and celery. Add the leche de tigre and the rocoto paste.
Season the calamari with salt and garlic and dip into the flour to coat evenly.
Heat the vegetable oil in a pan to 380°F, drop the calamari carefully, and cook for 4 minutes, until crispy and golden.
Drain well on paper towel and set aside.
For plating, add the onions to the cebiche mix for 10 seconds, garnish with choclo, sweet potatoes and the crispy calamari on top.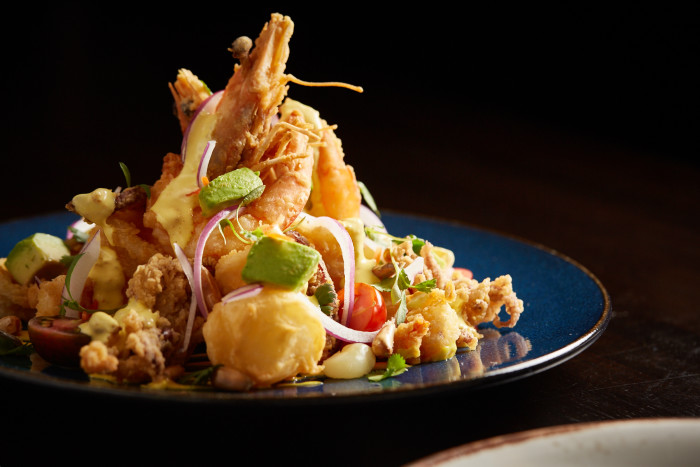 Arroz Criollo
Ingredients
2 cups cooked rice
2 oz yellow chili paste
2 oz chopped onions
1 spoon chopped garlic
1 oz green peas
2 oz julienne peppers
1 oz choclo
1 teaspoon cilantro
2 oz white wine
2 oz mussels stock
2 oz fish stock
salt and cumin
6 pc shrimp
2 oz cooked octopus
3 oz calamari
1 oz olive oil
Directions:
Heat the olive oil in a wok, skillet or frying pan, add the chili paste, garlic and onions and sauté for 2 to 3 minutes, until the paste has thickened slightly and is fragrant. Add the cooked rice and season with salt and pepper.
Mix together well.
Gradually pour over the mussel stock, fish stock and wine, then add the seafood.
Cook over high heat for 3 minutes stirring, until the flavors meld together and the seafood is cooked. Be careful not to let it burn. Stir in chopped cilantro and drizzle with olive oil to finish.
For plating, garnish with onion salad with avocado cubes.
---
Join chef Jesus Delgado and the Tanta team on Tuesday, August 2nd, 2016 for a four-course Peruvian feast with drink pairings. The cost is all-inclusive at $150 per person and includes a copy of Peru: The Cookbook by Gastón Acurio.