With Cinco de Mayo just around the corner, it's time to lay the age-old East Coast vs. West Coast Mexican food battle to rest and focus on the reality of Mexican food in New York City. As with many cuisines, the Mexican in the city's most diverse borough is simply the best.

Queens has everything from Pueblan favorites getting the Michelin-star treatment at Cosme Aguilar's Casa Enrique and a soulful mole cooked up at La Flor by Larry Forgione alum Viko Ortega to such regional specialties as Oaxacan tlayudas and Veracruzan seafood cocktails, and chapulines for the entomophages. There's a Mexican restaurant or taco truck or torta window every other storefront along the stretch of Roosevelt Avenue that runs from 74th Street to Citi Field. Here are seven of our favorites to get you started on your exploration of the best borough for Mexican in New York City.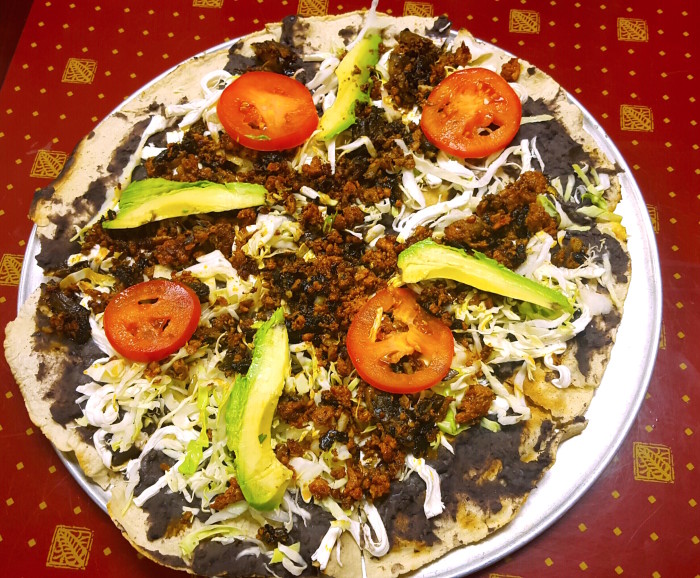 Tlayudas de hongo y chorizo
"Que Es Tlayudas," asks a helpful menu notation at Cienega Grocery & Deli. "Tortilla Gigante de Maiz Originaria de Oaxaca," the menu answers. That gloss is partially correct. To be more specific, a tlayuda is toasted disc of maíz, slightly charred along the edges. Texturally it's more matzo than tostada. Therein ends all similarity to the unleavened Passover bread. Traditionally a tlayuda is smeared with a mixture of pork lard and black beans and topped with cabbage. lettuce and quesillo, a Oaxacan cheese that resembles mozzarella in its stringlike texture.
Cienega offers a variety of other toppings, including carne asada, pork al pastor, chorizo, and hongos. Combine the latter two for a tlayuda that calls to mind a sausage and mushroom pizza by way of Oaxaca and Corona. Both the red and green hot sauces make a great accompaniment.
It's only fitting to find this pizza-like dish in what was once an Italian-American stronghold. Get your tlayuda to go and head over to nearby William F. Moore "Spaghetti" Park and watch the boys play a few rounds of bocce. Don't worry if you can't finish it; like all good pizza, tlayuda makes an excellent midnight snack eaten cold from the fridge. Cienega Grocery & Deli, 104-32 Corona Ave., Corona; 718-271-0532
Tacos de panza
Many Mexican restaurants and delis along Roosevelt Avenue offer barbacoa de chivo — tender goat meat — con consomme as a weekend special. The oddly named Crusz Family Corp. Restaurant serves the tender baby goat as well as some parts thereof, specifically the belly or panza, cradled in a double tortilla taco. Panza de chivo consists of white bits of innard stewed with chilies and other spices. Soft and comforting, it tastes of marrow and musk with just the slightest hint of funk. Relleno de chivo, on the other hand, is jet black thanks to blood and features lovely chunks of red-tinged goat belly meat. It has a welcome mineral tang. Add a cabeza de res, or beef head, taco to your order for an offal trifecta. Crusz Family Corp. Restaurant, 87-09 Roosevelt Ave., Jackson Heights; 718-205-7977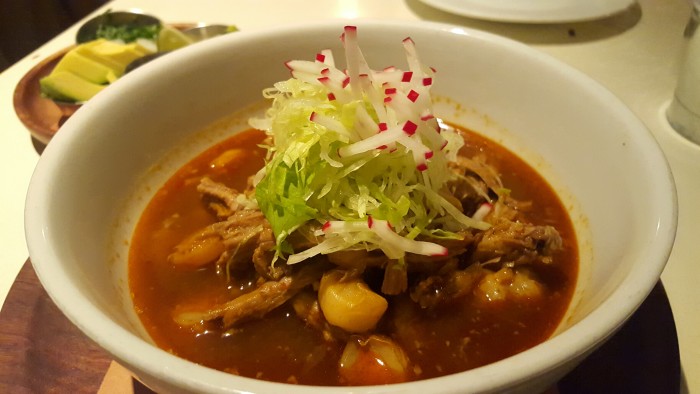 Casa Enrique's Michelin-starred, James Beard Award–Winning Mexican
You won't find it advertised on the menu as such, but Cosme Aguilar's Michelin-starred Casa Enrique features pig's head in the pozole de mi tia. "That's where the flavor comes from. It's very rich," Aguilar says of the ruddy pork and hominy soup that also includes succulent chunks of shoulder. The color comes from a septet of chili peppers: mulato, pasilla, guajillo, chile de arbol, chipotle, ancho, and cascabel. Unlike many other restaurants, Aguilar shuns canned hominy at Casa Enrique. Instead, he takes the time to soak dry kernels overnight and then cooks them for more than three hours with the meat and other ingredients.
Served with the standard pozole fixins of oregano, lime and salty fresh fried tortilla chips, it's a comforting bowl that would make Aguilar's Tia Berta beam with pride. Tia would no doubt also be proud of that Michelin star, the superb tacos and the spoon-tender chamorro de borrego, a lamb shank braised in chili pulla, huajes and epazote that eats like a Pueblan osso buco. Casa Enrique, 5-48 49th Ave., Long Island City; 347-448-6040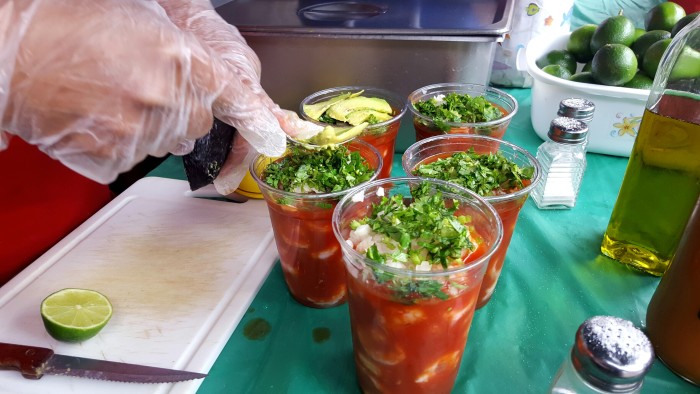 La Esquina del Camarón Mexicano
Cocktails de camarón appear on the menu of most every taqueria along Roosevelt Avenue. There's only one place on "La Roosie" worth ordering Mexican seafood cocktails from though: a bodega on the corner of 80th. Walk to the back and there you will find Pedro Rodriguez, the man behind La Esquina del Camarón Mexicano.
Rodriguez learned his craft in the seaside state of Veracruz. He's a mixologist of sorts with a mise en place that includes shrimp, octopus, olive oil, limes, onions, cilantro, avocado and a tomato-based sauce made with clam juice and orange juice. Doctored up with a goodly splash of Valentina hot sauce and served with saltines, a cup of his signature creation brimming with tender octopus and shrimp is a meal in itself.
On weekends he sets up a street-side stand outside the bodega, and he sells hundreds of cocktails in a day. Other delicacies include tostadas topped with tender octopus tentacles and sea bass empanadas. La Esquina Del Camarón Mexicano, 80th St. and Roosevelt Ave., Jackson Heights; 347-885-2946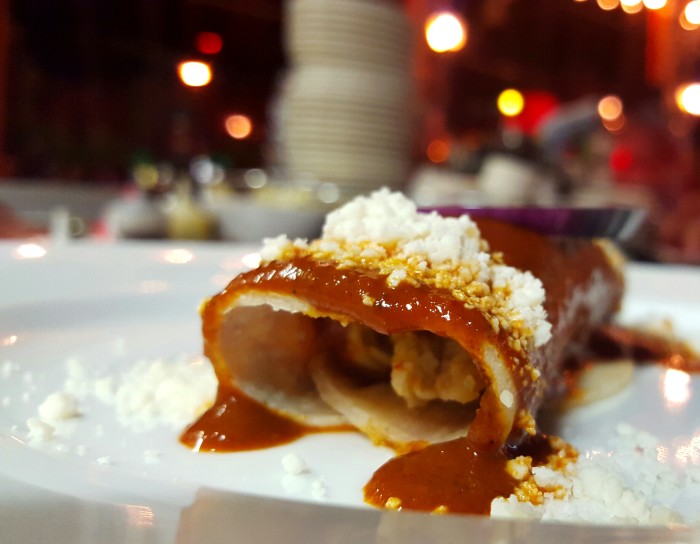 La Flor's hometown chicken enchiladas with mole poblano
It's a pretty safe bet that chef Viko Ortega is the only guy making mole poblano on Roosevelt Avenue who's cooked with Larry Forgione. Ortega didn't learn how to make the palate-warming complex sauce, which graces his "hometown chicken enchiladas," from the farm-to-table pioneer, however. Ortega's recipe, which includes five kinds of chili peppers — mulato, pasilla, guajillo, dried poblano and chili de arbol — came from his grandmother Rosaura. Ortega's carnitas tacos are also highly recommended; they feature a perfect blend of crunchy bits of pork and tender meat. La Flor, 53-02 Roosevelt Ave., Woodside; 718-426-8023
Tortas Pumas
With more than a dozen gigantic tortas — each named for a Mexican fútbol club — on his menu, Galdino "Tortas" Neza is the reigning king of the Mexican sandwich in Queens. At one time, his overstuffed creations were sold from a truck. These days he operates out of a window in the front of Juan Bar.
Galdino hails from Mexico City and is what one would call "muy chistoso," or witty, in the local vernacular. His signature sandwich, the Tortas Pumas, named for his favorite soccer team, is no joke, though. It's a gutbuster consisting of a fried chicken cutlet, head cheese, a chorizo omelet, fried hot dogs, avocado and quesillo cheese, among other things. You might need to bring your own soccer team to help you eat it. In the mood for something smaller? Try one of the somewhat tinier tortas, or a taco de carnitas, which includes practically every part of the pig except the squeal. Tortas Neza, 96-15 D Roosevelt Ave., Jackson Heights; 347-666-1517
Chapulines
Chapulines, or reddish fried grasshoppers each barely bigger than a pencil point, are a popular snack in Mexico. Crunchy and salty with a hint of lime, they are a perfect match for an ice-cold Tecate beer. Find them at Mexicana Bakery, which in addition to selling colorful Mexican breads is also a great place to shop for Mexican herbs and chilies. Look for the sign on the door that reads "Hay chapulines," or "We have grasshoppers." Mexicana Bakery, 88-04 Roosevelt Ave., Jackson Heights; 718-507-6381
Queens-based food writer and culinary tour guide Joe DiStefano is the founder of Chopsticks and Marrow and a cofounder of Queens Dinner Club.