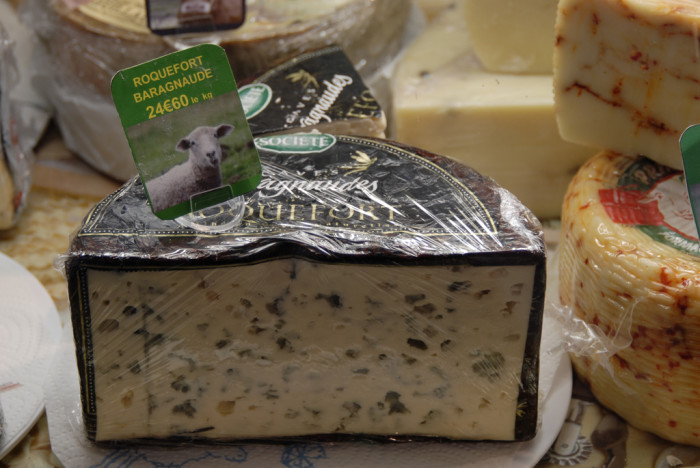 Christine Haughney covers corruption and criminal behavior as part of the Zero Point Zero Production series Food Crimes.
It was going to be the crowning addition to Thanksgiving cheese plates throughout the New York area. Last fall, venerable NYC retailer Murray's Cheese ordered coveted cheeses aged by the French affineur Pascal Beillevaire to deliver to customers in time for the holidays. The aged French cheeses just had to pass inspection by the U.S. Food and Drug Administration (FDA). That process, though, proved to be a lot more difficult than it sounds.
While the cheeses were en route to Murray's, the FDA altered its standards for the amount of bacteria it allows in cheese. The holidays soon passed without any sign of the much-anticipated Beillevaire wheels. It wasn't until late January that Murray's received its first shipment. The process is supposed to get easier after five consecutive FDA-approved shipments; Murray's is still awaiting its fifth shipment.
"Beillevaire was placed on import alert as a result of the drastically reduced allowable limits of E. coli," writes Steve Millard, Murray's vice president of merchandising and food service in an email. "The FDA needs to be convinced the product or producer is safe."
Importers say that even though the FDA halted its random testing of cheeses in February, the agency is still making it very difficult to import certain cheeses. As a result, supplies of many popular varieties are quickly running short.
"Unless someone's sneaking you home something in their suitcase from France," says Amanda Parker, vice president of business development for Murray's, "we don't expect to see things like raw-milk Camembert or soft cheeses any time soon."
"They use this fearmongering that suitcase cheeses are going to kill us all."
The U.S. government has long had an ambivalent relationship with the stinky, gooey cheeses that Americans often discover and savor on European vacations. (Cheese lovers may recall former U.S. president George W. Bush's 300 percent tax on Roquefort cheese in 2009.) As recently as last summer, the FDA cited raw-milk cheeses as the cause of 27 out of 65 of the nation's foodborne illness outbreaks between 1993 and 2006.
But Carlos Yescas, program director for the Oldways Cheese Coalition, which promotes artisanal cheeses, says the government data is misleading because it  includes illegal soft cheeses that were smuggled into the U.S. from Mexico and Guatemala. He notes that the government conflates those illegal cheeses with legitimate varieties from places with long artisanal cheese-making histories, like France.
"They use this fearmongering that suitcase cheeses are going to kill us all," says Yescas. "Whole Foods would never have that cheese," he adds, referring to illegal soft cheeses from Mexico.
Meanwhile, the FDA says it's not entirely at fault for any holdups on cheese imports; the French government plays a role in that, too. FDA spokeswoman Lauren Sucher writes in an email that "the French government has established a program to certify manufacturers who wish to export soft cheeses to the U.S." and "essentially the French government determines what facility appears to be following good manufacturing practices for soft and raw milk cheeses." Sucher declined to discuss individual cases like the Murray's situation, citing agency policy to address "issues regarding a specific company or case only with the companies/parties directly involved."
But industry experts say that at some point, the FDA's treatment of certain French cheeses is going to make it too expensive or too much of a hassle to import. In 2014, the FDA stopped French cheeses like Roquefort, St. Nectaire, Morbier and Tomme de Savoie from coming into the country. Importer Shawn Hockert, sales manager at Seacrest Foods in Lynn, Massachusetts, says his company lost roughly $250,000 in sales in 2014 because of the ban on Morbier. In the meantime, his company has fought the ban on Roquefort and has tried to find a new product to replace Tomme de Savoie.
Some international cheesemakers, who suggest that the FDA's rules are out of sync with those of other advanced nations, have already reached the breaking point in their frustrations. Ralph Ichter, the owner of Washington, D.C.-based Euroconsultants, which deals with regulatory issues on behalf of the French dairy processors' association, says the approval process is just too arduous. Most exporters can't wait like Murray's did for five consecutive shipments to meet the FDA's testing requirements before being sold.
"I have seen ladies come out of meetings crying because we will never be able to meet those crazy requirements," says Ichter.
The FDA's Sucher responds in an email that "we're not sure what international standards you're referring to. Our goal is to work with the cheese industry to insure that both pasteurized and raw milk cheeses are made safely."
In the end, it's not just the 1 percent of the cheese-loving world affected by these changes. These regulations have begun to determine what kind of cheeses U.S. consumers can buy. Parker, who travels extensively advising the Kroger supermarket chain on selling Murray's Cheese, says that the current system does not bode well for the future of fine cheeses in America.
"I certainly hope we aren't going to see cheese go away permanently," she says.