Why Chicago's West Loop Is The Hottest Restaurant Neighborhood In America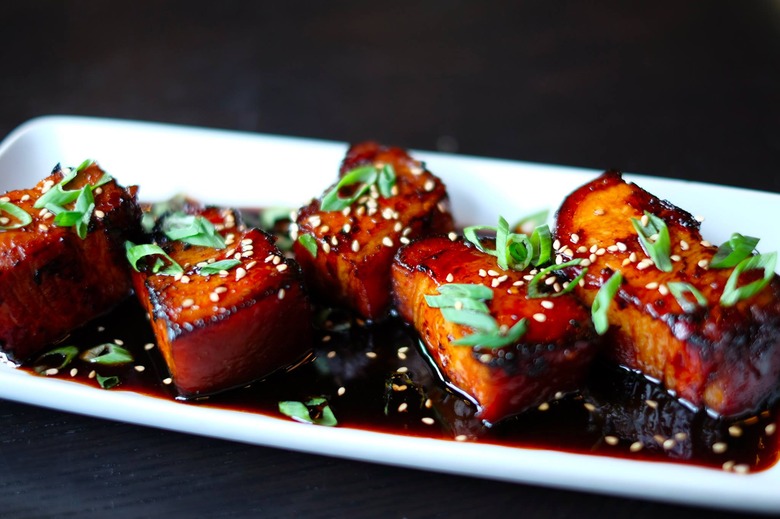 If you ask any Chicagoan where to head for dinner, they're bound to make remarks on at least one restaurant in the West Loop. After all, many of the city's most lauded chefs and restaurateurs have chosen the neighborhood for their projects, from local stalwarts Girl & the Goat and Au Cheval to newcomers Soho House and Salero. The majority of those come complete with stellar reviews and hours-long waits, so a venture on these streets is a good bet — even if it didn't always seem that way.
Restaurateur Donnie Madia and chef Paul Kahan took a chance on the area back in 1997 when they opened Blackbird, their very first restaurant together. "There was a lot of restaurant action going on on the west side of Halsted on Randolph Street, but nothing on the east side," recalls Madia. "We found ourselves on this little island almost." That little island would eventually become home to some of the city's most talked-about restaurants, including Salero, Sepia, Embeya and their own Avec, which opened in 2003. Meanwhile, on the other side of Halsted Street, the restaurant action continues with wood-fired pizzas at Parlor and bowls of noodles at High Five Ramen on Green Street and acclaimed Alinea chef Grant Achatz's innovatively "ticketed" second restaurant Next on Fulton Market.
On Monday, May 2, the national spotlight will descend on this hub of culinary excellence when the esteemed James Beard Foundation holds its annual awards gala — often described as the "Oscars of food" — at the Lyric Opera of Chicago. The splashy black-tie event draws chefs and restaurateurs from across the country. Afterparties and other related events are planned at restaurants throughout the neighborhood.
For one night, the West Loop will seem like the epicenter of the entire food universe, if it didn't already.
---
"The great neighborhoods are built on the backs of great restaurants."
---
Lately, the hottest pocket of restaurant development in the neighborhood has been Fulton Market, located two blocks north of Randolph Street. This is where Madia and Kahan's company, One Off Hospitality, has planted two more restaurants, the Publican and Publican Quality Meats. "Location is very important, but it's also important to our philosophy to not follow a trend but to create a trend," Madia says. "We felt that one day Fulton Market would be incredible, and we felt that Randolph east of the expressway would be incredible."
The most recent project to hit Fulton Market is Duck Duck Goat, a restaurant showcasing Chinese fare from acclaimed chef Stephanie Izard. It's the sixth restaurant that Izard's partners at Boka Group have opened in the West Loop since 2010, when her vaunted Girl & the Goat first graced Randolph Street. "About a year after we opened that, things just started to happen," notes Boka Group cofounder Kevin Boehm. "It was a bit of a brush fire."
Six years later, the craze continues in big-name form. Come early May, prolific restaurateur Rick Bayless will unleash his latest on Randolph and Peoria: Leña Brava, an all-wood-fired kitchen serving up dishes inspired by the cuisine of northern Baja. It's the fifth Chicago venture from Bayless, who decided on a West Loop location at the onset of the project. "If you want to be accessible to all of the people who live here and come through here for conferences and tourism, then it's the place to be," he says. "It's an inexpensive cab ride from any hotel, and there are massive amounts of people who live downtown, so it can become their local restaurant."
For Bayless, it was the neighborhood's recent restaurant resurgence — the one that brought the likes of the Publican, Girl & the Goat, Au Cheval and so on — that further solidified his choice of location. "The more the merrier," he notes. "We were the pioneers of River North, and if you're the only people doing it, like we were for a long time, it's really hard," he says. Madia agrees. "We enjoy our company, and we like that they're there because they bring more people to the neighborhood and more opportunities for all of us to flourish."
In the past year alone, that momentum has brought with it a number of high-profile newcomers, including an Italian concept from Top Chef alum Fabio Viviani (Bar Siena), a fried chicken favorite (Gus's World Famous), a colossal steak house (Swift & Sons) and the latest from Alinea's Grant Achatz and Nick Kokonas (Roister). "Usually restaurants come first, then you have hotels and then you have retail," notes Boehm.
If his theory is right, then the West Loop is just getting started. Soho House seems to be the first of several other hotel undertakings, including an offshoot of the trendy Ace Hotel chain and a forthcoming concept from Nobu Hospitality. This year's arrival of new commercial tenants, including Google and WeWork, only helps, Boehm points out. "It's not just about happy hour and dinner anymore — now it's about lunch, too."
Additionally, the neighborhood is seeing an influx of high-rise residential buildings at every corner, showcasing a demand for the area like never before. "They're closing in on the last little bits of real estate and building 10- and 20-story apartment buildings for more residents," notes Madia. "The West Loop is pulsating — it's the hottest neighborhood in the country right now."
But could that shift all be pegged back to the food that's driving the scene's business? Boehm thinks so. "I think the great neighborhoods are built on the backs of great restaurants," he says. "A neighborhood gets its identity based on the restaurants that are there — they're the landmarks that people can point to."
It seems like a win-win for chefs looking for a spot to open shop, and according to Boehm, there's a lot of opportunity — until there isn't. "It'll reach its tipping point at some point, and that has to do with how expensive real estate gets," he says. "But based on the amount of people living and working here, and with hotels on the way, I think there is still a ways for it to go."
Bayless agrees. "There's really a lot of property and so many opportunities that can be had over there," he says. "It's really got a lot of potential to continue on, and I think it will."
♦♦♦
Au Cheval, 800 W. Randolph St., Chicago, IL 60607; 312-929-4580; auchevalchicago.comBar Siena, 832 W. Randolph St., Chicago, IL 60607; 312-492-7775; barsiena.comBlackbird, 619 W. Randolph St., Chicago, IL; 312-715-0708; blackbirdrestaurant.comDuck Duck Goat, 857 W. Fulton Market, Chicago, IL 60607; 312-902-3825; duckduckgoatchicago.comGirl & the Goat, 809 W. Randolph St., Chicago Il 60607; 312-492-6262; girlandthegoat.comGus's World Famous Fried Chicken, 847 W. Fulton Market, Chicago, IL 60607; gusfriedchicken.comLeña Brava, 900 W. Randolph St., Chicago, IL 60607; 312-733-1975; rickbayless.comPublican Quality Meats, 825 W. Fulton Market, Chicago, IL 60607; 312-445-8977; publicanqualitymeats.comThe Publican, 837 W. Fulton Market, Chicago, IL 60607; 312-733-9555; thepublicanrestaurant.comRoister, 951 W. Fulton Market, Chicago, IL 60607; roister.tocktix.comSwift & Sons, 1000 W. Fulton Market, Chicago, IL 60607; 312-733-9420; swiftandsonschicago.com