Gigantic, well-worn hands deftly mold dough balls as the dome of a wood-fired oven nearby emanates an incendiary glow. No, this isn't a Food Network show starring a giant from Game of Thrones. This is the open kitchen of Pizza Romana, Alex Palermo's Roman-style pizzeria in Hollywood.
Neapolitan, New York and Chicago styles have adherents, but Palermo grew up on Roman-style pizza and still considers that "the one and only." When his now-shuttered restaurant Cube opened, he introduced Roman-style pizza and realized how much customers enjoyed it, and didn't know the difference.
In Rome, pizza is served al taglio (by the slice) and pizza tonda (rounds). Palermo is in Italy on business every three months and befriended a pizzaiolo at Baffetto, which Palermo considers Rome's best pizza tonda.
"A huge part of Roman pizza has to do with the fermentation process," Palermo says. "It goes back to the Roman Empire, when they didn't have flour. You had to ferment dough for very long periods to be able to break down the proteins."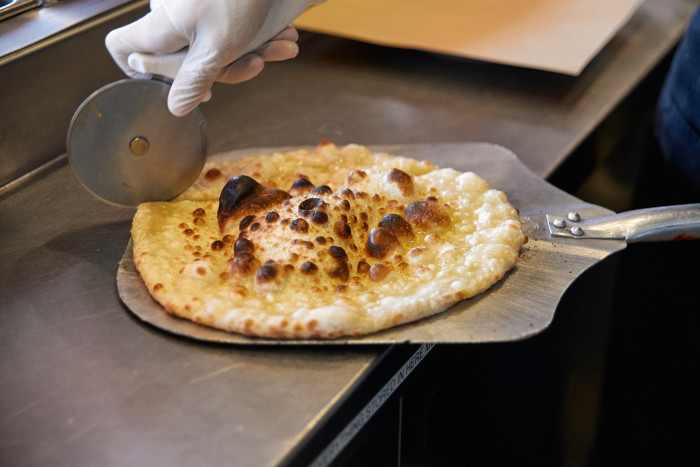 Back then, ingredients like barley and chickpeas formed hard doughs. Even after Romans introduced wheat to their diets, pizzaiolos continued to ferment dough for longer periods. "The beauty of fermenting dough for 24 or sometimes 48 hours is that you end up with incredibly light, fluffy dough," Palermo says. "That pizza won't sit on your stomach."
Palermo is American, but his father is Roman and he spent summers in Italy's capital as a child. He founded Divine Pasta in 1994. The company still produces fresh pasta downtown for restaurants and grocery stores. Cube took over and served regional Italian food for seven years. Now Pizza Romana showcases Palermo's "passion for pizza."
He's applied learnings from Rome, but diverged in key ways. Says Palermo, "I want the fluffiness of the dough. They pin-roll it at the end. That would keep it flatter. A lot of pizzerias in Rome prefer that style, but I want it hand-stretched because it stays fluffier."
Palermo's toppings are "a mix of traditional and New Age" and always "the best," he says. That means San Marzano tomatoes and mozzarella di bufala DOP from Italy, hormone-free meats, farmers' market vegetables and greens from the restaurant's organic garden downtown.
The wood-burning oven is Morello Forni, which Palermo calls a "game changer." Instead of relying on a pizzaiolo to carefully monitor each pizza, a rotating surface allows each pizza to cook evenly between 675 and 700 degrees, in 2 minutes and 15 seconds. The oven's self-regulating controls eliminate temperature spikes when adding wood. Pizza Romana uses almond wood since it's abundant in California. In Italy, oak is used for the same reason.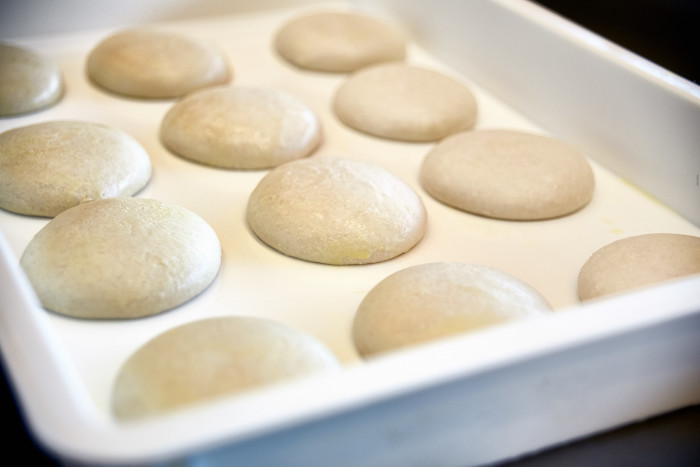 Dough balls are rolled in Italy with 00 flour and Italian water at a factory in Visso, a small town in Monti Sibillini National Park. Palermo swears the water produces a "unique flavor" that can't be reformulated: "It's kind of like when you go to Mexico and the hand-made tortillas taste different. Or you go to England and the scones taste different. You're trying to replicate history and heritage, and that's really, really hard to do." The dough's coated with extra-virgin olive oil and fermented for 24 hours. He prefers low-acidity oil from an Umbrian farmer named Fausto that delivers a "neutral buttery finish."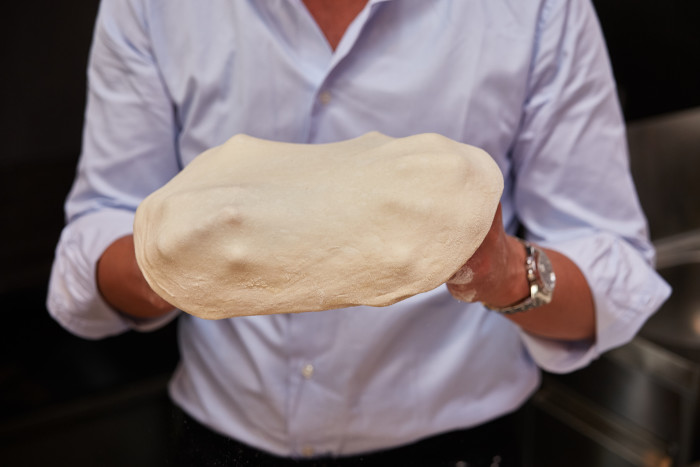 Once the dough reaches room temperature, Palermo and staffers stretch through tossing, which isn't just for show. "You've actually got to be careful with Roman dough because it can tear so easily," he says. "You don't have the extreme elasticity you would have in Neapolitan." The ingredients are the same, but Neapolitan dough only ferments for six hours, versus 24 to 48 for Roman style.
Each Pizza Romana pie spans about 11 inches, which supports ample ingredients but won't leave you feeling stuffed. "A perfect pizza to me is something you can slice in four, pick up with your hand, and the ingredients don't fall off the top," says Palermo.
"Pizza Bianca is the greatest way for people to start tasting our pizza," Palermo says. "That flavor profile is very, very specific to the fermentation process." That pizza carries extra-virgin olive oil, salt and rosemary, meaning the dough's flavor can't hide. Palermo suggests pairing with the restaurant's Italian salumi and formaggi plate.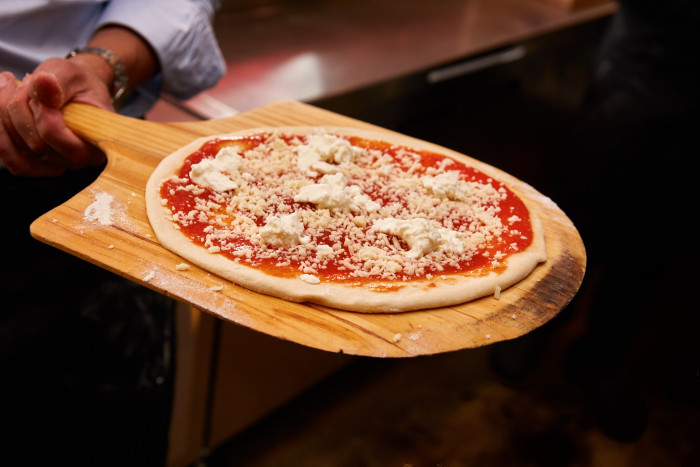 Palermo also appreciates Margherita pizza, saying, "If you don't have the right ingredients, it's not any good." The sauce is simply San Marzano tomatoes, salt and basil. Up top, you'll find crumbled whole milk mozzarella and creamy dollops of tangy buffalo mozzarella. He adds basil after baking so the leaves don't turn black.
Another Palermo favorite involves mascarpone cream sauce and buffalo mozzarella, with arugula and prosciutto di Parma added after cooking. The dough also helps fuel paninos, including one version with fried chicken. Fried chicken pizza sandwiches? Only in L.A.