Inside The Tribute To Joël Robuchon Dinner At Spain's Marbella Resort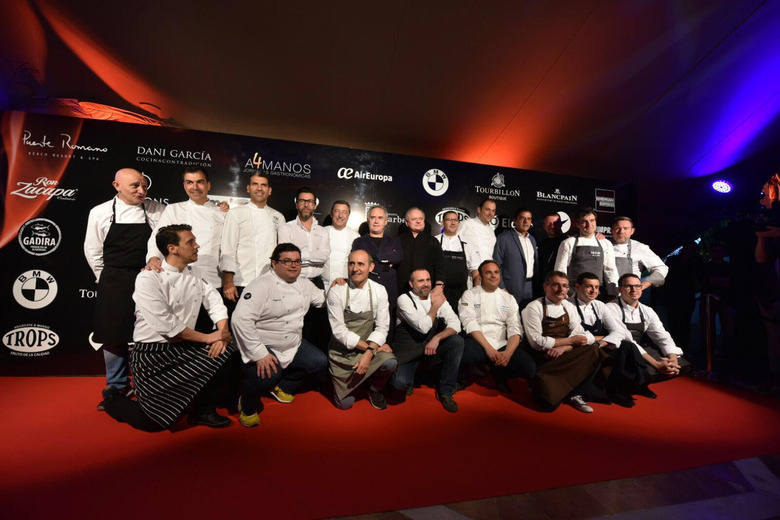 With young, tatted chefs turning out Instagram-perfect lardo toast and guajillo-laden nachos at the likes of tiny, white-hot Brooklyn and Portland restaurants, it's easy, while on the quest for a coveted table, to forget about the icons, the chefs who long before the arrival of the Food Network helped transform the dining landscape and make ingredients like uni clamored for nightly. Joël Robuchon, the Frenchman who has amassed a mighty 28 Michelin stars around the globe (more than any other chef), is one such ingredient-reverent culinary great who revolutionized fine dining through sophisticated dishes like pan-fried turbot with lemongrass and leeks. Last week, to pay tribute to him, 18 lauded chefs descended upon the flashy Spanish resort mecca of Marbella to prepare a special feast.
For the third year in a row, Dani García, the soulful Andalusian-bred chef behind Restaurante Dani García and Bibo at Marbella's Puente Romano Beach Resort & Spa (New Yorkers might remember he manned the stoves of the short-lived Manzanilla), unveiled the third installment of "A Cuatro Manos," a friendship- and mentorship-fueled series of collaborative tasting menus unfurled in the sleek, white exhibition kitchen of Restaurante Dani García. Last year's highlight was undoubtedly the dinner paying homage to Ferran Adrià, who redefined modern Spanish cuisine with his molecular creations at El Bulli. This time around García turned his attention to Robuchon, a chef he describes as "different, yet complementary" to Adrià. García's first brush with Robuchon's cooking was in Tokyo, where he ironically was most impressed by the chef's roasted Ibérico pork. "Andalusia is known for its quality Ibérico, and yet to eat the best one in my life I needed to go to Japan," he recalls.
"I've always looked up to Chef Robuchon and have been fortunate enough to dine at his restaurants, but cooking for him this past week, that was an honor beyond measure." —Daniel Humm
Along with García's own upper-back turban of Almadraba tuna in a coil of spaghetti atop turtledove broth, 17 courses were prepared for the dinner, each a contemporary interpretation of a timeless, original Robuchon dish. The meal kicked off with a tomato salad gelatin dusted with goat's milk labneh crumbles by Paco Morales of Noor in Córdoba and ended with the breathtakingly vibrant candy cane–striped yuzu and beetroot meringue pie from Barcelona's Albert Adrià of Tickets (and Ferran's brother). In between there was Paco Roncero's (La Terraza del Casino de Madrid) crispy red shrimp, Joan Roca's (El Celler de Can Roca) broad bean and pea velouté over a jiggling slab of foie gras custard, and Ramón Freixa's (Restaurant Ramón Freixa) ethereal chocolate-mint-berry confection surrounded by a sticky red wine halo. More than just a union of Spanish chefs, the event also brought together Daniel Humm of New York's celebrated Eleven Madison Park and the NoMad, and Sebastian Frank of Restaurant Horváth in Berlin. While the former showcased an artful tin full of cauliflower and ham heaped with caviar, the latter combined a truffle poached egg white with spinach and celery salt in a chicken fat emulsion.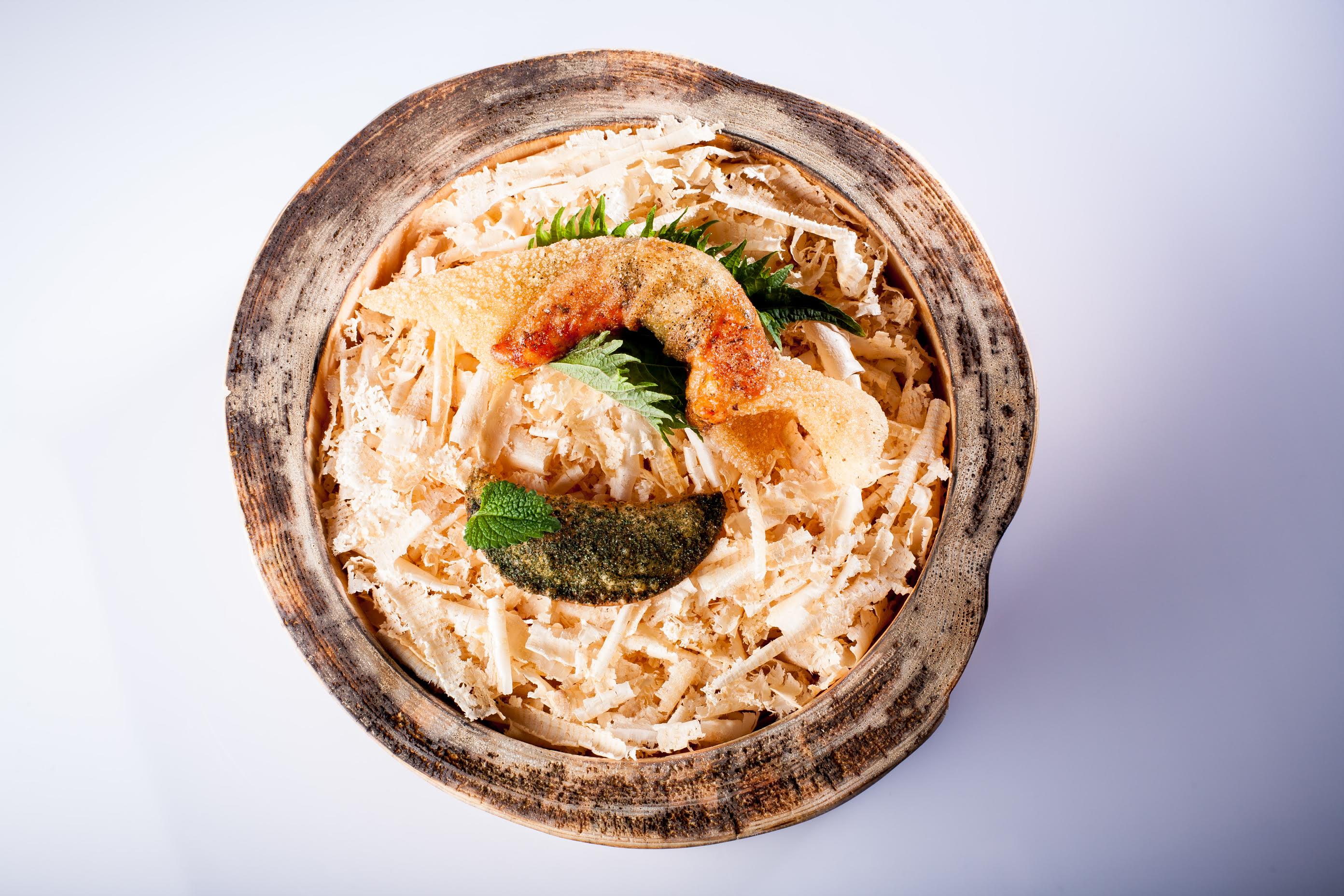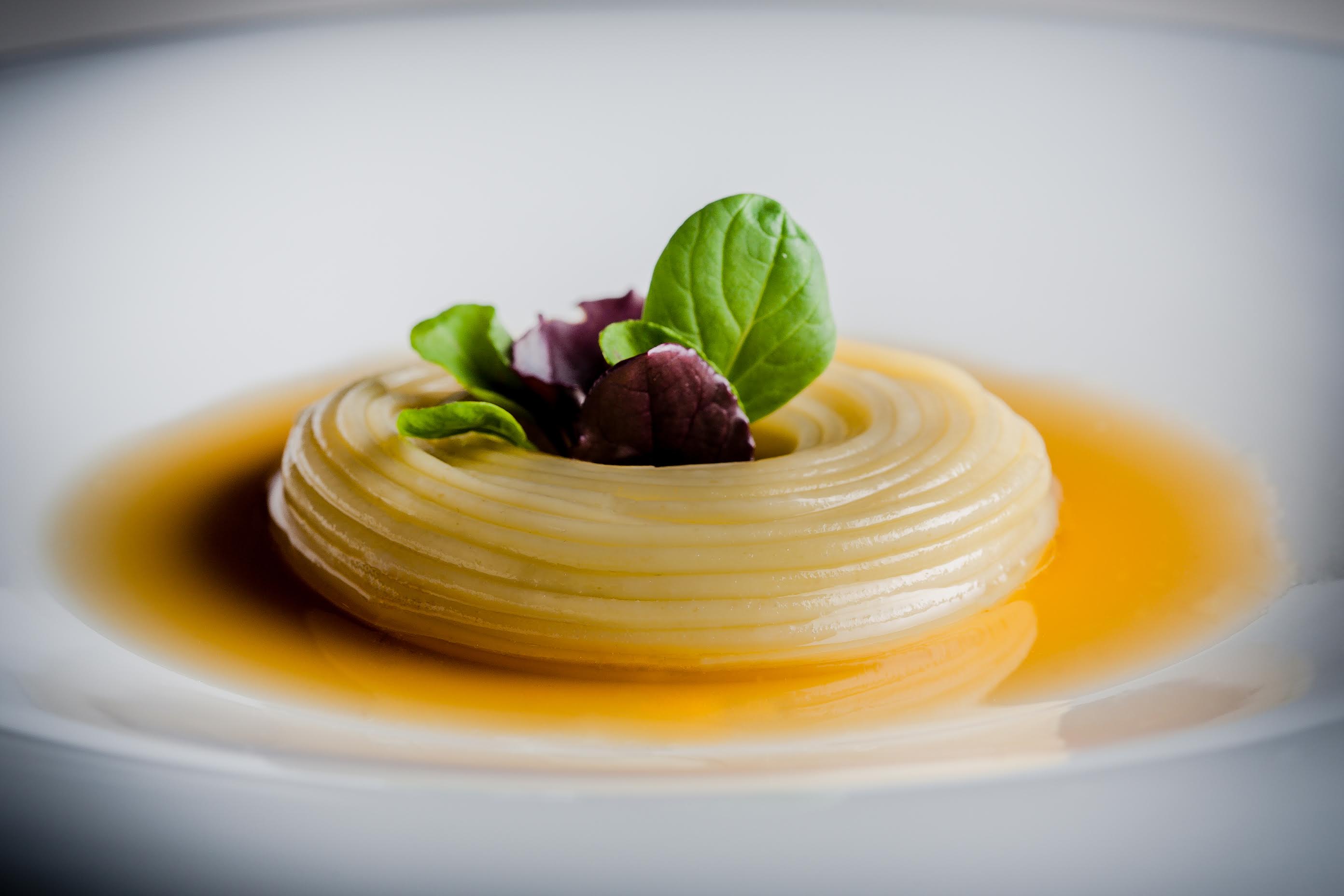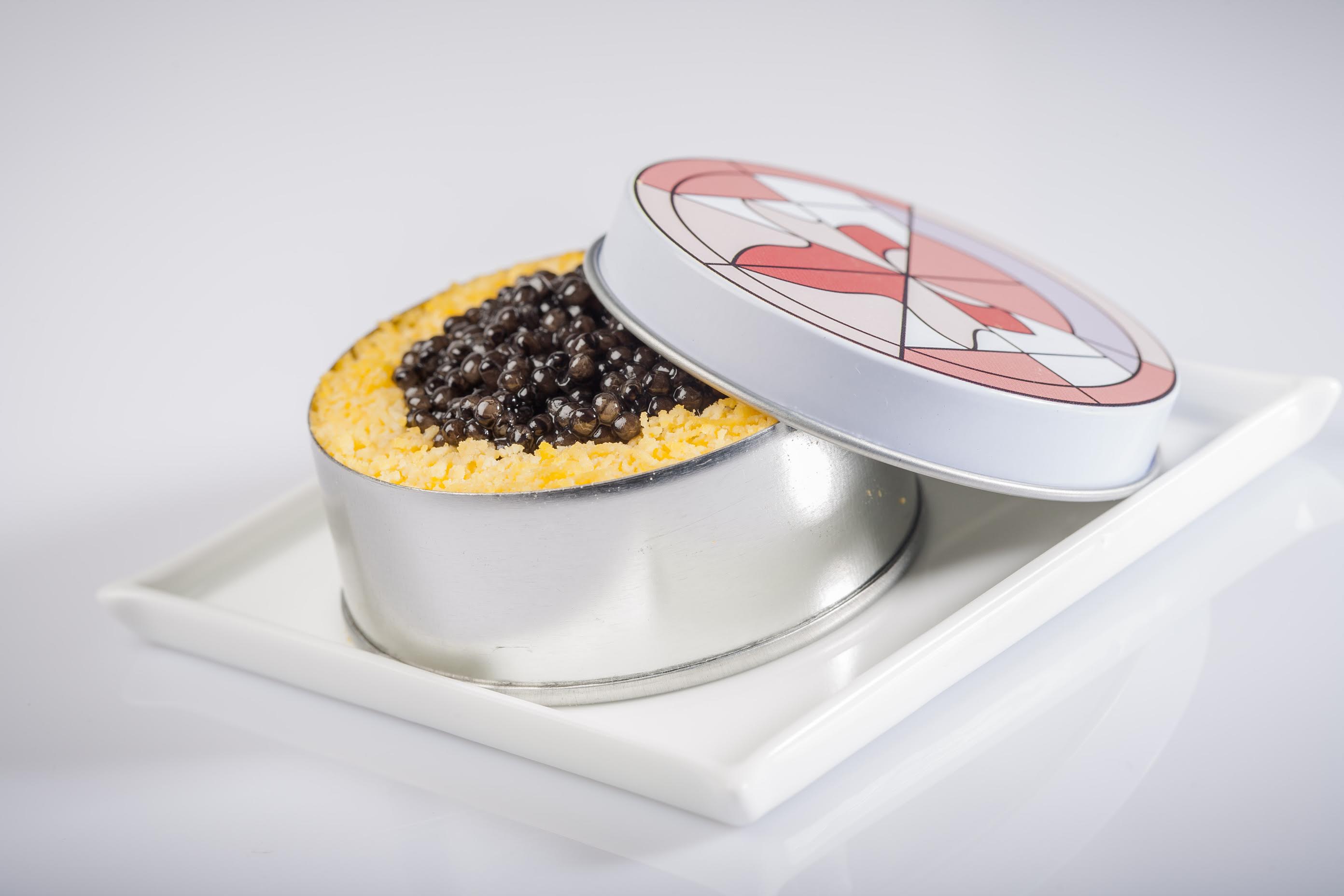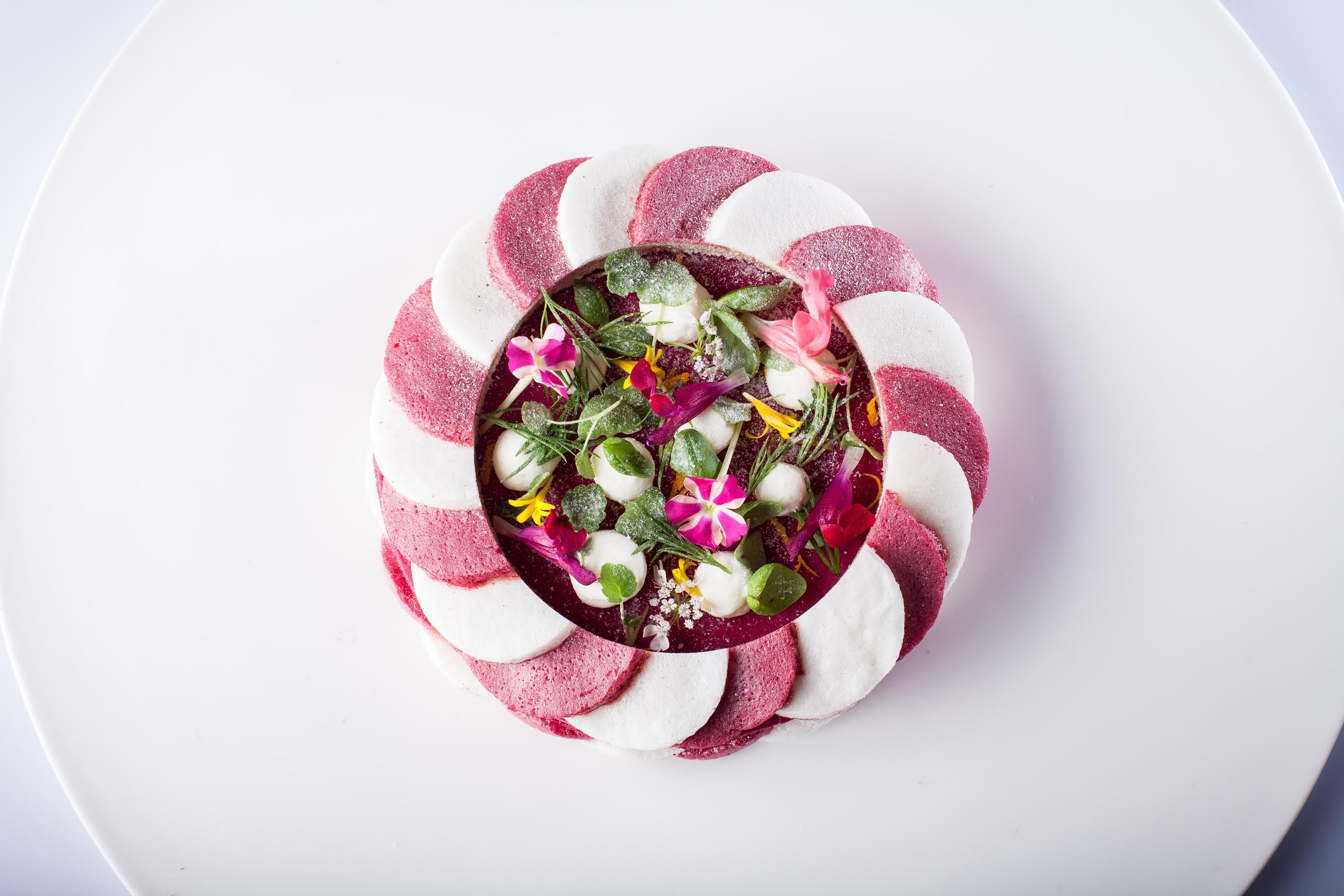 García's two restaurant concepts at the resort are decidedly different. In the hushed, formal Restaurante Dani García, patrons eat a seemingly never-ending roster of dreamy courses that nod to The Little Prince (Alice in Wonderland was the prior theme) amid a massive living wall and impressive roving dessert cart; at the brighter Bibo they cave in to oxtail brioche and BBQ beef pizza strewn with corn chips. This polarity, García explains, was directly influenced by Robuchon's own affinity for duality. In Singapore, García remembers one door leading to Robuchon's upscale restaurant and another to his less lofty L'Atelier. "Bringing luxury to such a casual atmosphere was an intelligent decision," says García. "It's important that chefs like him can forever change dining through successful concepts."
To Roncero, the most important dish in the Robuchon canon is his oft-duplicated mashed potatoes with chilled butter. "Joël was the most influential chef of the '80s and notable for his exquisite plating," Roncero says. But, echoing García, he says it's Robuchon's approach to haute cuisine that was just as impactful: "He taught us that fine-dining restaurants can serve informally."
Humm, who pronounces Robuchon "simply a legend," says the event was a milestone. "I've always looked up to chef Robuchon and have been fortunate enough to dine at his restaurants, but cooking for him this past week, that was an honor beyond measure," he explains. "For all of us, being able to cook alongside one another, sharing the kitchen with other acclaimed chefs from around the world, it was really exceptional. It was inspiring to see all the energy, the community that was formed, and it's left me feeling super-humble."
Now that Adrià and Robuchon have already found the Marbella spotlight, we wonder how García will top this in 2017.