In a famous verse, the iconic Portuguese poet Fernando Pessoa wrote of "the future of the past," evoking Portugal's historic Age of Discovery as a foundation of modern-day Europe and, beyond, as a path to a Portuguese resurgence.
I never actually heard a chef quote Pessoa on our recent trip to Lisbon, the Alentejo wine region and the Algarve on the Atlantic Coast to discover some of the restaurants where high-end dining is being gustily reinvented with a tender and playful respect for the country's culinary traditions, together with a renewed appreciation for the abundance of its edible resources from land and sea.
But on the menus were references — literal and figurative — to the adventurous spirit of Portugal's 15th-century explorers, and reverence as well as some revisionism for other culinary cultures in the frequent use of ingredients and dishes first brought back centuries ago from Brazil, India, Mozambique, Angola and Japan. The Azores, since 1976 an autonomous region of Portugal, have been a discovery lately for chefs on the mainland who are serving cheese, butter and wine from those volcanic islands.
There's certainly poetry in the way food is presented by Portugal's buzzworthy new breed of chefs in their 20s and 30s who are creating conceptual dishes with metaphorical references to nature and allusions to Portuguese popular culture. The earthiness in their artistry dominates the more predictable flashes of spectacle and smoke. Rocks, wood, cork and coral are used as serving dishes, complementing the dark wood and ceramics in organic shapes typically found in the restaurants' interiors.
The return of daring, prodigal young chefs trained abroad, and an influx of foreigners in Portuguese kitchens has impacted the restaurant scene over the past decade. There are currently 14 Michelin-starred restaurants in Portugal, and an upswing in tourism has strengthened the market for the kind of destination restaurants with impeccably served tasting menus that can easily cost upwards of 200 euros per person.
Here, in the first part of our report on Portuguese chefs to know, we meet João Rodrigues of Feitoria, in Lisbon's monumental Belem neighborhood on the Tagus River; Alexandre Silva of the recently opened Loco in Lisbon; and Hans Neuner, the celebrated chef at Ocean restaurant at the Vila Vita Resort in Algarve.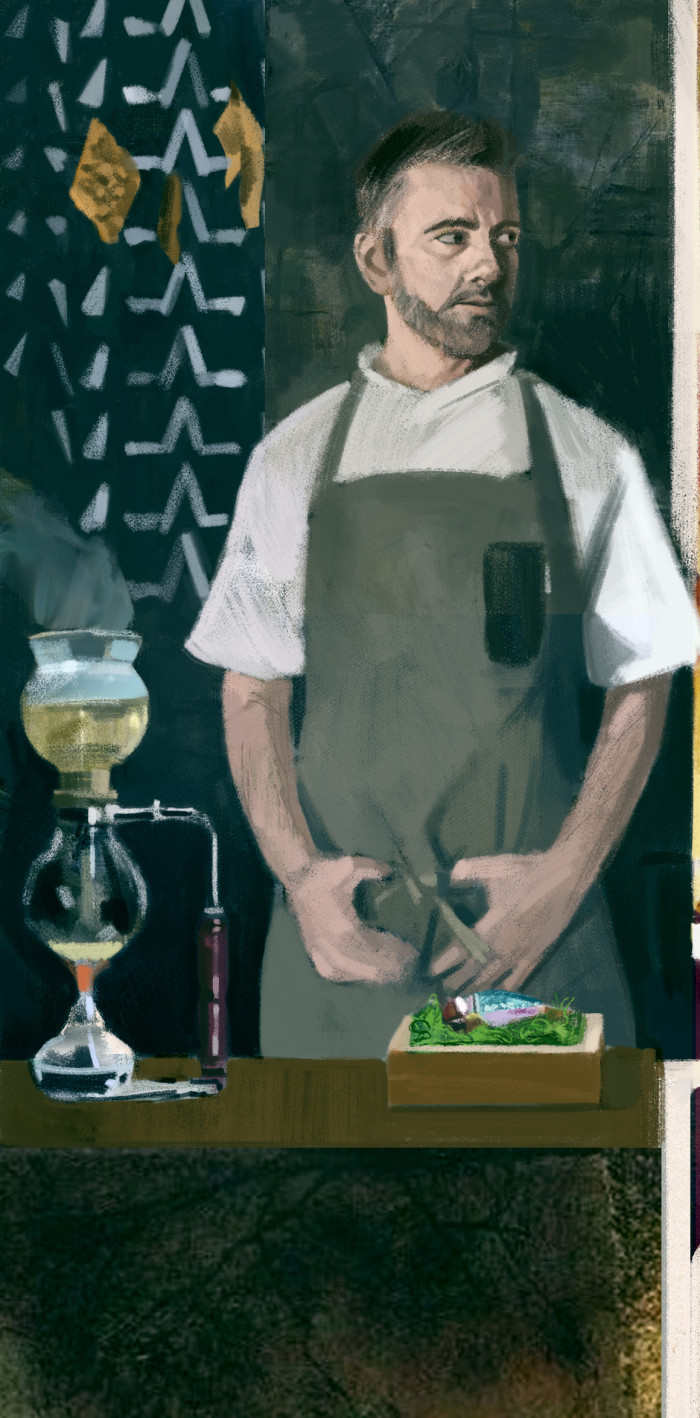 Loco – Chef Alexandre Silva
Rua dos Navegantes, 53, Lisbon, Portugal
Chef Alexandre Silva self-financed his intimate Lisbon restaurant, Loco, which opened in December 2015. The name is not a reference to the questionable business sense in starting a new restaurant, but rather to the Latin word for "place." An olive tree suspended in the foyer serves to immediately expose this concept of roots, which also plays out throughout the menu.
Loco feels at once exclusive and easy. There are seven tables in the sleek wood and black room, which are served by the kitchen staff, who can also be observed working in a large open kitchen. Chef Silva, a 35-year-old Portuguese Top Chef winner, often carries out plates himself, or he may arrive at the table to announce the presence of "an amazing cod" in the house. The sommelier, Sergio Atunes, has the charisma of an MC.
The restaurant was an immediate success in Lisbon. While an amuse bouche that the server places into your mouth with a long silver spoon has attracted attention, there are many less giddy pleasures. Like a course of only bread and a spread with four butters, including one made with squid ink, plus a tray of beef juice for sopping.
Menus consist of "moments," or small dishes and snacks — "crunchy" gazpacho that bursts liquid when you bite on a hard shell, steamed oysters from Northern Portugal cooked at the table in a bamboo steamer, a cod cake "chip" and egg, razor clams with apple, ponzu and radish pickle. Desserts include a green curry and celery mousse.
Coffee is brewed in a glass siphon and served at the table, reviving a dying Portuguese tradition that, at Loco, is another nod to chef Silva's superb sense of place.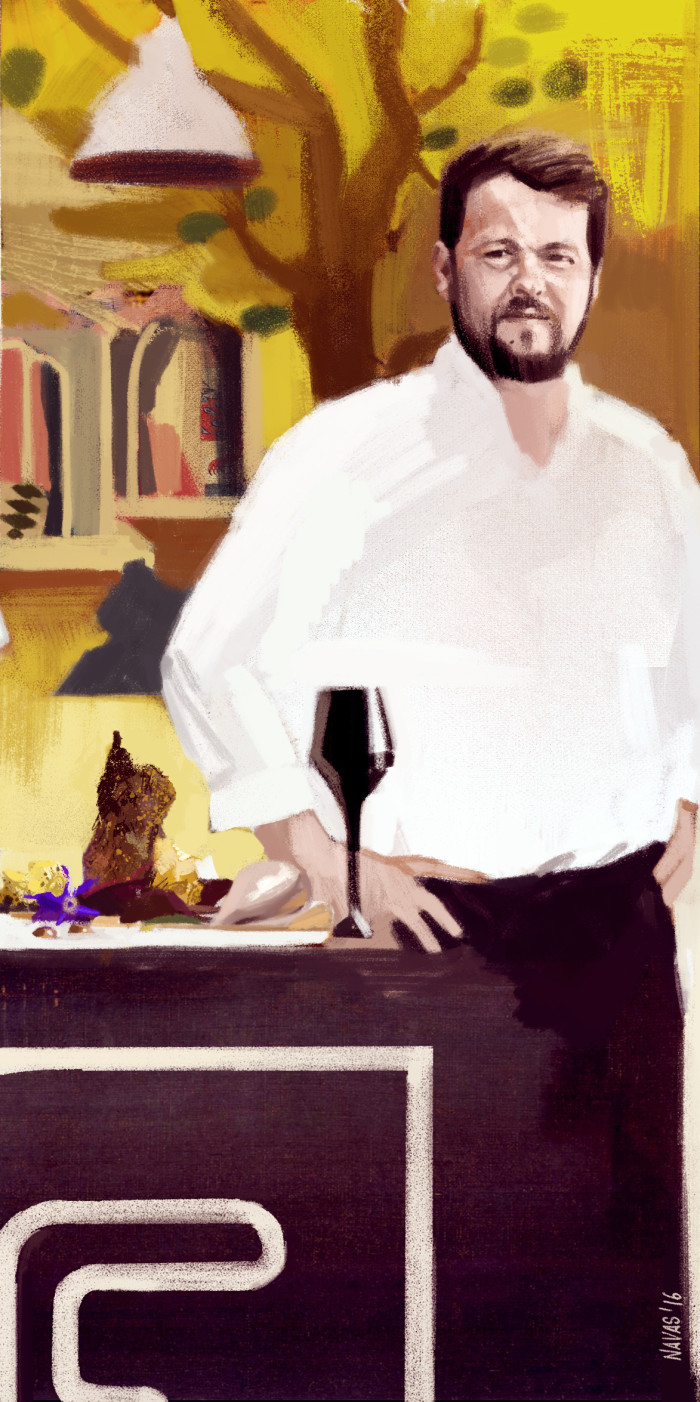 Feitoria – Chef João Rodrigues
Altis Belem Hotel & Spa, Doca do Bom Sucesso, 1400-038 Lisbon, Portugal
A mural on the wall in Feitoria's bar reproduces a 16th-century Japanese painting of Portuguese traders depicted with large noses and opulent clothes. The historical painting sets up the concept for the minimalist dining room, while chef João Rodrigues pairs "traditional flavors with Oriental influences," which can mean seaweed tempura with a sweet and sour sauce or squid, prawns, peanuts and dashi.
The steely gazed Rodrigues was quickly called out as a chef to watch at the start of his career in restaurants around Lisbon. He first earned Feitora's current Michelin star in 2011.
Rodrigues describes himself as "a great defender of Portuguese products." Feitoria menus can include Iberian pork served with black garlic jus; baby squid, John Dory and, of course, cod. An Algarve red carabinero prawn is served seasoned with the juice from its head and accompanied by a cucumber salad. A dessert is made with local green apples, walnuts, honey and yogurt.
Rodrigues's dishes combine inspiration from Portugal's history with an enchanting presentation that nods to the natural landscape: miniature gardens, "wasp nests," a tree with fois "apples," chocolate "rocks."
"It's important to us that everything has a story," Rodrigues says. "It has to have a human factor so that people can relate to the culture and where things came from."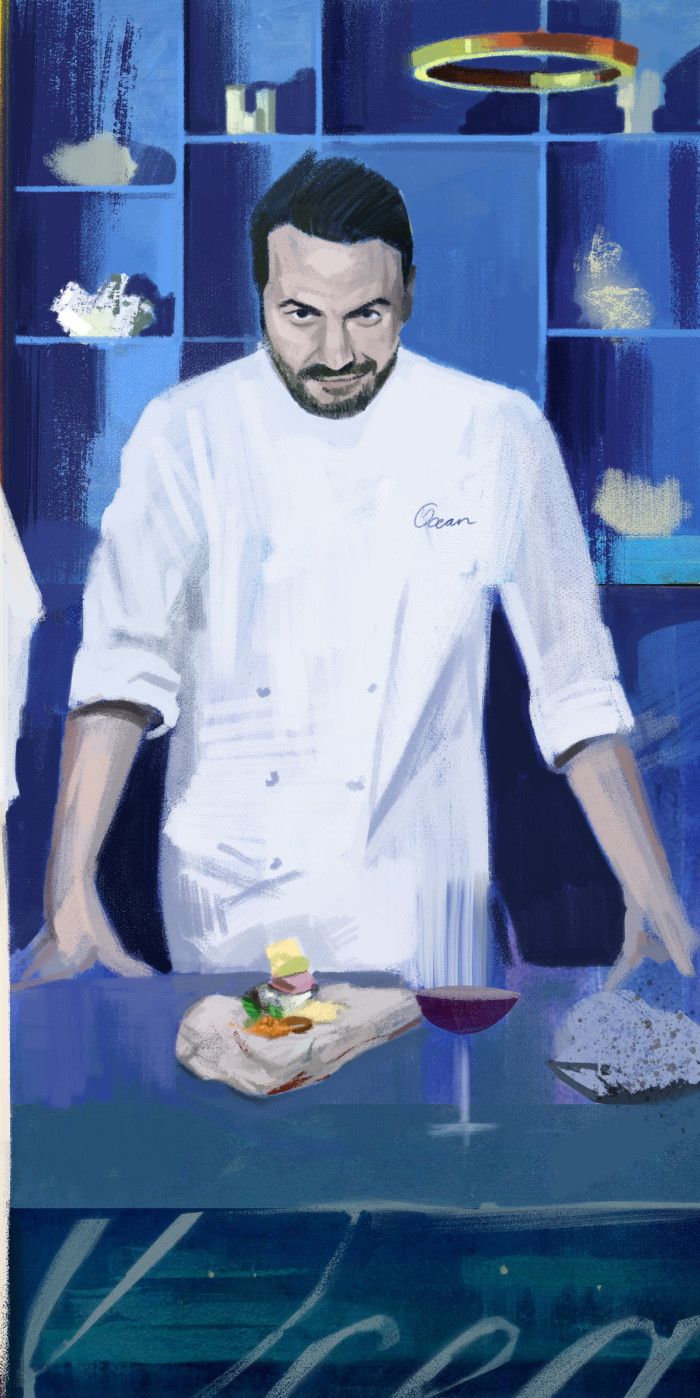 Ocean – Chef Hans Neuner
Vila Vita Parc Resort & Spa
Rua Anneliese Pohl, 8400-450, Algarve
"Nobody pays attention to us here, it's kind of a secret," chef Hans Neuner says of his restaurant, Ocean. Sitting at a table in the restaurant after Saturday night service, it seems like he's kidding, or at least being modest.
Neuner, who is from Austria, worked at the Carlton in St. Moritz and at London's Dorchester and with his mentor Karlheinz Hauser at the Hotel Adlon in Berlin and the Süllberg in Hamburg. He came to Ocean in 2007. While early on, he might have kept a low profile, he led Ocean to two Michelin stars in 2011 and has retained them since. Neuner, 37, has twice been named Portugal's chef of the year at countrywide awards competitions.
Located inside the posh Vila Vita Parc Resort on the Atlantic in Portugal's Algarve, Ocean has a kind of tropical modern glamor with seating in shades of blue, which like everything in the restaurant, plays out the theme of the sea. One wall is decorated with sculptural coral, while an expanse of glass offers a ship-like view of the ocean from every table.
Neuner's menu when we visited included limpets paired with calamari, ray with topinambur, and sole with black truffle, chicory and celery. His take on the humble bean and pork feijoada involved sea bass and sea urchin. While imperial pigeon and wagyu beef made an appearance on the table, there were sea references down to the butter — made from goat milk and shaped like pearls and served on the half shell à la oysters.
"When I came down we imported products from France and Spain," Neuner says as Ocean's pastry chef brings out a dessert that centers around seagrass ice cream, followed by a diabolical amount of chocolate. "Now we really know our products. Everything is from around here, except for the meat from the U.S. and foie gras from France."
Neuner has even been known to forage on the coast surrounding the hotel. "The sea strawberries," he says with a conspiratorial grin. "No one here uses them. We have them — you open them up and just use a little of their juice. But don't tell anyone here in Portugal; it's a secret."
Below, a slideshow featuring dishes and interior photos from Loco, Feitoria and Ocean: