Spring is an ideal time to dine out at restaurants, with people looking to usher in warmer weather (and, oftentimes, spending their tax refunds) by having a meal or two at new establishments. Plenty of New York City restaurants have recently opened their doors, and we say that these first couple of months just might be the best time to try them out — the word is not yet out, service is usually attentive and seasonal ingredients are plentiful. While covering the newcomers and gallivanting around, as we're wont to do, we picked up on a few trends over the past few months:
1. Under-the-radar ethnic cuisines are hot, hot, hot.
Burmese, Cambodian, Sri Lankan, Laotian — you name the type of food and chances are there's some new spot somewhere near you serving it. Food publications and websites are writing about these places more than ever before, looking to shine a light on previously obscure and hard-to-find cuisines. Is there only one establishment in the whole city that serves it (Angkor Cambodian Bistro for Cambodian and Khe-Yo for Laotian, for example)? Even better! The media has made these places must-visits, which is a good thing, considering that the majority of them are family-run and do a nice job of introducing diners to a country's traditional dishes.
2. Vegetarian food is everywhere.
One of NYC's current hottest restaurants is vegetarian (Nix), while another vegetarian spot has cemented its status as a dining destination (Dirt Candy). Take a look at the menu the next time you venture out to any hot spot — vegetarian or not — and you're likely to see multiple dishes highlighting the season's bounty of greenery. It's officially cool to split an order of squash carpaccio, to order a selection of vegetable dips for the table or to compare a side of Brussels sprouts to a rendition elsewhere. Meanwhile, a veggie-burger-hawking hole-in-the-wall was just nominated for a James Beard Award for the country's Best New Restaurant (Superiority Burger). Who knew Mom was right all along when she pleaded with you to eat your veggies?
3. It's harder than ever (again) to reserve a table.
Remember the past few dining-out "trend" pieces we've written that touch on the near-impossibility of procuring a dinner reservation at a popular restaurant at a reasonable hour? It's only gotten more difficult. Between the minuscule sizes of some new spots, the continued growth of third-party reservation apps, the increased practice of setting aside tables for VIPs and the general notion of exclusivity spreading, there is virtually no way to score an 8 p.m. table at any of the city's hottest restaurants. Logging in to OpenTable and selecting from a plethora of attractive options is officially a thing of the past.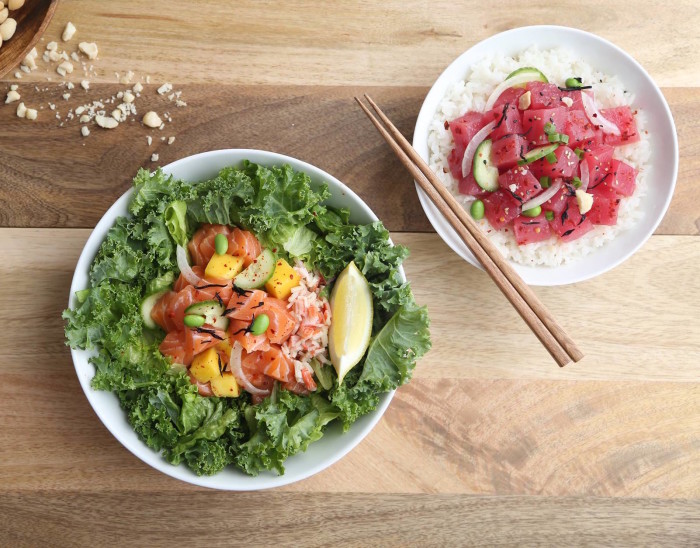 4. Poke reigns supreme.
What in the world is going on with poke? The Hawaiian fish dish — which typically consists of raw fish marinated in soy sauce and sesame oil and tossed with any number of accompaniments (such as avocado, onions and seaweed) — was barely a blip on the city's radar until this year. There are a handful of places now serving the dish in the city, most often for lunch in a fast-casual, assembly line–style space. Below 38th Street, there are currently no fewer than four places (Sons of Thunder, Pokéworks, Wisefish Poké and East Coast Poké) devoted entirely to mastering the poke bowl, with at least another three in the works — including a stall at the soon-to-open Mad Sq. Eats. It's healthy, relatively inexpensive and people wait for absurdly long times in line for it (just pass by Pokéworks at lunchtime during the week) — the three keys to every New Yorker's dining heart these days! Our prediction for the next craze? Frybread, which has already found its way onto a few restaurant menus around the city.
5. The price of booze is going up, up, up.
Okay, so maybe this isn't quite a new development, but is it possible to get a quality cocktail for less than $14 — before tax or tip — these days? Good luck finding anything below this price point at any bar or restaurant deemed "hot" by the media or general public. The same goes for wine by the glass — notoriously the most marked-up item on restaurant menus, prices have managed to creep up steadily in the past couple of years. It's not unusual to see glasses of vino selling for $20 and up…when the whole bottle retails for just a few dollars more than it does at the liquor store next door. There's nothing that quite says "New York" like shelling out $95 for a twist-off bottle at a posh fine-dining establishment.