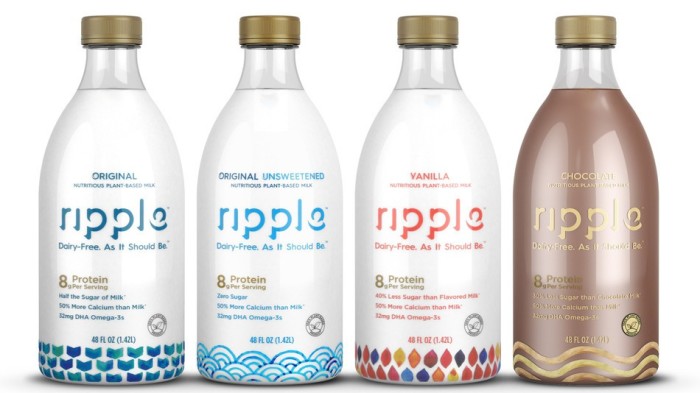 Alternative milks made from almond, hemp, soy and rice have carved out their place in nondairy diets. Some are comparable to the classic variety in calcium and vitamin D content thanks to fortification before packaging, but if you're looking for the same protein boost you'd get from a glass of cow's milk, you may be sorely disappointed with alternative moo juice. The solution may be Ripple. No, not that Ripple. This one. The new plant-based milk, which hits Whole Foods shelves in May, is made from protein-rich organic yellow split peas, but Ripple's patent-pending formula can be used to extract nutrition from most legumes.
With sales of cow's milk on a consistent decline as consumers opt out of dairy products for a variety of reasons, such as lactose intolerance, veganism and eco-mindfulness (milk does come from carbon footprint–heavy cows, after all), the market for alternatives is fertile ground for food tech innovators like Ripple. Founders Adam Lowry and Neil Renninger — of Method natural cleaning products and Amyris (a renewable biotech company), respectively — claim to have reduced water usage by 93 percent compared to traditional milk and 83 percent compared to almond milk.
The product contains eight grams of protein, the same amount as cow's milk, and no sugar, unlike cow's milk, which has 13 grams per one-cup serving. With 50 percent more calcium, as well as omega-3s, vitamin D and iron, Ripple is one of the more nutritionally complete naturally derived alternative milks out there. And since anyone eschewing dairy knows that hemp and rice milks aren't exactly tasty, let alone fortifying, split pea milk could be a healthy step in the right direction.