You Haven't Seen The Last Of Jeremiah Tower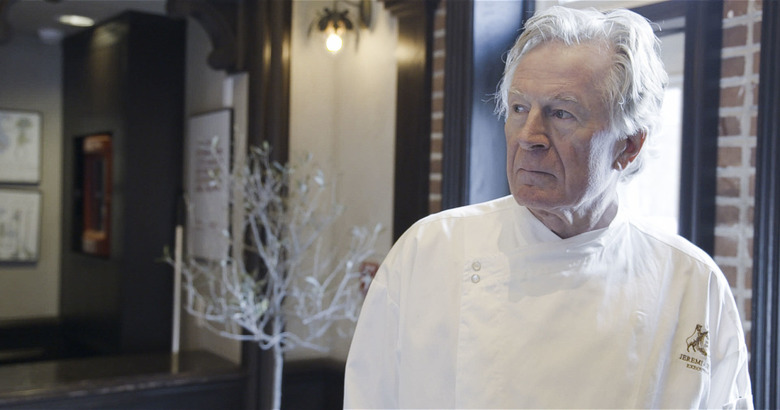 Jeremiah Tower is the chef who pioneered the way we eat today. (Photo: CNN Films.
We may receive a commission on purchases made from links.
For a man who has just seen his life pass before him, Jeremiah Tower is handling things with complete composure and charm. It's hard to imagine him any other way. Wearing loafers and a houndstooth jacket along with a jaunty kerchief in his breast pocket, Tower leans far back in his chair, reflecting on yesterday's experience of watching Jeremiah Tower: The Last Magnificent for the first time.
"I was agog for an hour and 20 minutes," he says, imitating himself by dropping his jaw. "I want to see it again."
This is three days before the film premieres at the Tribeca Film Festival. There will be one more screening this Thursday, April 21, and after that, in 2017, Orchard will release the film in theaters, and it will also air on CNN.
The documentary relays the details of Tower's life in vivid archival footage, reenactments and talking-head interviews, along with Tower's own reflective narration from his personal journal. It's an incredible story: Born to hard-partying, jet-setting parents, Tower was left to fend for himself on ocean liners and in swank hotel rooms. He grew up finding comfort in the first-class food.
After studying architecture at Harvard and doing some meandering, in 1972 the budding gourmand took on the role of chef at a little, promising hippie restaurant in Berkeley, which he and owner Alice Waters together turned into the epicenter of the fresh-food, highbrow culinary revolution, most often referred to as California cuisine.
For most audiences, the film will be an introduction to the remarkable life of a chef who pioneered the way we eat today. For some, it will be a reintroduction to Tower and an answer to the question "Where did he disappear to?"
After a falling out with Waters, Tower eventually crossed the bay to San Francisco to open Stars, which was considered one of the best restaurants in America during the 1980s. And then things went south. There was a lawsuit. Financial troubles. Tower sold his overexpanding Stars empire — there were outlets in places like Palo Alto and Singapore — and then he was gone.
Of course, he never really vanished. Sitting in a conference room belonging to the documentary's production company, Zero Point Zero, which also produces Food Republic, 74-year-old Tower is very much a corporeal being, one who appears eager to see how this next act in his story plays out.
After watching the film, on his second cocktail, Tower told director Lydia Tenaglia, "'Now I'm really out of the closet,'" he recalls. "And I didn't mean sexually. I was out of that closet decades ago. But the point is that everyone always said I was such a private person. For me, there were two Jeremiah Towers: me and Jeremiah Tower, Inc. When you go into a restaurant and you shake hands with 350 people a day, all of whom are convinced that you know them very well, you have to be a machine."
Tower says his motivation for letting Tenaglia make the film was "to take the past, wrap it up, put a bow on it and send it off. Now I'm ready for the new chapter."
When he first met with Tenaglia in San Francisco, he told her, "'OK, this sounds interesting, but I have two demands,'" he says. "'One, that we take the high road with Alice Waters, and two, that I will absolutely not second-guess this process and I never want to see it [until completion].' And she said, 'Well, that's a relief. Those were our two demands.'"
Although Jeremiah Tower: The Last Magnificent is detailed about Tower's culinary influence, including his grandiose menus that highlighted fresh ingredients as well as the hard knocks and highs of its subject, the man remains an untouchable figure. We see him as a romantic, perhaps tragic, hero, the sort of bon vivant who can create a Molotov cocktail out of a Hermès scarf and a bottle of Dom Perignon and who wanders Mayan ruins while waxing poetic about the human condition.
In fact, the very notion that Tower disappeared is myth-making as well; after Stars, he actually went to New York City, drank champagne at Balthazar, and wrote several books and did a series of television food shows.
Of course, a chef without a restaurant is like a king without a sword, so whatever he was doing after Chez Panisse and Stars would seem like a letdown. But Tower, who is as Australian as he is American or English, went one further. Tower moved to Mexico, where he took up scuba diving. That's where he currently calls home. He's clearly a man without a country, and he likes it that way.
Tower, who identifies with a Greta Garbo–esque notion that he likes to "be left alone," knows how to make a dramatic exit.
But then he surprised the culinary world when, in late 2014, after primary shooting for Jeremiah Tower: The Last Magnificent had been completed, Tower announced he was signing on as the chef of New York City's Tavern on the Green, a famously failed site known as a tourist trap and not for its food.
Why did he do it?
"I'm a sucker for the weird chance," he says with a relaxed shrug.
But everyone knows Tavern is doomed, right?
"I didn't know it," Tower says. "I took a day and a half to look at it, and it seemed possible."
He lasted six months. A scorching review in The New York Times and an ugly parting of ways with the owners soon followed.
Did he do it to provide a third act to the film?
Tower is adamant that he believed the film was pretty much wrapped and that he wouldn't have gone to Tavern if it was still in production.
"It would've looked like I opened Tavern to make a chapter in the movie," he says. "Which is absolutely not the case." Tenaglia did in fact unpack her camera and makes the Tavern episode an exciting, vérité section of the film.
Now he's washed his hands of it. (Well, not exactly: He weighs in very heavily on the ineptitude and "stupidity" of his former employers.) He says he has no more plans for any big culinary ventures.
"I'm 74 years old, and I enjoy eating other people's food," he says, before delicately describing what he appreciates most, whether it's a warm puree of black truffles, foie gras and cream he had in Europe or the Dover sole at Marea that he looks forward to eating soon, while he's in New York. There's also a big scuba trip he's planning in a few months. And Bourdain is republishing he memoir, California Dish, later this year.
Oh, and there's also a little, posh hotel restaurant with an upscale clientele in Marrakesh, Morocco, where he might go cook for a month. "The idea is to go to the markets, my favorite thing to do, and make the menu as I mull around the market," he says. "I could use all Moroccan ingredients and think about Moroccan cuisine and then do my version of it."
That's the sort of enchanting epilogue that only Tower could write for himself.
Tom Roston is a food, culture and film journalist based in Brooklyn, New York. He is the author of I Lost It at the Video Store. He ate at Chez Panisse once and loved it.