Celebrate The Chili Pepper At This Weekend's NYC Hot Sauce Expo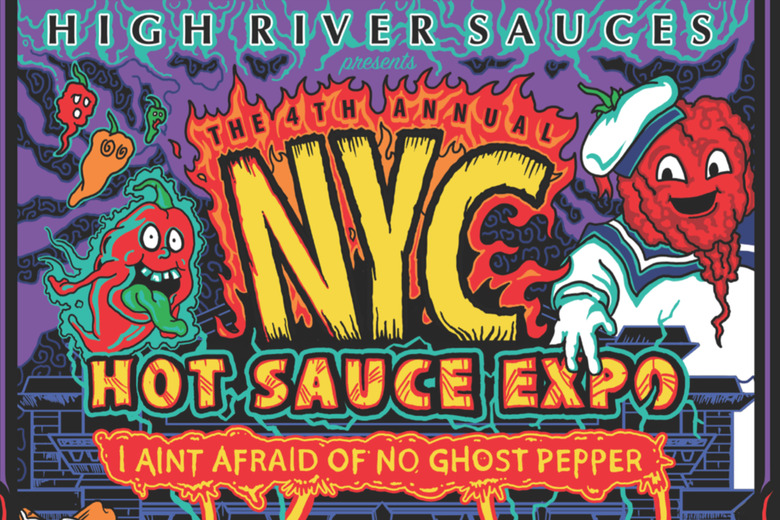 Hot sauce has never been hotter...both literally and figuratively. Sriracha bottles are commonly found in home kitchens and at just about every restaurant, while heavily spiced dishes — most notably the spicy chicken sandwich — reign supreme in major cities across the country. Meanwhile, turn on the television to any food (or science) channel and chances are that some show is touting the absurdity of a new super-hot sauce. Supermarket aisles are stocked with more options than ever before.
What better way to celebrate the popularity of the hot stuff than by attending the fourth annual NYC Hot Sauce Expo this weekend (April 23 and 24) at the Brooklyn Expo Center in Greenpoint? That's right — a two-day extravaganza devoted entirely to the spice-obsessed. More than 40 premier hot-sauce makers from around the globe will convene, offering samples and interview opportunities. A full VIP lounge will dish out barbecue along with cocktails and beer to wash it all down. There will be award presentations and a number of insane eating challenges, including spicy guacamole, pizza, wings, meatballs and tacos. The event's grand finale on Sunday, April 24, at 5 p.m. is the Smokin' Ed's Reaper Pepper Eating Challenge — a competition involving eating the world's hottest pepper (Carolina Reaper) that is poised to set a new Guinness Book of World Records mark!
Tickets are currently available for spice aficionados of all levels. General admission ($10) provides access to the grounds, and a Beer & BBQ ticket ($55) includes five craft-beer tickets, a bottle of sauce and a BBQ sandwich platter. For the serious connoisseur, VIP tickets ($100) get you access to a VIP area, an open bar, food samples, a Chile Pepper Magazine subscription and a gift bag. Check out the expo's official website for more information.