BBQ Pitmasters Are Finally Getting The Star Treatment. Sort Of.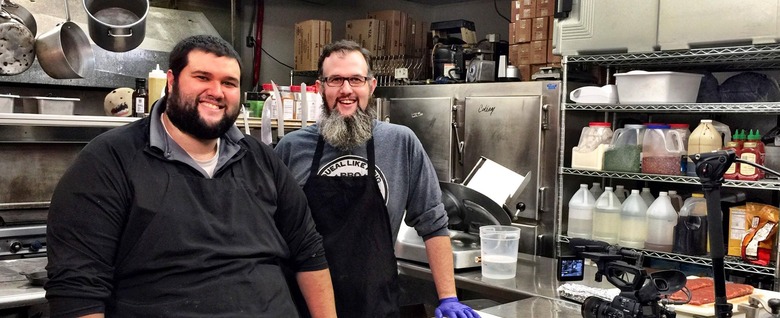 It's good to be a pitmaster these days. Amid the growing popularity of Southern-style barbecue and all its regional variations, the sauce-stained, smoky-smelling folks who are responsible for these slow-and-low-cooked delicacies are gradually becoming pseudo-celebrities in their own right.
Case in point: Five of America's most prominent pitmasters recently partnered up with Kraft Heinz, the fifth-largest food and beverage company in the world, to help develop and promote a new line of BBQ sauces, each with its own regional twist. These include Sam Jones of the venerable Skylight Inn in Ayden, North Carolina, who gives his endorsement to Heinz's new Carolina Vinegar-Style Tangy BBQ Sauce. Likewise Dan Brown of Leonard's Pit Barbecue in Memphis, Texas, state BBQ champion Robert Sierra, and Joe and Mike Pearce of Squeal Like a Pig BBQ in Kansas City, all of whom lend an aura of authenticity to Heinz sauces representing their respective homelands.
Not to let their newfound fame undo their prescribed folksy personas, however, these pitmasters have been cast as complete novices on camera — or so it seems in Heinz's latest TV commercial. It's all very charming, but you have to imagine that behind the homespun routine are some very shrewd businessmen. Watch the full commercial here: