A horse-led carriage logo and the promise of "nooks and crannies" inspired many children, and more adults, to fall for English muffins. Chef Michael Fiorelli was no exception.
Up the hill from Manhattan Beach Pier, Love & Salt is the seasonal, California-Italian restaurant he co-owns with Guy and Sylvie Gabriele. The kitchen is just as adept with duck egg pizza as bucatini. Somehow, English muffins also fit seamlessly into the mix.
Fiorelli grew up in East Moriches on New York's Long Island and loved eating buttered Thomas' English muffins (and drinking coffee) with his grandfather. Years later, when Fiorelli was executive chef of Mar'sel at Terranea Resort in Rancho Palos Verdes, California, a cook had never eaten English muffins, and Fiorelli made perfecting them his mission. He sought to take English muffins to "a different level." Pretty soon the whole staff was snacking on muffins, and they proved so popular that pastry chef Rebecca Merhej (now at Love & Salt) suggested serving them to the public.
Fiorelli put English muffins on the charcuterie board, and they soon became de facto bread service. "People would come in because they wanted English muffins to go," Fiorelli says. "'Hey, can I get six or a dozen of those English muffins?'"
Since moving to Love & Salt, Fiorelli and Merhej have continued to dial in the recipe, adding more buttermilk and letting the dough sit overnight, delivering a sourdough-like tang.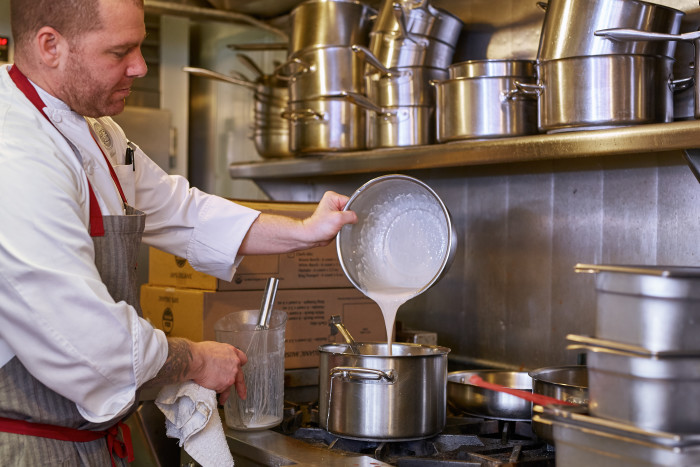 Fiorelli starts by blooming active dry yeast in water before integrating room-temperature buttermilk and all-purpose flour. Kosher salt and granulated white sugar also incorporate easily into the dough and help to balance the bready flavor.
One key to muffin success is room-temperature butter added slowly to the dough. Says Fiorelli, "What that does is help aerate. As the butter melts as the muffins are baking, it creates these air pockets. That's what helps the muffin rise, with the yeast."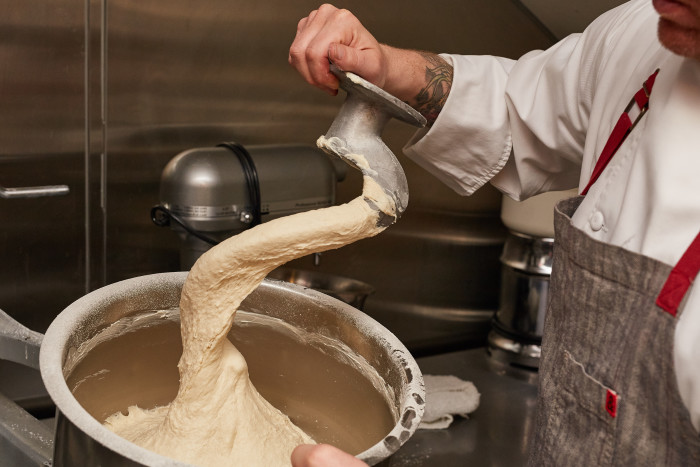 Dough forms in a well-worn, 20-quart Hobart mixer that rattles the stainless steel table with each whip of the hook. The dough practically breaks during the mixing process but eventually forms a wet, sticky mound after absorbing all the butter. Fiorelli wraps the mixing bowl in plastic wrap and lets it sit for an hour, until the dough doubles in size and spills over the rim. The longer it sits, the tangier the dough gets, up to a point. Fiorelli said, "Any more than three days and it starts to lose its levity."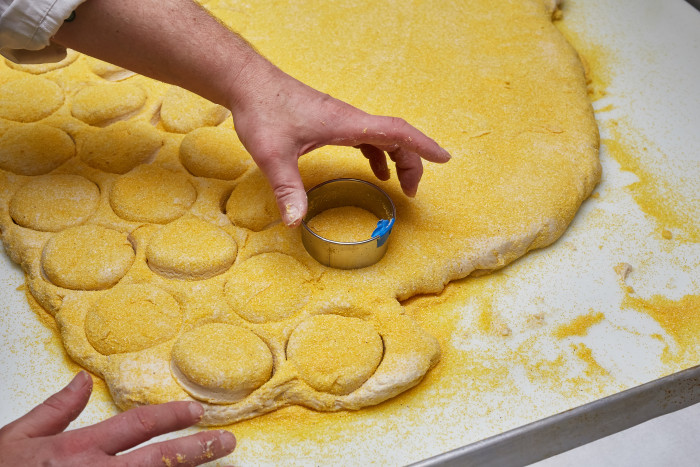 Fiorelli coats dough with cornmeal for color and crunch. The dough resembles a side of beef, which he pats liberally with cornmeal. He uses a stainless steel ring marked with blue tape to punch out each muffin. Several rows fill each baking sheet.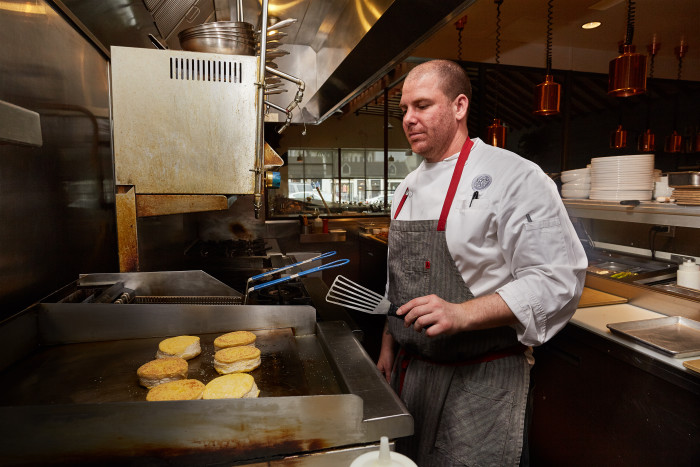 Before baking, he griddles muffins in vegetable oil to add color and texture. Skip this step at your peril. Fiorelli recounts a night when they needed muffins stat and his cook emerged from the back room with "pale baseballs." Searing retards the dough's rise.
Each batch bakes for 15 minutes at 330 degrees and produces more than 100 English muffins, which disappear after two dinner services. Weekend brunch triples the daily muffin output.
Muffins come out of the oven at 5:30 p.m. daily, and Fiorelli still eats at least half of one. You know, quality control. At the restaurant, muffins come with a pat of cultured butter dressed with Maldon sea salt and fried rosemary, but Fiorelli eats them unadorned.
Love & Salt's cultured butter combines Straus cream and Kendall Farms crème fraîche, which commingle in a sealed container on the counter for 24 hours. Says Fiorelli, "The longer you let it sit, the tangier the butter will be." After 24 hours of refrigeration, they whip the culture until it separates and knead it into butter.
The English muffin dough has other applications. In the past, Love & Salt has fried and sugared English muffins, like donuts. Small muffins become hors d'oeuvres. Big ones form sandwiches. Fiorelli has also made Parmesan-dusted breadsticks with the dough.
In the future, he's considering an English muffin sandwich at brunch with a soft-cooked egg, ham and cheese. Muffins this imposing also beg for eggs Benedict.
Fiorelli has fiddled with other baked goods, including ciabatta, but only English muffins have fully transfixed him. "I wouldn't say I'm a good baker," he says, "but when there are recipes I really enjoy, I tend to key in on that and make them the best they can be."