Brooklyn's Mast Brothers Are Opening A Bigger Chocolate Factory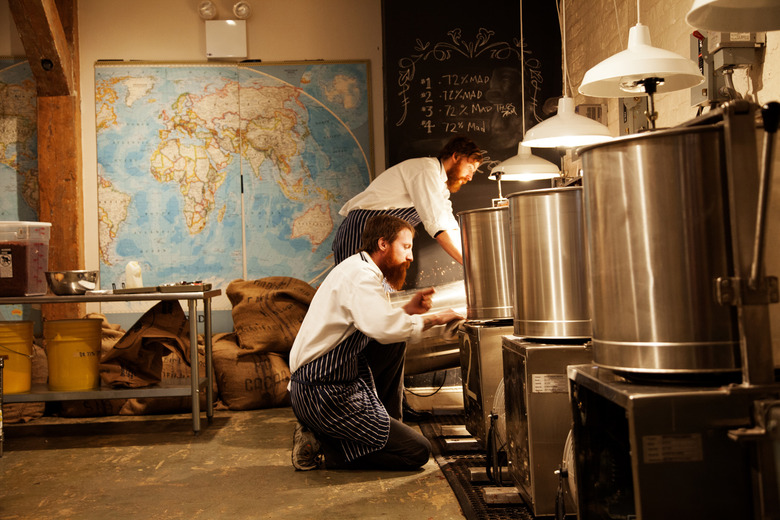 The Brooklyn-based bearded brothers behind some of America's most beautifully wrapped $10 chocolate bars are about to expand into a beautifully packaged and spacious new facility at the Brooklyn Navy Yard.
Mast Chocolate, which made headlines for its recent bean-to-bar controversy, is now moving into the 65,000-square-foot third wing of the LEED-certified Green Manufacturing Center. The expansion allows founders Rick and Michael Mast to double their workforce and eventually create 150 jobs with local residents at the forefront for hiring.
Along with the expansion comes Mast's debut of a new chocolate brewery, where the brand's chocolate beer will be brewed, bottled, kegged and distributed. The facility will also include a public exhibition center where tours will be given, as well as the venue for Mast's community-outreach program, M.A.S.T (Math, Art, Science, Technology), aimed at Brooklyn public-school children.
The Navy Yard's president and CEO, David Ehrenberg, said in a statement that even more jobs and more space will be created by 2020: "With nearly $700 million in development currently under way at the Yard, we're thrilled to complete the first step of our larger redevelopment plan, which will add over 2.5 million square feet of space and more than 9,000 additional jobs on the Yard by 2020."
This news comes less than six months after the brothers were publicly accused of falsifying their early bean-to-bar method (and "even their beards").