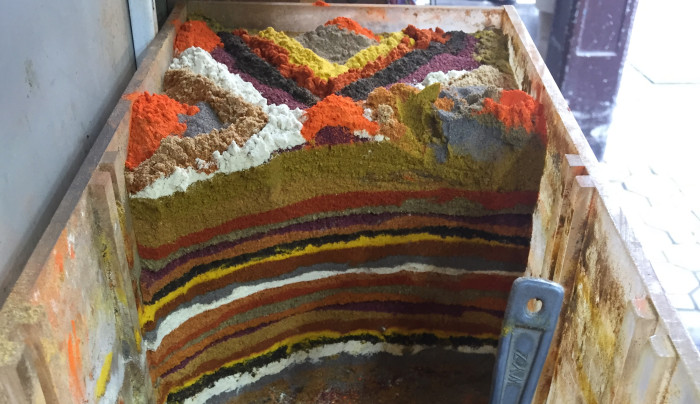 Wandering around the Spice Souk in Dubai's Deira neighborhood, I came across a shop selling baharat, an eye-catching display of ground spices also known as kebsa. Like India's ubiquitous garam masala (translated as "hot spice," although traditionally there's no chili powder included), baharat's name doesn't indicate what might be in the mix — it's simply Arabic for "spices." Like all ethnic spice blends, everyone's formula is a little different, and this shop's was made from a little bit of everything they sold. Here are the ingredients, from top to bottom:
Cumin
Red chili powder
Za'atar
Sumac
Curry powder
Ground dried black lemon
Turmeric
Sweet paprika
Black pepper
Ground ginger
Spice merchants layer the ingredients until the box is full, then top it with an ornate design using each one. I bought a scoop, only to find that combining the stripes results in a dull gray-brown mix that could be cumin, coriander or plain old sawdust. Thankfully, however, combining the stripes also results in one of the greatest spice blends I've ever tasted. I've used it to season fish, chicken and, well, pork. Honestly, this stuff makes a pork tenderloin sing.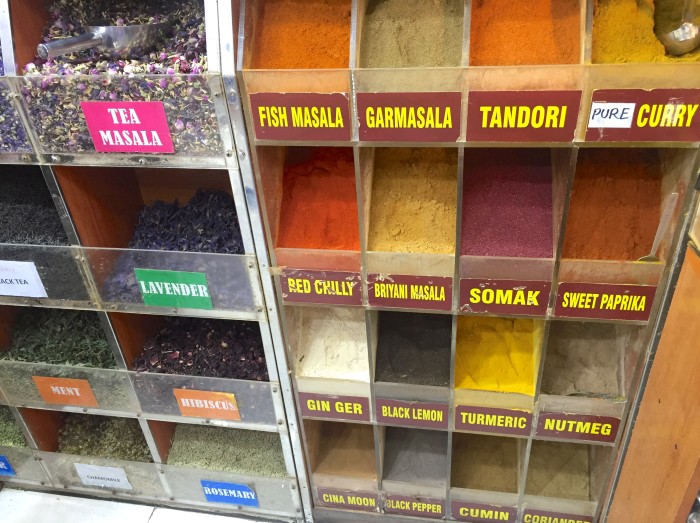 Most spice shops in Dubai also sell an assortment of colorful dried fruits (see below) that are just about the best thing to snack on while wandering the souk's maze of corridors and passages, and if you buy something, chances are they'll encourage you to sample anything that strikes your fancy.
Such as these camel's milk chocolates (below), decorated to look like pebbles. I'm a strictly dark chocolate gal, but camel's milk in chocolate (as well as in gelato and foamy "camel-ccinos") adds a buttery, sweet-savory and slightly salty richness you won't get from cow udders.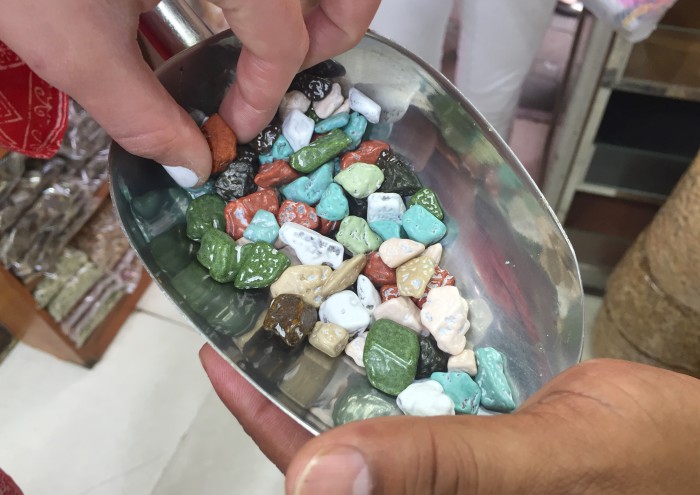 Peruse the wares of Dubai's Spice Souk — it's open every day from 10 a.m. to 10 p.m. (4 p.m. to 10 p.m. on Fridays) with a midafternoon siesta. The place is a fragrant reminder that your spice cabinet is full of stale old bottles that need updating.