This Austrian Chef Cooks Only With Ingredients Sourced Within View From His Mountaintop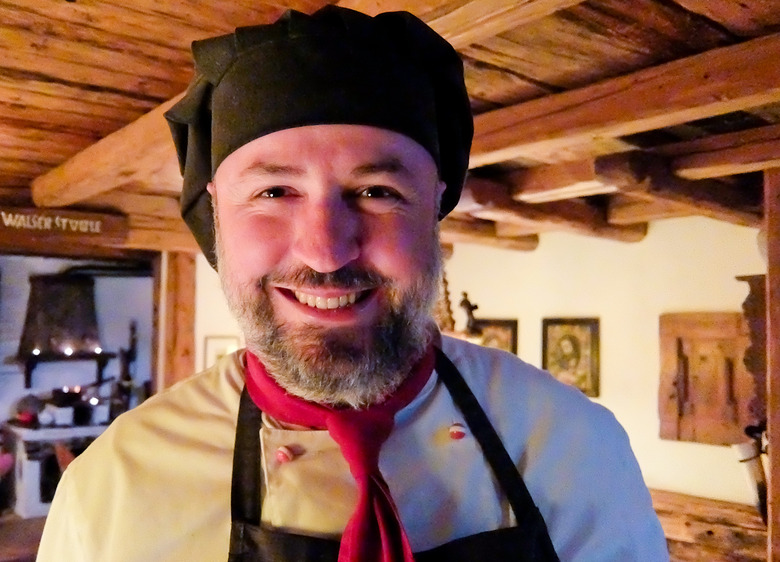 Austrian chef Jeremias Riezler uses only products that he can see from the top of his mountai
These days, many restaurants boast that they source their ingredients locally and only serve them in season, but there's a lot of cheating going on. I was once in a fine-dining establishment in Calgary — right in the middle of Canada — and saw saltwater fish on the menu. Their response was that it was flown in daily and therefore fresh, completely missing the point. So when I heard about a chef in Austria who uses only products that he can see from the top of his mountain, I decided to investigate.
My destination: the Kleinwalsertal valley in the far west of the country, consisting of just three small towns surrounded by snow-capped peaks. The Walserstuba Hotel in Riezlern is a typical cuckoo-clock mountain inn, with a long sloping roof and wooden overhanging balconies. I'm greeted by chef-owner Jeremias Riezler, who shows me to my modest room. Straightaway he confirms that the only food he has in his kitchen comes from the area visible from the Widderstein, the highest mountain in the valley.
Mind you, on a clear day the view extends right into Switzerland to the west and Allgäu in Germany to the north. Still, Riezler uses only organic products and reckons the best meat comes from the game wandering the mountains overlooking the valley. Herbs, including sage, chives, thyme, mint, nasturtium and lemon balm, are grown in his garden behind the hotel, and cheese is made from cows grazing on the alpine slopes at 5,000 feet.
While he gets on with the cooking, he suggests that I take a snowshoe tour of the area with one of his friends, Herbert Edlinger. I'm wondering if this is some sort of test of my stamina, but there's method in the madness. As well as being a guide, Herbert makes and sells local products, and fortunately he's brought a selection in his rucksack. He sets a board in the snow and lays out bread, sausage and cheese, plus some jars of his homemade mustard for an alfresco tasting. A slug of walnut schnapps sends me on my way, and within an hour, I'm back at the hotel.
The dining room at the Walserstuba is crammed with old pots and pans, and there's even an antique wood oven next to the log fire. The waitresses are dressed in traditional Austrian costume, all embroidered white blouses and dirndls, and even chef Jeremias has a red neckerchief and black hat. I'm now beginning to worry that I've ended up in theme-park Austria, with food to match.
My fears vanish as soon as the appetizers arrive. I'm served a wooden platter containing products from animals that recently wandered the alpine pastures nearby. There are pieces of beef and pork sausage, a thin slice of local cured bacon, and a tub of creamy lard. I smear it on a piece of his homemade bread, take a bite of the sausage and the flavor of the mountains fills my mouth.
Next is a small boiled breast of veal, fried like a wiener schnitzel, with potato salad and grated red and white cabbage. These tick all the boxes for seasonality apart from a decorative half tomato, which definitely doesn't. I can forgive the wine, a fruity Grüner Veltliner, from eastern Austria, as the cold winters and deep snow here are not ideal conditions for grapes.
But we're back on track with the soup. It's made from finely chopped onions, cooked in a thick beef broth with flat dumplings of alpine cheese and topped with herbs. It's something that you might like to eat in the middle of winter, trapped by a blizzard in a mountain hut — an Austrian version of French onion soup. The secret, of course, is the meat stock, boiled for hours in Riezler's kitchen. That's what makes it special.
Even more special is what comes next. The Alpine ibex, a mountain goat with huge curved horns, had been hunted almost to extinction and had to be reintroduced in the 1960s. It's now thriving, partly due to the fact that only one ibex is allowed to be killed each year. Somehow Riezler has managed to get hold of some of the meat, and he serves me small chunks, stewed goulash style, with two slices of chamois steak, cooked rare and crusted with breadcrumbs.
I begin to understand why he says the best meat comes from the mountains, but I'm also impressed with what comes with it. There are florets of braised cauliflower, a puree of black salsify topped with last autumn's blackberries preserved in schnapps, and potato finger noodles on the side (the Austrian version of French fries). The full-bodied red wine he serves is a 2009 Blaufränkisch from Mittelburgenland, close to the Hungarian border.
Now I'm put to test. He serves me a pale yellow ice cream and asks me to name the flavor. I'm completely stumped, tentatively suggesting licorice, but when he reveals that it's hay, harvested at 6,000 feet, my taste buds come alive with recognition. He's also experimenting with sorbets, a good way of preserving flavors through the winter. There's huckleberry with sage, peach with lavender, apple with peppermint, cherry with elder, plum with tarragon, raspberry with thyme and pear with lemon balm.
He's so fond of the cold that he also makes semifreddos — half-frozen desserts, made from eggs, sugar and cream, infused with different types of conifer needles from the forest. The flavors are so subtle that I can't really discern the difference between larch, spruce and mountain pine. Certainly they're refreshing and go well with a compote of blackberry, raspberry and red currant.
While I sip a digestif of hay-flavored schnapps, I add up my score for localness and seasonality. It's the middle of March, with snow on the ground, so he's used the vegetables available — onions, salsify, cauliflower, cabbage and potatoes. The meat all comes from local pigs and cows, with outstanding game from the mountains. I think he's got full marks, and I can forgive the slight lapse with the tomato. Riezler tells me that he's still exploring tradition, scouring handwritten cookbooks for those special recipes. He's someone who genuinely loves the food that comes from his region and knows how to cook it. Proof that, even in winter, you can make an excellent meal in the mountains.
Set dinner with wine costs 75 euros (about $86) at the Walserstuba.