Inside The FDA's Operatic Fight With America's Artisanal Cheese Makers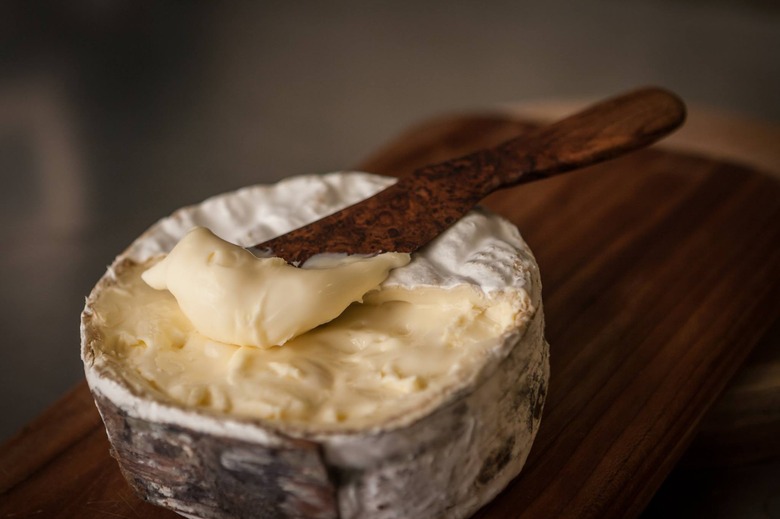 Christine Haughney covers corruption and criminal behavior as part of the Zero Point Zero Production series Food Crimes.
Few cheese makers have garnered as many accolades as Andy Hatch, an owner of Uplands Cheese, which is tucked among the gently rolling pastures of southwest Wisconsin. His credentials have been solidified with wins in major national cheese competitions. But in 2014, he briefly pulled the plug on his popular Rush Creek Reserve, a soft cheese inspired by the French Vacherin Mont d'Or. The reason? It's a creamy cheese made with raw milk, the kind that has drawn intense scrutiny from the U.S. Food and Drug Administration (FDA) in recent years.
Hatch was fearful that the FDA would prevent him from selling it and, worse, possibly destroy the cheese, which would have been financially devastating for his company. Standing in one of the laboratory-like caves at his cheese-making facility, Hatch notes that he employs ten workers in a county where 20 percent of the residents live below the poverty line. "I've got young kids and a big mortgage," he says. "The regulatory climate was so unclear and unpredictable that we didn't want to subject ourselves to that risk."
Cheese, like every segment of the food industry, has its share of criminals and health scares. This past January, heads of a Delaware cheese company pleaded guilty to running a factory so dirty that its Mexican-style soft cheeses launched a listeria outbreak. In February, a Pennsylvania cheese-company executive pleaded guilty to mislabeling her Parmesan as 100 percent cheese when it actually contained fillers like wood pulp. And in March, the California Department of Health warned consumers to avoid soft cheeses from Mexican street vendors because of an alarming rise in salmonella.
It's the FDA's job to protect consumers from cheeses that could sicken them. But in recent years, critics say the enforcement efforts have gotten out of hand. Dozens of cheese makers, industry experts, politicians and academics interviewed for this article say the FDA has been overzealous, treating people with solid agricultural degrees and apprenticeships at top European cheese makers like criminals who are pawning illegal Mexican street cheeses or selling customers liquid raw milk, which has not undergone centuries-old aging techniques. These artisanal cheese makers, many of whom were afraid to speak on the record because they fear retaliation from the FDA, say they have been trying to educate the agency about their efforts to revive historic cheese-making traditions. Instead, the FDA has punished them with unreasonable inspections and fines.
The FDA's treatment of artisanal cheeses has become so aggressive that it has angered academics like Catherine Donnelly, a University of Vermont professor who has worked closely with the agency since 1985 on foods, including meat, seafood and produce. She notes just how disproportionate the FDA's behavior has become toward cheese makers. Donnelly says the FDA has sent representatives to cheese-industry conferences with no real knowledge of cheese or its processes. And while cheese makers are away at these conferences, the FDA has timed surprise inspections of their plants so that they've become too fearful to even attend conferences or training sessions.
"It's very passive-aggressive behavior, and I haven't seen the FDA engage in that in other industries," says Donnelly. "It's generalized harassment."
♦♦♦
Despite repeated interview requests that were made starting in  November, no FDA official working on cheese policy agreed to speak to Food Republic for its reporting on cheeses. Lauren Sucher, an FDA spokeswoman, said the agency is trying to work with the artisanal cheese industry to improve relations. She notes that the agency has repeatedly sent representatives to American Cheese Society conferences and since 2014 has been in regular contact with the group.
"The FDA's goal is to help ensure that food in the U.S. is safe, wholesome and labeled truthfully. To this end, we have been communicating with both the general and artisanal cheese communities to ensure that their products meet this standard, but also to help identify vulnerabilities in the production of these cheeses," Sucher wrote in an email.
But Nora Weiser, executive director of the American Cheese Society, was measured in her praise about the FDA's efforts: "There is now regular communication between industry and FDA, which is an improvement over our experiences in the past," Weiser said in an email. She went on to say that the FDA needs to follow through on allowing industry stakeholders to "have a seat at the table as partners, rather than finding out after the fact that controls have been developed without our input."
One bright spot for artisanal cheese makers may be that the Obama administration has taken an interest in their plight since they provide jobs in the nation's poorer rural areas. The number of artisanal cheese makers grew to 900 in 2013, up from just 75 in 1990, according to data from the American Cheese Society. Cheese also provides money and jobs. Donnelly estimates that while a farmer with 50 cows can generate $100,000 in annual income, that same farmer can make $1 million a year and employ far more people by making cheese. And the demand for artisanal cheese keeps growing: Americans consumed $3.7 billion in gourmet cheese in 2014, an 8 percent jump from 2012, according to the Specialty Food Association. In early March, R. David Edelman, special assistant to the president for economic and technology policy, identified artisanal cheese makers as a growing industry and offered the American Cheese Society the White House's support.
♦♦♦
In the beginning, all American cheeses were raw-milk cheeses. Dennis D'Amico, an assistant professor of animal science at the University of Connecticut, says that pasteurization of U.S. cheeses happened during World War II, following a major outbreak of typhoid fever. Over the years, the USDA has overseen enforcement of a few cheeses like Swiss, Colby, Cheddar and Monterey Jack cheeses. But most enforcement has been handled by the FDA, which oversaw the enforcement of the mainly pasteurized cheeses that Americans ate for decades.
As the artisanal cheese industry has grown, so have tensions with the FDA. The first major hiccup came in January 2014, when the FDA announced it was going to start a testing program of roughly 1,600 raw-milk cheeses. Over the next year, it gathered 1,120 imported and 480 domestic varieties to test for bacteria, according to D'Amico, who pieced together the figures after multiple interactions with the agency. This testing meant some international cheeses languished in storage for months and in some cases were destroyed.
In June 2014, the FDA issued a controversial paper hinting that the agency might ban the age-old practice of using wooden boards for aging. Wisconsin congressman Mark Pocan contacted the FDA after he learned about the plan to limit wood-board aging. Pocan notes that the FDA was far less responsive than other government agencies with any feedback. When he spoke by phone in June 2014 to Dr. Michael Taylor, deputy commissioner for foods and veterinary medicine at the FDA, Taylor refused to commit to addressing the issue. But several days later, the FDA clarified its plan.
"I've been very, very frustrated with the FDA," says Pocan. "We want the FDA to listen to somebody, whether it be cheese makers or people, universities or members of Congress on this issue, because right now they're kind of going it alone and we're not quite sure exactly what they're trying to accomplish."
Relations between cheese makers and the FDA only grew worse in July 2015, when the agency sent Dr. Susan Mayne to speak at the annual American Cheese Society conference. While at the podium, Dr. Mayne failed to mention that the agency was finalizing its domestic and imported cheese compliance program guidelines. Finding out after the fact left cheese makers feeling disillusioned.
♦♦♦
Mateo Kehler, head cheese maker at the award-winning Jasper Hill in Vermont, tried to reason directly with FDA officials and found that he still was not spared from vigilant inspections. Kehler says the FDA visited his facility four times over an 18-month period. That included two regular inspections and what Mr. Kehler describes as "swab-a-thons." He notes that at a July 2014 inspection, an inspector spent more than two days "looking for the filth" in what he noted is a spotless plant. "He didn't understand what he was looking for," says Kehler. He adds that even though then–FDA chief Michael Taylor visited Jasper Hill to learn more about cheese, he lost more faith in the agency with its July 2014 ruling about its latest bacterial standards for raw milk cheeses.
"On the one hand, they're asking for a more collaborative relationship," says Kehler. "But in practice, it's not very collaborative."
By late 2015, the FDA had become so unresponsive that dozens of elected officials joined together to get any response. That December, Vermont congressman Peter Welch sent a letter to the FDA asking for clarification about the new standards. His request was supported by 24 members of Congress, including Senator Patrick Leahy and current Democratic presidential candidate Bernie Sanders. Congressman Welch says that he was ready to resort to more serious threats to the FDA's funding if the agency didn't become more responsive.
"Congress has tools to get the attention of government agencies," says Welch. "We could have hearings, and we also ultimately have the power of legislation and we have the power of appropriation."
Lately, the FDA has made some modest steps toward being responsive. Two months after Welch sent the letter, the FDA replied in writing and agreed to work more collaboratively with the American Cheese Society. This past February, the agency also announced that it was halting its 2014 random testing program of certain cheeses.
But artisanal cheese makers remain concerned, especially because the agency is undergoing its own administrative shakeup. On June 1, Michael Taylor is leaving and being replaced by a new chief, Stephen Ostroff. Even if Ostroff becomes a friend of the artisanal cheese industry, cheese makers don't know what lies ahead, once they lose the support of the Obama administration.
"With the election pending, it is hard to know what kind of continuity we are going to have," says Kehler. "We may end up fighting and then refighting these battles."