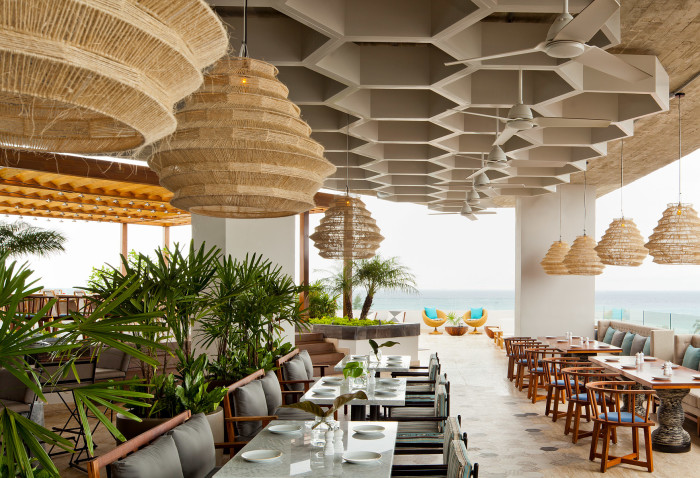 In Hungry Concierge, we travel the world to spot hotels that operate with their guests' food and drink needs squarely in mind — hotels, both big and small, that are located in neighborhoods rich with bar and restaurant options. Because there's nothing worse than having your trip derailed by crummy room service.
Visitors to Playa del Carmen these days may be surprised to see that the town has gone glam. Maybe it's something of a trickle-up effect from boho-chic Tulum, 45 minutes to the south along Mexico's Caribbean coast, but it's true. Amid the tourist schlock of Quinta Avenida, the town's pedestrian-only main drag, you'll find designer boutiques, trendy restaurants with in-house DJs, and shiny new shopping malls peddling global luxury brands. A key addition to this scene is the Thompson Playa del Carmen, the latest addition to the boutique chain's portfolio. The hotel's main location, just off Quinta Avenida, opened in November, and the Beach House, a breezy seaside addition, debuted in mid-February.
It's a hotel where you won't go hungry; even if you're not shacking up there, the restaurants are a draw. Chef Pedro Abascal, a Mexican TV personality, helms the kitchens at the property's three restaurants: There's Catch, a branch of the creative seafood restaurant that New Yorkers may know from its Meatpacking District location. Then there's Cinco, a top-notch Mexican outpost. Finally, there's the brand-new C Grill, a casual beachside breakfast and lunch location.
At Cinco, which is open for breakfast, lunch and "Cinco Hour" on the chic, sprawling roof deck, even the guacamole is above average. That started off a parade of amazing eats as my friend and I settled in on our first full day in Mexico for a late lunch. (There's an option to dine in the pool, mermaid-style, at a pair of submerged booths, but we opted for views instead.) We feasted blissfully on the ceviche of the day, corbina fish in a sweet-and-sour passion fruit preparation, lobster tostadas and a beguiling grilled pineapple salad with jicama that I'd like to re-create in my dream jungle-side outdoor kitchen.
Amid all this glorious seafood, we tried a sandwich of blissfully salty and falling-apart cochinita pibil (roasted pig that's a Yucatan state specialty) smooshed inside a sandwich roll, like some kind of Mayan sloppy joe. Naturally, we washed these down with margaritas made from smoky mezcal and freshly squeezed lime juice. It was good to be back in Mexico.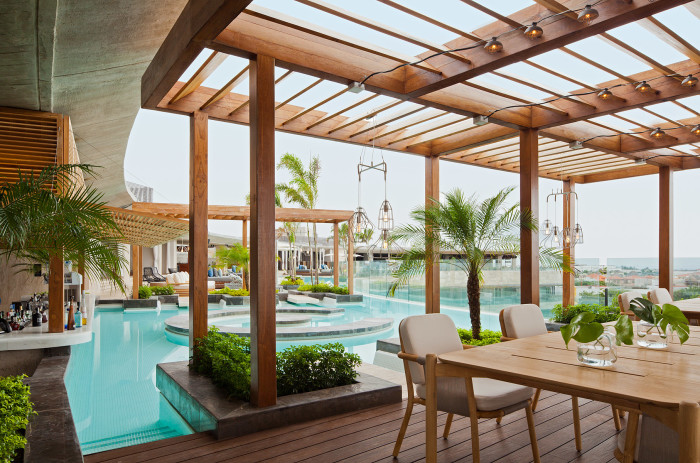 We had a few hours to rest our bikini bellies before dinner at Catch, so we staked out a poolside daybed for two and alternated between lounging and occasional dips in the infinity pool, whose glass wall affords views of the town and beach. When we felt burned or parched, there was fruit-infused water and sunscreen available from a handy station. The DJ spun an eclectic old-school mix while we slurped piña coladas; I couldn't have been more contenta.
After napping and a little shopping, we showed up for our late reservation at Catch. It was after dark, and the pool deck's mood had completely changed. A different DJ played more intense beats as the lights below us twinkled. Soon after we sat down, a complimentary order of warm pretzels with honey mustard butter showed up. The carb seal having been broken, we also dived into creamy wild mushroom pasta with cherry tomatoes and sugar snap peas. For a meat dish, we cooked paper-thin strips of Wagyu beef over a hot rock, searing them only briefly on each side and popping them still tender into our mouths. The meal's star was the truffled sashimi, delicate slices of tuna and yellowfin topped with caviar, scallions and shaved black truffles. I was tempted to order five more plates of it.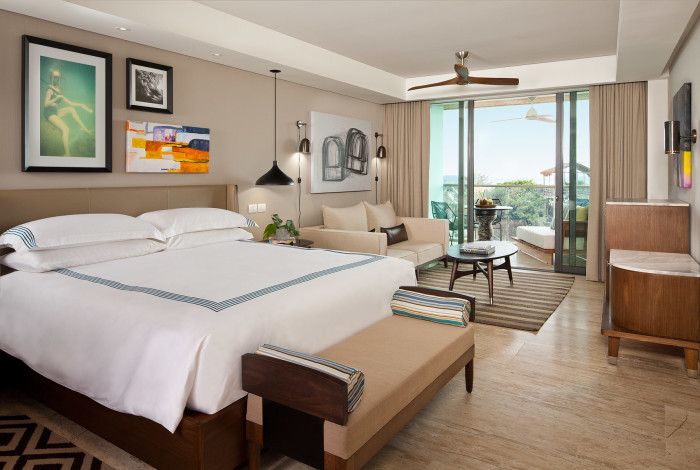 THE ROOMS
The main hotel's 92 rooms have an airy color palette with the kind of luxurious white bed linens I might like to have in my own home if I weren't so prone to coffee spills. The furniture is custom-made in Mexico, the stone is sourced from the country, and rooms display their numbers in both the Roman and Mayan alphabets. Luxurious bath amenities are by Brooklyn-based D.S. & Durga, and the shower provides a bit of a surprise (particularly for two platonic pals): a window looking directly onto the bather. Most rooms, like mine, have a balcony with space for dining, lounging and watching shoppers in the mall below. There are 27 more rooms in the Beach House, a few blocks away.
THE LOOK
The building itself is notably design-y, with a curved shape that offers privacy to balcony sitters and an even more dramatic rooftop layout. Famed Mexico City–based designers Niz + Chauvet are behind the hotel's pared-down stylish interior. The design harkens back to a certain midcentury Mexican heyday, with variations on the famous Acapulco chair in guest rooms and on the roof deck.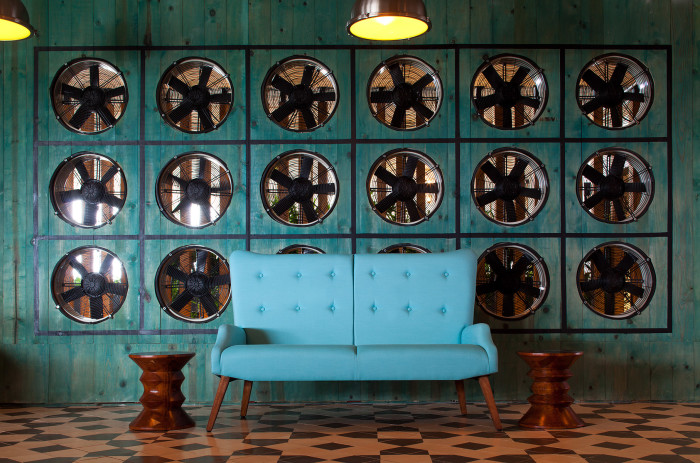 THE NEIGHBORHOOD
Playa may be glamming it up, but it remains appealingly compact. Since the hotel is truly smack in the center of town, you can walk or take a brief taxi ride to all the good eats. Don't miss the grilled meats at El Fogon, particularly if hunger strikes late, after a few drinks. El Pirata (Calle 40 Entre Av 5 & 10) offers some of the best seafood in town, washed down with Worcestershire-doused micheladas; its sidewalk tables are a nice place for a long, lazy lunch. The beach is just two blocks from the main hotel and a skip from the Beach House, and famed nightclub Coco Bongo is so close to the main hotel that on weekend nights, the line snakes directly outside the entrance.
Thompson Playa del Carmen
Calle 12 entre 5ta Ave. y 10 S/N Centro, Playa del Carmen
855-880-1240
thompsonhotels.com
Rooms from $327 per night