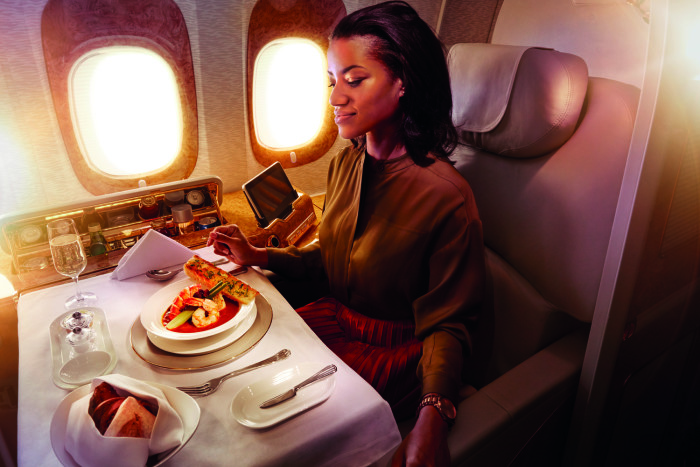 Anyone can write about the luxury of a flight comped by an airline, but the chances of a story-worthy experience are slim. Sure, there was great wine and a lie-flat seat on my recent trip from New York City to Dubai on Emirates, a well-known contender for best airline in the sky, and yes, the food was very good for airplane fare. But ever since watching the Emirates commercial where Jennifer Aniston wakes up on the aforementioned lie-flat bed from a nightmare about a plane with no shower or full bar (known to everyone else as "a plane"), I've had my eye on an in-flight shampoo and blow-dry.

A business-class ticket like mine will get you into the bar at the back of the plane, where the snacks are fancy and plentiful and the bartender speaks four languages and is also qualified to operate the emergency evacuation slides.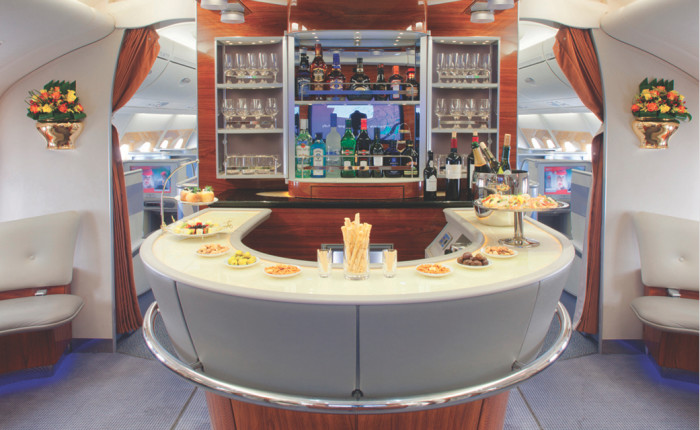 The ticket however, does not grant one shower access — that's reserved for first class only. Some kind of emergency would have to occur for an exception to be made. To be clear, no actual emergency occurred; however, the lunch tray of my neighbor to the back, precariously perched above my seat, did succumb to both gravity and turbulence and land squarely on my head, sending a deluge of various juices, sauces, condiments and, again, great wine down my back and onto my seat.
Six absolutely immaculately styled flight attendants, speaking a total of 10 languages, descended upon the situation and began hot-toweling me off, pretreating my seat with stain remover, refilling my wineglass and fetching a first class sleeping kit complete with super-soft pajamas, socks and slippers.
"We're not going to be able to get all this salad dressing out of your hair, Miss Kapadia," said Kristen Bell's slightly taller Scandinavian cousin (unverified). Well, don't stop now, I thought, 'cause this hot-towel hair massage is completely doing it for me. And with 10 hours remaining in the flight, I was whisked off to the showers while my seat dried.
Although there's only five minutes of hot water per shower, indicated by an LED display within the booth, that's five minutes of hot shower more than 90 percent of the rest of the flight is going to enjoy. The shampoo, conditioner and body wash are high-end and abundant, and I discovered that balsamic vinegar must be great for your hair, because I had quite the glossy shine going on by the time I'd finished blow-drying. Additional perk: There is no humidity at intercontinental cruising altitude.
I donned my size extra-large PJs (hey, more room to sleep in) and headed through first class back to my seat. On the way past the galley, another set of extremely beautiful flight attendants let me know they'd made my bed for me and asked if they could bring me anything at all.
"Well, I had just dug into my cheese course when it happened…"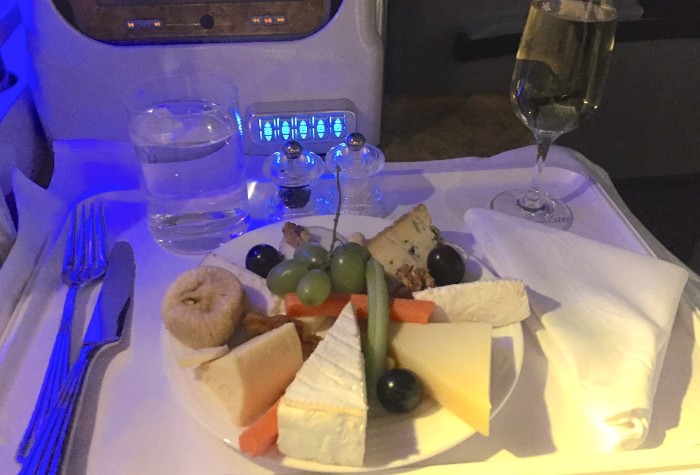 And minutes later, I was presented with a plate teeming with generously sized wedges. As a rule, I don't employ the words "too much cheese for me to eat," but this selection was really pushing it. One more flight attendant approached to ask if I was okay and offer one last treat.
"This is Dom Perignon 2005 — don't tell anyone," whispered Mad Men actress Jessica Paré's apparently identical twin, setting down a glass of champagne. How do you even get glowing skin on an airplane for 12 hours? What are they hydrating with, angel tears?
And with a cheese-filled belly, fresh blowout and solid little buzz on, I drifted off to sleep looking up at the tiny pinpoint lights made to look like stars within the glowing-blue airplane ceiling.
More than one person suggested this was all just a stunt by the airline to provide me the full Emirates Jennifer Aniston experience, but by the positively mortified look on the tray-spiller's face, I'm going to venture that it was simply an accident. Besides, I'd switched seats with a rather finicky fellow passenger during boarding so she could sit with her boyfriend, a fact she pointed out and rethanked me for as I politely dunked a grape into my Camembert, which you can only dunk into if it's the right temperature (and it was).
The only downside to this whole thing? I've had Jennifer Aniston–style airplane nightmares ever since, except I don't wake up.