Everything You Need To Know About Grower Champagne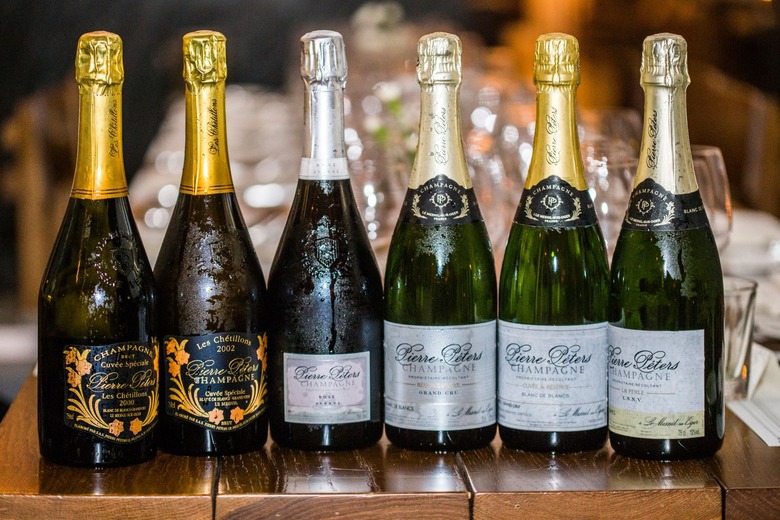 Think you know champagnes? Here's our guide to our favorite sparkling wine. (Photo: Wein & Vin/Facebook.
Gianpaolo Paterlini is a critically acclaimed sommelier who is partner and wine director at 1760 and wine director for Acquerello in San Francisco.
Champagne is perhaps the most recognizable but misunderstood wine in the world. To start, it is a sparkling wine, typically made from Chardonnay, Pinot Noir, and/or Pinot Meunier grapes grown in the Champagne region of northeastern France. The biggest difference between Champagne and still wine is the bubbles, which are achieved by a second fermentation that occurs in the individual bottles. This is a laborious process, but the texture and finesse of the bubbles immediately set Champagne apart from prosecco. Spanish cava and many American sparkling wines are made just like Champagne, but the depth and complexity derived from the diverse soils of the Champagne region has yet to be replicated outside of France. Distinguishing Champagne from still wine and other sparkling wines is the easy part, though. Breaking down the differences within Champagne is a far greater challenge.
Champagne can be easily separated into two categories: "Big House" (NM, or Négociant-Manipulant) and "Grower" (RM, or Récoltant-Manipulant) Champagnes. You can determine which you're drinking by reading the fine print on the bottom of the front label. Some négociants own vineyards, but the majority of the grapes they use to make Champagne are purchased from many small growers. This enables them to blend a variety of grapes from many different villages and vintages. The goal is to create a brand that has a recognizable taste. The result is often a very consistent multivintage blend. The négociant houses are largely responsible for the region's fame, but small growers are creating the most exciting wines in Champagne today.
Growers only harvest grapes from vineyards they own. Because most growers are very small, their vineyards are usually located in only one or two villages. These wines are often comprised of only one varietal that usually comes from one single harvest. They rarely have enough raw material to make the kinds of blends that have brought NM Champagnes fame. Rather than showcasing all of Champagne's characteristics in one wine, being knowledgeable about the individual terroirs of Champagne can help you learn what to expect from each grower. At their best, grower Champagnes are a beautiful expression of place and time.
Montagne de Reims
The heart of Champagne can be divided into three growing regions centered around Reims and Epernay. Reims lends its name to the Montagne de Reims, a mountain whose slopes face north, east, and south. The soil is deep, with a higher percentage of clay. Pinot Noir grows very well here, as the clay helps to pronounce the varietals power and concentration. I love the wines of Jean Lallement, located just south of Reims in the village of Verzenay. The north-facing vineyards are planted with roughly 80 percent Pinot Noir and 20 percent Chardonnay, and the finished wines show the powerful, broad texture Pinot Noir can achieve in this area. These are Champagnes that can be paired with richer fare because their concentration has no problem standing up to juicy, fatty meats. Another great grower is Paul Bara. Bara's Champagnes are also Pinot Noir–based, but because Bouzy is south-facing, the fruit is more ripe and makes some of the best rosé in all of Champagne.
Vallée de la Marne
At the southern end of the Montagne de Reims is the town of Epernay, which lies on the banks of the Marne River. The Vallée de la Marne is an east-west-flowing waterway, and the shallow and sandy vineyards on the riverbanks are perfect for expressing Pinot Meunier's fresh and fruity personality. Meunier has often been viewed as the third wheel in Champagne. The Grand Cru villages are only allowed to grow Pinot Noir and Chardonnay, so in terms of prestige, Meunier is a second-class citizen. This standing is enhanced by the NMs, who focus so much on branding and image. The growers are helping to give Pinot Meunier the respect it deserves. Laherte Frères includes the varietal in most of its blends; however, it's two of the top bottlings (both from a single vintage) that really exemplify the capabilities of Meunier. The producer makes a single-vineyard Meunier from vines planted between 1947 and 1964 called Les Vignes d'Auterfois. Anyone thinking Meunier is fruity and simple need only taste this wine. My favorite of the portfolio is a Rosé de Saignee of Meunier from the Les Beaudiers vineyard. This drinks almost like a red with bubbles, perfectly expressing the fruity personality of the grape while showing its serious side at the same time.
Côte de Blancs
Stretching south from Epernay is the Côte de Blancs, which is a long, narrow, east-facing slope known for its white soils made up of chalk and limestone. Chardonnay is a relatively transparent variety that conveys a clean minerality and mouthwatering acidity. For a leaner, crisper style, I always reach for Pierre Péters, whose NV Cuvée de Réserve is blended from multiple villages in the Côte de Blancs. This wine demonstrates the sleek, racy side of Chardonnay in this area. Agrapart is another of my favorites. It is located in the village of Avize, and many of its wines are vinified in wood, displaying Chardonnay's power. Although rich and concentrated, Agrapart's wines are never heavy, and their acidity and minerality always provide an exciting tension.
How to find the grower Champagne that's right for you, based on preferred wine styles
Crisp, fresh, high acid, minerality
Basically, this style means you like Chardonnay, probably from the Cote de Blancs, where the soil is mostly chalk and limestone. This wine captures the style beautifully: Pierre Peters Champagne Blanc de Blancs Brut Cuvee de Reserve NV.
Fruity but dry, medium body
This is typical of the Valle de la Marne, where sand is prevalent in the soil and Pinot Meunier is the star. Gaston Chiquet's entry-level wine features 40 percent Meunier, so there is plenty of fruit up front that's balanced by the acidity of the Chardonnay and the structure of the Pinot Noir: Gaston Chiquet Champagne Brut Tradition NV
Rich, powerful, concentrated
These characteristics are most commonly found in the Montagne de Reims, where the soil is thicker, mostly clay, and Pinot Noir is the main varietal. My suggestion is 80 percent Pinot Noir and 20 percent Chardonnay so the structure and power of the Pinot Noir is balanced by a little freshness from the Chardonnay. This way overdelivers for the price: Jean Lallement Champagne Brut Tradition NV
Rosé
I love rosé and could break it down into subcategories, but for simplicity's sake, here is a delicious, crowd-pleasing rosé. It is also 80/20 Pinot Noir/Chardonnay, but this grower's vineyards are in the southern Montagne de Reims (Lallement is north) where the extra warmth allows the grapes to achieve ideal ripeness for rosé. Paul Bara Champagne Rose Brut NV
Rich and toasty
The first three categories were based on varietal and geography and the fourth on color. Number five is about what happens in the cellar. The wines I suggested so far are all quite primary and fresh. Some Growers opt for a richer style, which they can achieve by vinifying in smaller oak barrels, letting the wine rest on the lees for a longer time, and/or adding a higher percentage of reserve wine to the final blend. This gives the rich, toasty, nutty, bready characteristic sometimes found in Champagne — and this grower uses all three techniques in the cellar. Egly-Ouriet Champagne But 'Tradition' NV
Pro-Tip (Glassware):
To truly appreciate and enjoy the nuance and complexity of Champagne, you should always drink from a wineglass instead of antiquated flutes. We use Spiegelau's 11.5-ounce Vino Grande at 1760 and Zalto's white-wine glass at Acquerello. Flutes are great for maintaining Champagne's bubbles, but a wise man once said, "If your Champagne is flat, you're probably not drinking quickly enough." Other than that, flutes aren't good for much. They are tall and narrow, thus the wine has no room to breathe. When you stick your nose in all you experience is effervescence and alcohol, and when you take a sip the wine simply shoots across your mouth in a very linear texture. Drinking from a white-wine glass gives the Champagne enough room for the aromas to reveal themselves. The way the wine hits your mouth from a rounded glass encourages it to spread across your mouth, allowing you to appreciate the round, creamy texture the Champenois worked so hard to create.