The Story Behind Philadelphia's Best Gravy Fries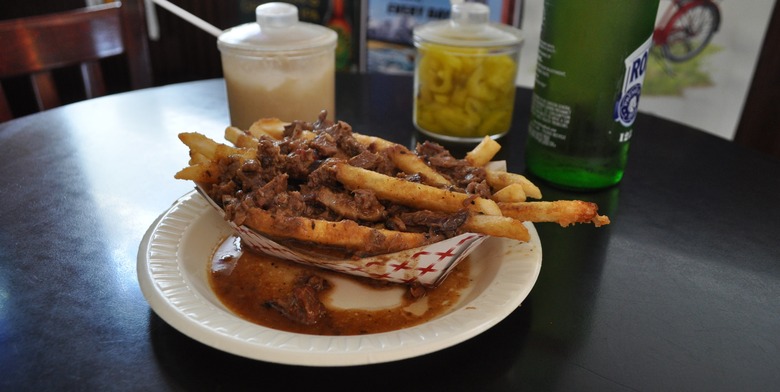 The wood-paneled barroom of Nick's Old Original Roast Beef is burnished with a warm patina that comes from 78 years of continuously roasting meat and countless hours of regulars coming together over hot sandwiches, icy beers and, more recently, the best gravy fries in the city.
Lili McKinney and her husband, Jeff, took over the business from her father, who retired back in 1993. "Society was changing," Lily McKinney explains, sitting at a corner table in the dining room. The original menu of roast beef, pork and ham sandwiches on kaiser rolls hadn't changed much since the opening, but McKinney decided that a few tweaks were in order. She introduced roast turkey (roasted whole, none of that compressed stuff), as well as broccoli rabe and cheese sandwiches, a uniquely Philadelphian take on vegetarian fare. About ten years ago, fries made their debut.
Due to some very real space limitations (all of the prep work and cooking happens in a tiny space at the far end of the bar), McKinney installed a compact, self-contained fryer next to the sandwich station.
"Sometimes a french fry would get a little wet from the beef, and we're like, 'Oh, this is really good,'" says McKinney, breaking down this very happy accident. "So we put it on the menu. And that's it, some gravy, some chop-chop meat and there you go!"
Nick's gravy fries come from humble beginnings: thin-cut, frozen, beer-battered potatoes that are stored in a stainless steel freezer taking up valuable space in the tiny dining room. The magic is all about the gravy.
McKinney isn't exactly quick to share the proprietary recipe for the roast beef, but what she was willing to disclose is some next-level gravy know-how that seems more at home in an old-guard French kitchen than in a neighborhood hang.
"Do you know Peter Luger?" she asks, referring to the iconic New York City steakhouse located at the foot of the Williamsburg Bridge in Brooklyn. It turns out that Nick's gets its roast beef rounds from the same stock of steer that provides Luger's expense account–priced prime cuts. "We're not related, but through meats we are!" she laughs.
Pedigreed beef is only one part of the gravy equation. When roasting the beef, the cooks at Nick's lay the seasoned rounds out on a bed of aromatic vegetables and marrow bones. As the bones, beef and vegetables bake together, the marrow seeps out of the bones and mixes with the meat juices, making for a rich, meaty pan sauce that would make any saucier smile.
"It gives it that good texture and that good gravy," McKinney explains. "It used to be that the bones were free, but now they've become the cool thing to eat, and so I'm paying a fortune for them!"
Heaped into a gingham paper tray, the fries go in hot from the fryer and are topped with a ladleful of deep brown gravy and shreds of roast beef and served with a plastic fork on a styrofoam plate where pools of overflow collect.
At this point, those familiar with Philadelphia's cheese of choice are probably asking, "What about the Whiz?"
Well, the McKinneys have opened two outposts of Nick's in the burbs, one in Springfield, in Delaware County, and one in West Chester. With more space to work with, the newer spots have a pump for fries with Whiz, but here the only cheese on hand is thick-cut sharp provolone. If you want cheese on your fries, all you have to do is ask, and the guys behind the counter will melt it to order and load up your fries with provolone and gravy. "Whiz is Whiz," McKinney says. "But oh, this is so much better."
Nick's Old Original Roast Beef
2149 S. 20th St.
Philadelphia, PA
10 E. Woodland Ave.
Springfield, PA
1215 West Chester Pike
West Chester, PA