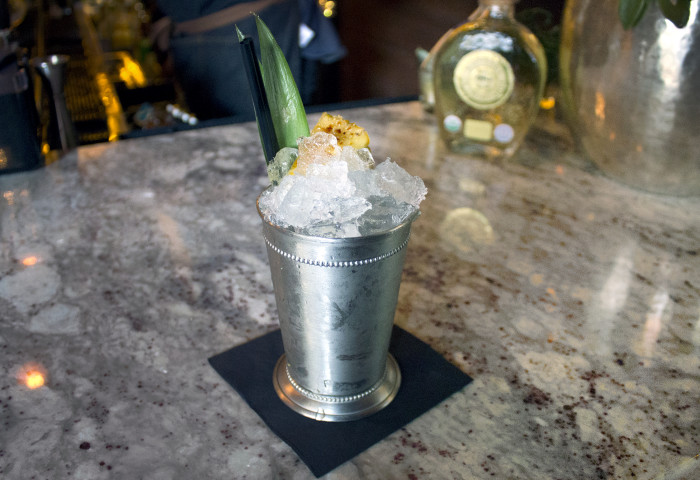 As agave continues its rise in popularity in the U.S., a new range of alternatives to tequila and mezcal is emerging in cocktails. Though the names raicilla, bacanora and sotol might not ring a bell, they're akin to moonshine in Mexico, but much smoother, and they carry a rich, largely untold history. Astonishingly, it takes an entire plant to produce just one bottle of sotol, which is distilled from a yucca-like plant called the desert spoon — not agave — that needs about 15 years to mature.
"After playing with sotol, bacanora and raicilla, I fell in love with the earthiness and the uniqueness of the flavors in sotol," says Steve Escobar, beverage director and partner at the Regal in Williamsburg, Brooklyn. His Spitfire cocktail, built as a julep, contrasts the round, earthiness of Hacienda de Chihuahua's Sotol Reposado with the sweetness of pineapple, a bit of lime to brighten, and most importantly, a cold-infused Thai-bird-chili-and-jalapeño agave syrup to give the drink a complex heat.
With a brûlée'd pineapple wedge and spiny leaf garnish — which bears a resemblance to the dessert spoon's foliage — the Regal's Spitfire is a delicious way to open the palate to unfamiliar flavors. Despite its obscurity, sotol's delicate creaminess makes it both a pleasing sipping spirit and well suited to cocktails. Escobar adds, "I knew that people aren't typically thrilled to try new things, but figured if I could provide a familiar vehicle for new ingredients, people would be more eager." 
Spitfire Cocktail
Servings: 1 drink
Ingredients
1 3/4 ounces Hacienda de Chihuahua Sotol Reposado
1/2 ounce lime juice
3/4 ounce jalapeño/Thai bird chili–infused agave
5 pineapple chunks, muddled
For the jalapeño/Thai bird chili–infused agave:
 Combine 2 parts agave syrup, 1 part Sugar in the Raw and 3 parts water in a pot.
Bring to a boil with 3 slices jalapeños, then simmer for 5 minutes.
When cooled, cold-steep 2 sliced Thai bird chilies in the mix for 24 hours.
Remove chilies and store for later use.
Directions:
Pour sotol, lime and agave syrup in a shaker tin and muddle pineapple chunks into the mixture.
Add a small amount of ice and briefly whip shake to combine ingredients.
Strain into chilled julep tin and add crushed ice on top. Garnish with pineapple leaf and wedge.
Prep time: 3 minutes
Difficulty: Moderate