It's been a crazy year for Suzanne Levinson. Last March, her popular New York City restaurant, Pommes Frites, known for its Belgian-style fries and its enormous arsenal of sauces and toppings, was destroyed in a tragic gas explosion that killed two people and injured several others. Next month, Levinson plans to resurrect the restaurant and all of its sauces in a new location not a 20-minute walk away from the scene of the accident.
After all that's happened, the humble but highly energetic proprietor is simply excited to rev up the fryers again. "Walking down the street, eating your frites — it doesn't get better than that," she says.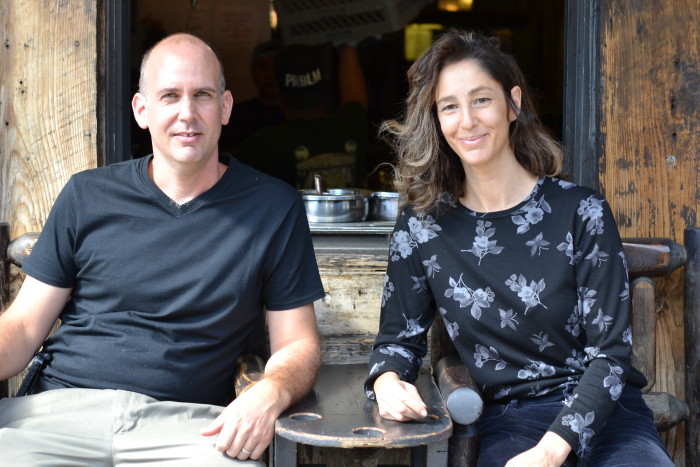 Levinson opened the original Pommes Frites back in 1997. The restaurant became something of an East Village institution, thanks to its comforting cuisine and late-night hours (open until 4 a.m. on weekends). The native New Yorker says she got hooked on the goodness of the Belgian frites that rivaled the McDonald's fries of her childhood while traveling around Europe during her youth. "After studying in Italy, I backpacked through Europe, and that's when I had my first Belgian fry," Levinson says. "I remember writing in my diary that I had french fries with mayonnaise and it was so good."

Upon graduating from college, Levinson landed a job in the European travel industry, which required her to travel between New York and Europe often, allowing her to indulge in her frites infatuation. "I remember, when I would take the train into Amsterdam [while on business], the first thing I would do is run to a frites shop," she says. "I thought to myself, New York City has every great street food, but when I came back to New York, I couldn't get the Belgian fries with the paper cone and the different sauces."

And thus, Pommes Frites was born. Levinson wanted to run the place as authentically as possible, following the classic Belgian method of twice-frying her spuds, for starters."They're fried at a lower temperature first, just to cook them nicely on the inside, then a shock temperature, a higher temperature the second time," she says.

Levinson adds that everything from the frites sauce (the traditional European mayonnaise) to the paper serving cones to the metal tossers used to help evenly season the fries are all imported from Europe.

For those familiar with traditional Belgian frites, you might notice that the fries are close but not exactly the same. Levinson says that's because of the potato. "I can't source the same potato here that they use in Europe, which is the bintje potato," she says. "It's found in Belgium and in the Netherlands. I prefer to use a Yukon Gold potato, but it's so, so expensive, and they're so small."

Levinson credits a 1997 segment on CNN Europe, which featured her tiny 500-square-foot shop, for propelling her business to great success. But it was all nearly undone in the sudden blast on March 26, 2015. Ten people (three staffers, seven patrons) were inside the restaurant at the time; none of them were hurt. But the business was a total loss.

Almost immediately, Levinson says her business partner, Omer Shorshi, pushed her to reopen the shop. With no debate, the two started rebuilding from scratch.  An IndieGoGo fundraising campaign was launched last year to help finance the effort. While the campaign raised only $25,000, about 40 percent of the $64,000 goal, Levinson says that they were humbled by the public's support.

Last summer, the pair signed a lease on the new location at 128 Macdougal Street. "It's funny because when I was planning Pommes Frites 20 years ago, this was exactly where I wanted to be," Levinson says of her new perch in Manhattan's Greenwich Village.

The new space is a little larger, with more seating and space for cooking. Also, the reincarnated Pommes Frites will offer something its predecessor lacked: beer and wine. Construction started in December, and as of now, the grand reopening is projected for mid- to late April.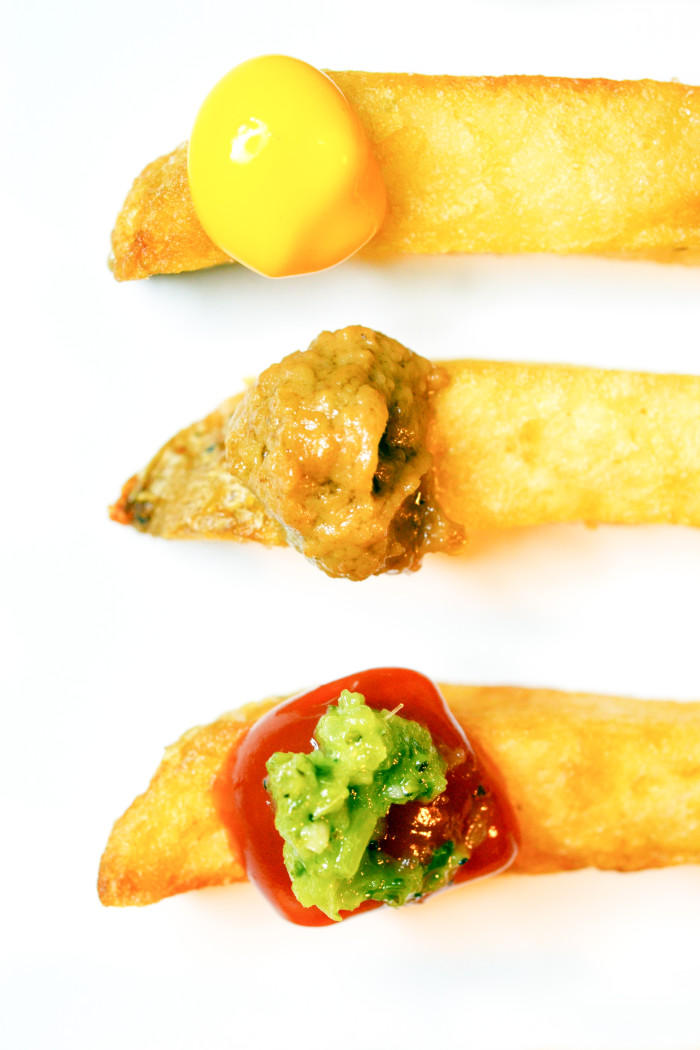 As for the restaurant's signature item, Levinson says the new shop will stick to its same successful fry formula. That begins with the potato. After years of searching and test tasting in Levinson's personal kitchen with her deep fryer, she and Shorshi found a farm in Canada "that makes a beautiful potato for deep frying," she says.
The diverse sauces, both traditional and nontraditional, are coming back as well. These include the sweet mango chutney mayo, Vietnamese pineapple mayo and Bordeaux wine, figs and sage mayo, all created by Shorsi, who has been the face of the restaurant in recent years. Levinson says he is the culinary mastermind behind all the toppings and Hellman's mayonnaise-based sauces and that with the new location, he has new items in the works.
The new location will feature all reclaimed-wood counters, tables and benches. And like the old spot, there will be holes cut into the tables for holding the frites-filled paper cones.
"Everything you had at Pommes Frites on Second Avenue, we'll have here," Levinson says. And much more.