Check Out These 5 Insane Dipping Sauce Recipes For Fries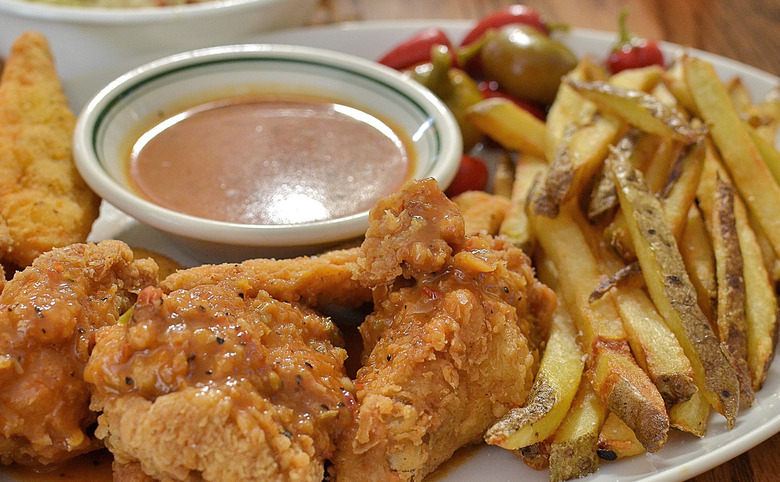 We may receive a commission on purchases made from links.
Boston-based burger blogger, chef, recipe developer and cookbook author Richard Chudy is one of our culinary heroes. His impressive mastery of all things fried, cheesy and dippable has expanded to his recent book, American Burger Revival: Brazen Recipes to Electrify a Timeless Classic. Cowritten with chef-author Samuel Monsour, winner of Boston Magazine's "Best Burger" award, American Burger Revival is a collection of recipes, stories, techniques and crucial information for inspiring and building the greatest burger you could ever dream up. And now, some thoughts on dipping sauces.
Ketchup is a wonderful thing. You want a recipe? Go to the store, grab a bottle of the good stuff (Heinz, of course), open and use at will. Of course, you could make your own, and I'm certainly not going to stop you; in fact, you might be surprised how delicious and, quite frankly, different it is from the standby. But it will never taste like the bottled variety we all know and love. While the thick and vibrant red background to our dipping lives is alive and well, sometimes we need a break and to branch out. Don't worry, no one is taking away your precious ketchup, but here are five recipes for you to consider if you do in fact want to step up your french fry game.
Sriracha-Peanut Sauce
They do it in Amsterdam, and that's good enough for me. Well, maybe not the sriracha part, but we couldn't help ourselves.
Ingredients
1 cup smooth, unsweetened peanut butter
1 teaspoon sriracha, or to taste
1 tablespoon soy sauce
1 teaspoon sesame oil
1 teaspoon rice vinegar
1 tablespoon fresh ginger, peeled and chopped
2 tablespoons honey
Warm water, as needed
Kosher salt, to taste
Directions
Puree everything except the water in a food processor for about a minute.
If not completely smooth, add the warm water in 1/4 cup increments until it is completely smooth, scraping down the sides of the bowl if necessary.
Adjust seasoning to taste with salt. Makes about 1 1/2 cups. Refrigerate until ready to use.
Ham and Cheese Dip 
This is your basic béchamel with the addition of ham and cheese for an addictive twist on cordon bleu. Try it with fries, of course, but don't be bashful about slathering your favorite sandwich with it, too. This will make a pretty good amount. You are welcome in advance.
Ingredients
1/2 cup finely diced ham steak (the best you can find — good-quality deli ham will work in a pinch)
2 tablespoons unsalted butter
2 tablespoons all-purpose flour
2 cups whole milk
1/2 cup grated Gruyère cheese
1/8 teaspoon freshly grated nutmeg
Kosher salt, to taste
Directions
In a medium saucepan over medium-low heat, sauté the diced ham until lightly golden brown and crispy, 4-5 minutes, stirring occasionally. You shouldn't need oil, but if it's sticking, add a splash or as needed. Remove the ham from the saucepan.
Melt the butter and reduce the heat to low. Once melted add the flour and stir with a wooden spoon for about a minute to incorporate the butter and remove any raw flour taste. Slowly add the milk, whisking constantly.
Raise the heat to medium and, stirring constantly, slowing bring the mixture up to a gentle simmer. Add the cheese, nutmeg and a pinch of salt. Lower the heat to low and simmer until it coats the back of a spoon. Add and stir in three-quarters of the ham. Taste and adjust seasoning.
Pour into a bowl and sprinkle the remaining ham on top. Enjoy while warm.
Yogurt Caesar Sauce
Aioli and mayo make for a wonderful sauce for many things, and the fry as a recipient is no exception. For a slightly different take, a simple swap of thick Greek yogurt in lieu of raw eggs adds a nice tangy change of pace.
Ingredients
1 cup full-fat Greek yogurt
2 cloves fresh garlic, crushed
1 teaspoon Worcestershire sauce
1 lemon, zested and juiced
1 teaspoon Dijon mustard
1/4 cup grated Parmesan
1 teaspoon olive oil
Kosher salt and pepper, to taste
Directions
Add everything in a blender and puree until smooth. Adjust seasoning with salt, pepper and lemon juice as needed.
Chill to thicken slightly and until ready to use. Makes about 1 1/2 cups.
North African Carrot Dip
The spice will keep you coming back, and I can guarantee you'll find many uses for it. Delicious as a spread on a sandwich, as a dip for your next crudite platter, it's even delicious with eggs. If you like heat, this one is for you.
Ingredients
1 bunch carrots, peeled and trimmed
Olive oil, as needed
Kosher salt, to taste
2 tablespoons harissa, or to taste
1 teaspoon berbere (available in specialty stores or some grocery stores, or to taste (can substitute equal parts cayenne, ground ginger, clove and coriander if you can't find berbere)
1 lemon, zested and juiced
1 tablespoon honey
Directions
Preheat the oven to 400 degrees. Cut the carrots in half if very large. Place on a baking sheet, drizzle with olive oil and season with salt.
Roast until softened, 15-20 minutes. Cool slightly, then puree with the remaining ingredients in a blender or food processor until smooth.
Adjust seasoning with salt and berbere or harissa as needed. Serve warm or chilled.
Avocado Ranch (courtesy of American Burger Revival)
We'll lighten the mood a little with some avocado. Because french fries plus avocado equals healthy, right? I think that's how it works.
Ingredients
1 ripe avocado
3/4 cup sour cream
1 1/2 tablespoons lemon juice
2 teaspoons red wine vinegar
2 teaspoons Worcestershire sauce
2 garlic cloves, minced
1/2 teaspoon celery seed
1 1/2 teaspoons kosher salt
1 1/2 teaspoons freshly cracked black pepper
1/4 cup buttermilk
Directions
Combine all ingredients except buttermilk in food processor and puree until silky smooth.
Pour into a large bowl and whisk in buttermilk. Refrigerate until cold. Makes about 2 cups.