Despite its deeply rich and advanced gastronomic culture, New Orleans has an unfortunate history of lagging behind when it comes to beer. This wasn't always the case: Once home to dozens of breweries, the Big Easy had become the largest beer-producing city in the South by the 1880s. But as with so many other U.S. regions, Prohibition decimated the local brewing industry. After the nationwide alcohol ban was repealed in 1933, local beermakers struggled to regain a foothold. By the 1950s, the city had only four local beer brands. When Hurricane Katrina hit in 2005, the last Old Guard standalone brewery in New Orleans, Dixie Brewing, was flooded beyond repair, and Louisiana beer was on the brink of extinction.
That is, until 2008, when Kirk Coco, a native New Orleanian, came back to his hometown after a decade in the Navy and began drafting plans for a preserves company. "I was drinking Dixie beer one day, and I saw that it wasn't made in New Orleans anymore — it was made in Wisconsin," says Coco. "I was like, 'Oh man, what am I doing? I'm not gonna open a preserves company — I'll open a brewery!'"
There was just one problem, he explains: "I had brewed beer, but I was terrible. I mean, I can make a beer: It will be alcoholic and you can drink it," he says with a laugh. Obviously, Coco needed help from someone with more expertise. "I was going to do it with a good friend of mine…and his wife was like, 'No, you're not taking my husband away to go work on this brewery — this is a horrible idea.'"
Fortunately, his friend was able to put him in touch with Peter Caddoo, a former Dixie brewer for 18 years. After months of discussions, the two reached an agreement to found NOLA Brewing Company. "When we started, the only beer you would see anywhere besides Bud, Miller, or Coors was Abita Amber," Coco recalls. "Nobody was drinking craft beer. I mean, no one."
The hurdle they faced was a big one: New Orleans has always been a party town, but locals and tourists alike were going after Sazerac cocktails and 3-for-1's on Bourbon Street. And those few who did drink beer were incredibly loyal to one of four national macrobrews. "When we started the brewery, I would bring beer to a party — like our [first two beers] Brown Ale or Blonde — and at the end, all the Miller Lite would be gone and nobody would have touched ours."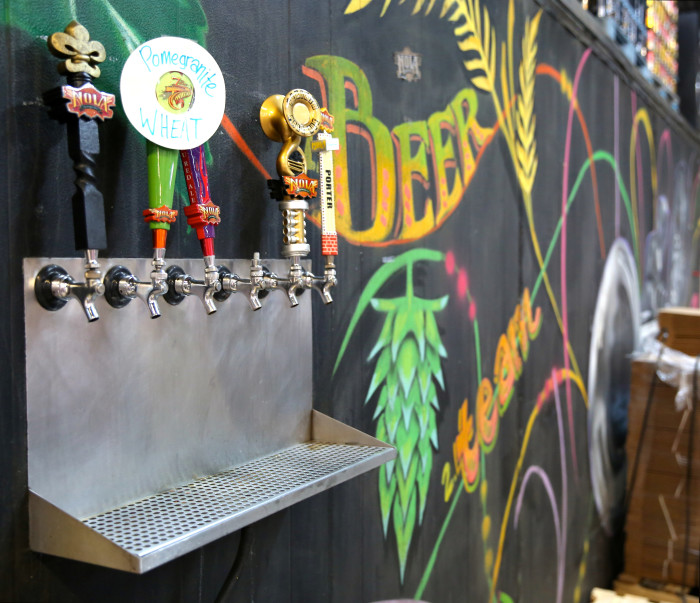 The opposite is true now, but it took a long time for local palates to develop. In the meantime, Coco had to get creative in building an infrastructure for such a brand-new industry. "We ended up going with a liquor distributor, but they didn't really know how to do beer," he explains. "So a bar would order two kegs of our beer on Monday, get it delivered Tuesday, and by Thursday they'd be out. That's how they'd run their business for 30 years: They delivered once a week to each account. But beer distributors visit each account three or four times a week. So it was hard."
The simple fact that craft beer was finally available wasn't enough to shift the entire landscape — fortunately, the beer was also damned good. "When we [first] made our Imperial IPA, Mecha, I made 40 barrels…and I was worried it was going to be way too much…. We sold them in, like, three weeks," Coco says. It also actually helped that local bars were used to peddling macrobrews for rock-bottom prices and had no idea how to sell this new stuff. Coco mentions one particular bar with only a single draught tap that offered nothing but Mecha — an 8.8 percent ABV double IPA — at $3 a pint. Sure, both NOLA and the bar were hemorrhaging money on the product, but word was certainly getting out about it.
Coco has learned much since then, and his company is growing rapidly, brewing 12,500 barrels last year and pushing toward 15,000 this year. But most impressively, the brewery is experimenting with a ridiculously advanced sour beer program. Locals are still learning to appreciate the sophisticated style, which is anything but a moneymaker at this point. "The reason we expand into something new…is more about what we want than what the customer wants," Coco admits.
And though they may be lauded for their passion and willingness to experiment, Coco and his NOLA colleagues are still learning. "We've failed on some [beers] miserably," Coco admits. "One of my favorites we ever made that never sold well was a beer called Smoky Mary. It was a smoked Oktoberfest, and nobody really liked it. But we did! We'd end up drinking a lot of kegs that got sent back after the season."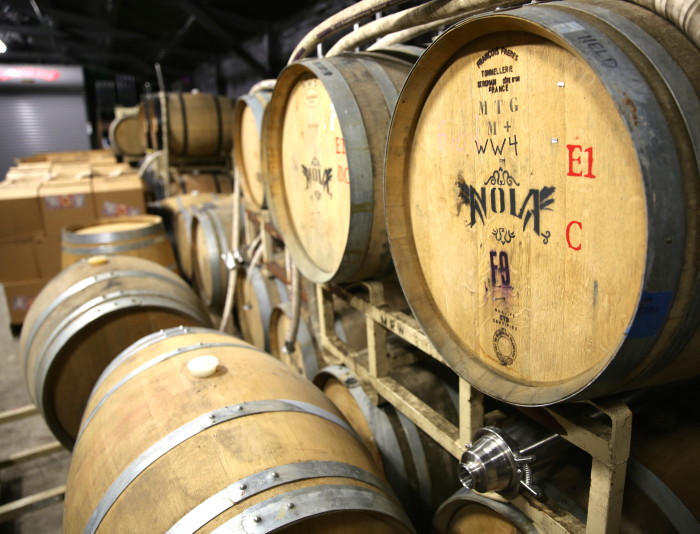 To some extent, NOLA also takes such risks to excite other brewers. For a brewery to get respect from and associate with larger craft breweries is one of the best endorsements available. "I think we've done five collaborations with New Belgium, two with Stone, and we're working on a collaboration with the Bruery," Coco says. "We wouldn't be able to do those if we weren't trying to push the limits of what drinkers — in our area, at least — are willing to try."
Ironically, the young, scrappy business is now a granddaddy of New Orleans beer, inspiring newer, smaller breweries such as Courtyard and Chafunkta. And not only is Coco not threatened by the arrival of new brands; he enthusiastically welcomes them. He recognizes that craft beer drinkers aren't brand-loyal, and their desire to try as many beers as possible only helps the entire brewing community. "Hopefully our customers are out there trying different kinds of craft beer, and they come back to us because they really like our quality and the styles we make," he says. After all, when NOLA started, all craft and imported beer made up just 3 percent of the market; today, that number is closer to 13 percent. "The growth of the industry is what increases our sales," Coco continues. "Hopefully in another ten years [craft beer] will have 30 percent of the market in Louisiana."
While NOLA gives moral support to new breweries, Coco and co. are also fully committed to reinvesting in New Orleans, a reflection of the city's incredibly strong sense of community and cultural pride. NOLA's Rebirth Pale Ale pays homage to the Rebirth Brass Band, legends of New Orleans jazz. A portion of the beer's sales go directly to the band's Roots of Music program, which purchases musical instruments and teaches kids how to play traditional jazz.
Yet as good as NOLA's beer is for the city, Coco never originally dreamed of a revolution that would elevate the taste and spirit of New Orleans. "For me, I was like, 'This sounds like a lot more fun than preserves,'" he laughs. "I was pretty amazed when we got beer served at a bar. I was like, 'Oh, my God, I can't believe we actually did this.'"
As any New Orleanian will tell you, it's a good thing they did.