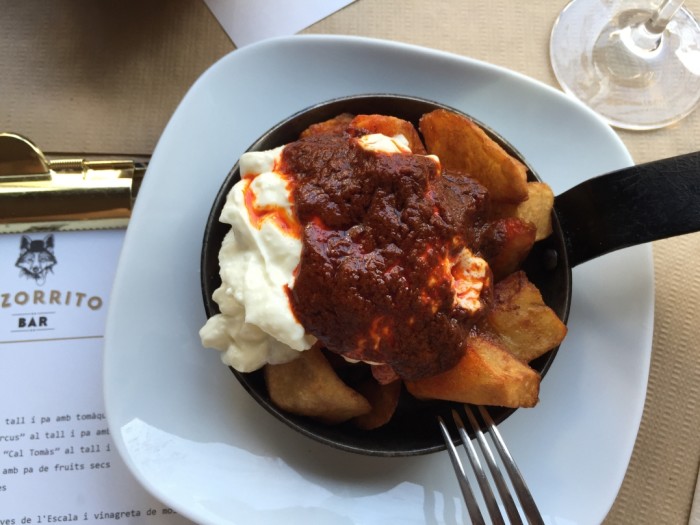 It's a belt-bursting job, but somebody has to do it: tireless "bravas hunter" Edu González gives us his list and tips for the top fried potatoes with spicy sauce and aioli.
Legend has it that patatas bravas came about at Barcelona's Bar Tomás, a place that still offers only half a dozen other items besides the fried potatoes bathed in paprika and oil and topped with aioli. It's all about the bravas, and on weekends, there is always a line to get in. On a recent Tuesday afternoon, when the place was just filling up with senior citizens enjoying the Barcelona version of an early-bird dinner and kids and their parents out for an afternoon treat, the jaded staff was noncommittal about its bravas fame. Were patatas bravas really invented here?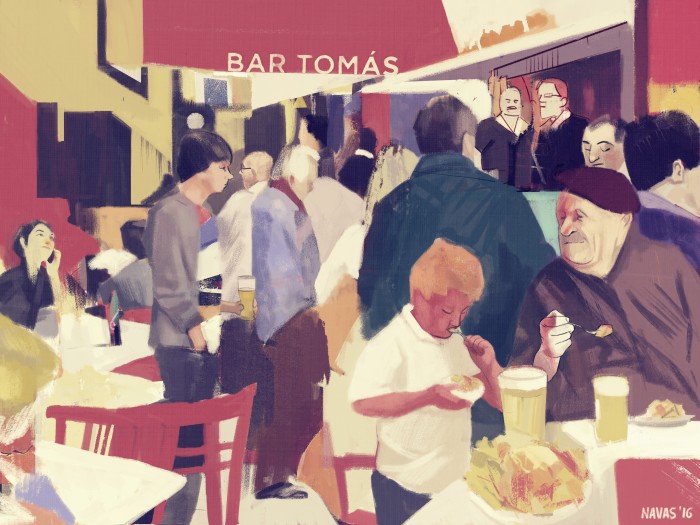 "Well, we've been here for 97 years," allowed the waiter, shrugging as we sat expectantly on the edge of rickety cafeteria chairs under the harsh florescent lights. "So I think so."
Tomás's bravas come fast from the kitchen. The potatoes are cut like wide, uneven French fries rather than in wedges or cubes, today's common bravas shapes. Covered in globs of the garlic mayonnaise, the consistency of Tomás's potatoes can remind you more of French Canadian poutine than your average pomme frites. Especially after you've tried them.
"I always say that you eat Tomás's bravas for six hours," comments self-described "patatas bravas hunter" Edu González. "That's about how long they keep repeating on you."
The author of a blog called Bravas BCN, González has been rating the patatas bravas in bars and restaurants in Barcelona and the surrounding area for seven years; the blog's been consulted nearly half a million times. González's Instagram page, also devoted to bravas, has about 7,000 followers.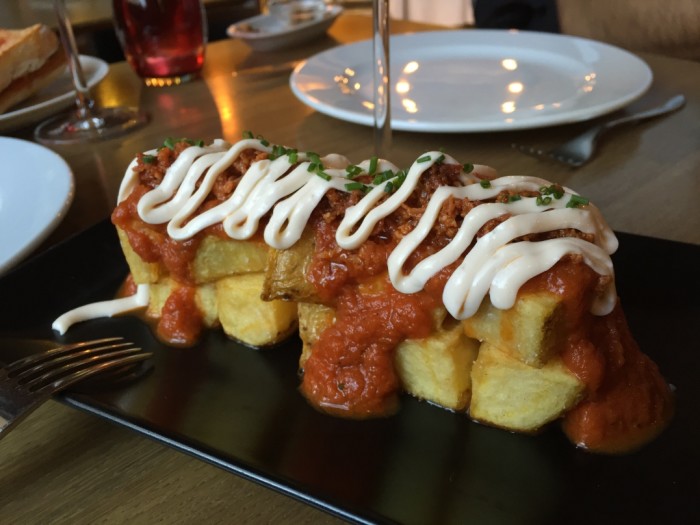 González disputes the story that Bar Tomás invented the bravas. His considerable research along the bravas trail has found that although Barcelona is now seen as the capital of patatas bravas, the dish was actually first served in Madrid or Toledo in the 1950s.
"The idea was to offer a very cheap tapa with a beer or a glass of wine," relates González, who works as an environmental chemist when he is not out eating his favorite fried-potato dish. "And it had to be spicy to make people thirsty so they would drink more. So they started with some chicken broth, and they mixed it with some flour and chile and some paprika. That mix was the salsa brava. This was something very easy, very fried, with a very cheap sauce."
González has found that Tomás was indeed the first to serve the brava in Barcelona, a decade or more after they were introduced in the bars of central Spain. Tomás enhanced the original no-frills recipe, giving the fried potatoes a Mediterranean flavor by adding aioli on top of the brava sauce.
"No one has matched that originality," says González, who has kept Bar Tomás as the long-running number one on his ranking of top Barcelona bravas. "I know that they are not the best now. But everyone has copied them; that's why they are still number one on my list."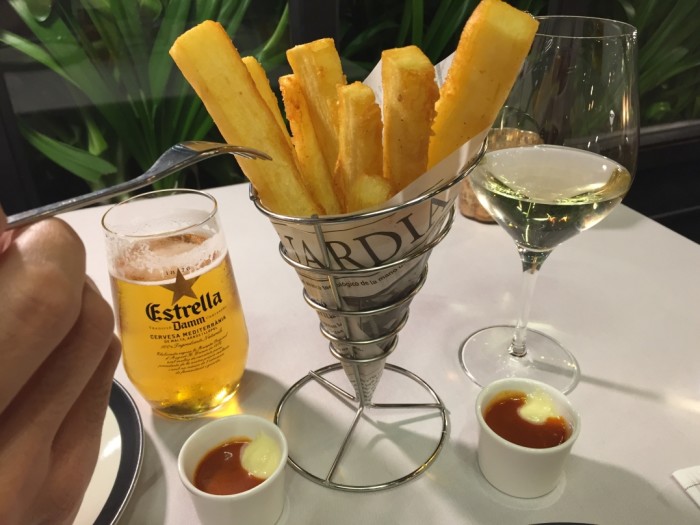 So far, González figures that he has tried more than 600 different versions of patatas bravas, mostly in corner bars, but also in upscale restaurants. He's eaten triangle- and square-shaped bravas, bravas constructed out of mashed potatoes, bravas served in stemmed glasses and, at a local taqueria, bravas presented with three sauces in the colors of the Mexican flag.
"Bravas have something special," González says. "It's the tapa you find in all the bars, and it's the recipe that everyone sets out to improve on." It's also a food that sparks nostalgia. "I get a lot of emails; everyone says the best bravas were at the bar in the neighborhood they grew up in."
Originality, quality of ingredients and consistency are among the criteria that go into Gonzalez's bravas ratings. He also notes service and price, eliminating any that he deems too expensive from the running. "I've seen places charging 9, 10 or 12 euros for a plate of bravas. That is just abusive."
Here, from Gonzalez's latest list, are the top five patatas bravas spots in Barcelona:
1. Bar Tomás
Carrer Major de Sarrià, 49, Barcelona
Neighborhood: Sarrià
"The classic of classics"
2. Segons Mercat
Carrer Balboa, 16, Barcelona
Neighborhood: Barceloneta
"The kind of place that brings back traditional tapas in a modern and pleasant setting. 100 percent recommendable."
3. Senyor Vermut
Carrer de Provença, 85, Barcelona
Neighborhood: l'Eixample
"Crowned with grilled red peppers and [spiced with] whole peppercons…delicious and sublime."
4. Bar del Pla (Re-Pla)
Carrer Montcada, 2, Barcelona
Neighborhood: Born
"A curious cut between half-moon-shaped and long strips. Crunchy on the outside, tender on the inside. Some of the best we've tried."
5. Montesquiu
Carrer Mandri, 56, Barcelona
Neighborhood: Sant Gervasi
"An absolutely extraordinary fry."