I've long led a one-man campaign against the march of the frozen French fry, which seems to have stealthily infiltrated most corners of the world. It used to be easy to spot these imposters, with their regular, clearly defined industrial shape, but now they come in all forms and sizes. In the U.K., for example, menus list "hand-cut chips," which implies that they're the product of manual labor in the kitchen, but I'm not deceived. Even in France, it's becoming more difficult to get the real thing; a restaurant I visited recently listed everything as being fait maison ("homemade"), with the only exception the fries.
And disappointment is not just limited to the Northern Hemisphere. Stalls on the street in Central and South America used to be consistently reliable, and indeed, Guatemala has one of my top scores for real fries. Imagine my disappointment in Mexico, when I was attracted to a stall by the aroma, only to spot an empty carton of a well-known frozen brand sitting at the feet of the vendor. Real homemade fries seem to be in danger, even on the verge of extinction, and as a result, Belgium has set up the world's first and only museum dedicated to this culinary delicacy.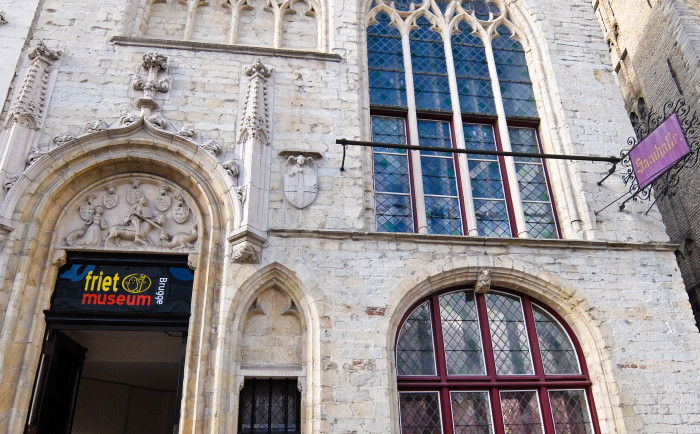 Why Belgium, you may wonder, but there's good reason: Although Europe is the venue for fevered culinary debate about who actually invented the things, the Belgians claim to be the first. So much so that in the tiny city of Bruges, they've established a Frietmuseum to make their case in one of the city's most historic buildings, which dates back to the 14th century.
Of course, there were no potatoes around in Europe back then, and they only arrived in Belgium (from Peru, via the Canary Islands) in 1567. It took a while for them to catch on, as they were seen as a botanical curiosity rather than a culinary delicacy, but a Frenchman, Antoine-Augustin Parmentier, became their champion. After being a prisoner in Germany in the 70 Years War, he came back to Paris in 1789, cultivated potatoes and guarded his fields with soldiers. Of course, people stole them, thinking they were something precious, but they didn't know how to cook them. Parmentier published a number of cookbooks to help them out.
You might think that he'd be responsible for inventing the French fry, but he only gets credit for Hachis Parmentier — mashed potato with diced meat, aka shepherd's pie. Instead, in the museum, there is a story about Belgian villagers in the Mousane region, living by the side of the River Meuse, gathering tiny fish that they fried. Winters were harsh in the 1750s and the river froze, so the villagers cut up potatoes in the shape of the fish and fried those instead. Voilà: the birth of fries!
If you believe this, then why are they not called Belgian fries? Another fable has it that during World War I, U.S. soldiers tasted fries from their French-speaking Belgian colleagues, decided they were delicious and took them back to the U.S. as "French fries." The real origin, however, is probably in Seville, Spain, back in the 16th century. Mother Teresa of Ávila grew the new arrivals in her convent gardens to feed the poor and sick and probably fried them in olive oil. So perhaps we should call them "Spanish fries" instead?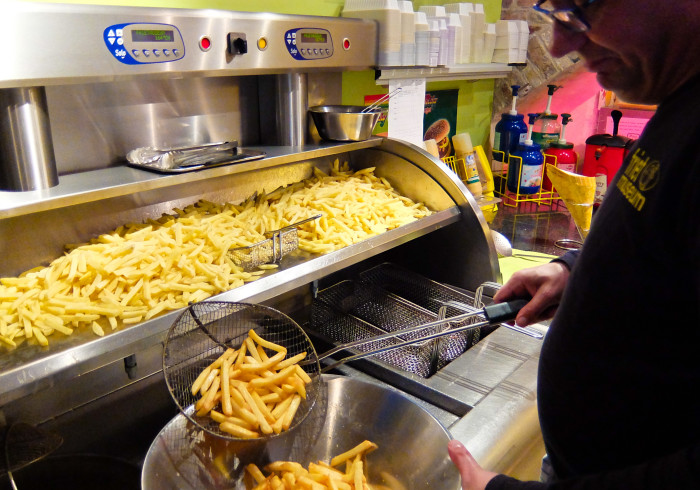 In the basement, the museum has its very own frituur, where you can see real fries being prepared and buy some to taste. Chief fryer Nico Geers has been here for seven years and tells me that he gets through around 300 pounds every day. He uses only Bintje potatoes, a hybrid developed in the Netherlands in 1904, with yellow flesh, silky skin, creamy texture and a slightly nutty flavor. They have a high moisture and low starch content, and hold their shape well when they're fried. Unfortunately, they're scarce in the U.S., but Yukon Gold or Yellow Finn are good substitutes. Speaking firsthand, do try to seek out Bintjes if possible, as they're delicious.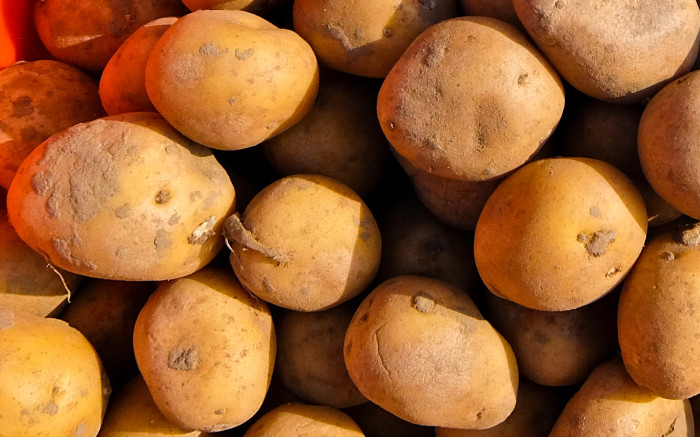 The potatoes should be freshly peeled, sliced and then dried thoroughly. Traditionally the cooking fat was unrefined beef tallow, known as "dripping" in the U.K., sometimes with horse fat added, but these days it's just the beef. Nico cooks his fries in two stages: first at 284°F for four to eight minutes, before letting them rest for ten minutes. Next, they're plunged into a second fryer at a temperature of 356°F for two to three minutes, taken out, shaken, then dusted with salt and served. You get a choice of dipping sauces with mayonnaise, ketchup, mustard and tartar being the most popular. My favorite is Andalusian, which is unique to Belgium and has no connection to Spain. It's a mixture of ketchup and mayonnaise, topped with finely chopped onions that are marinated in lemon juice.
Unfortunately, even Belgium isn't immune to the curse of the frozen fry, and the two frituurs on the Markt, the city's central square, are serial offenders. It's better to walk five minutes to 'T Brugsch Friethuys — located on the corner of Sint-Jakobsstraat and Geldmuntstraatm — which serves the real thing in great quantity. The operators won't reveal how many pounds they get through daily as they're frightened of the taxman, but they were certainly doing a roaring trade when I visited.
Bruges doesn't just limit itself to fries — the city boasts one of the highest ratios of Michelin stars per capita in the world. Be sure to try these restaurants, all just a few minutes' walk from the Markt.
Where To Eat In Bruges, Belgium
Le Chef et Moi
Nestled in historic surroundings, Le Chef et Moi serves up an excellent 15€ lunchtime menu. Fillets of plaice served on top of strips of cabbage, tiny pasta shells, diced zucchini and scallions surrounded by a tomato-and-basil cream sauce are perfectly cooked. A passion fruit bavarois, composed of alternate layers of sponge, fruit and mousse, made a refined dessert. Dijver 13, 8000 Brugge, Belgium; lechefetmoi.be
Patrick Devos
Nearby, in another historic house, Patrick Devos highlights local and seasonal ingredients. Bruges is only ten miles from the sea, so I opted for cod with chard — leaves heaped on top, stalks below, both whole and chopped — in a turmeric sauce. New potatoes and leeks arranged artfully on the side completed this array of seasonal vegetables. The town has many chocolate boutiques, so it made sense to choose cremeux of chocolate with pears as dessert, and it didn't disappoint. Zilverstraat 41, 8000 Brugge, Belgium; patrickdevos.be
Den Gouden Harynck
Chef Philippe Serruys has had his Michelin star at the Gouden Harynck for over 20 years, and it shows. Langoustines, marinated in lime and garnished with avocado mousse, Isigny cream and fennel is a great appetizer. Seared scallops, topped with a wafer-thin slice of cauliflower, on cauliflower puree, in a vin-jaune sauce came next. Pan-fried fillets of sole with a cardamom emulsion — on an eggplant base and a lime sauce — were perfectly cooked and reminded me of mild Goan fish curry. I asked Philippe whether he has ever served fries and he revealed that when he did, it was important to choose the right potato: "Feel them and peel them" was the chef's advice. Groeninge 25, 8000 Brugge, Belgium; goudenharynck.be
---
Getting Around
Frietmuseum
Vlamingstraat 33
8000 Bruges, Belgium
Visit Bruges has information about the city.
Visit Flanders has information about the region.