Taking Your Vermouth With Orange And Olives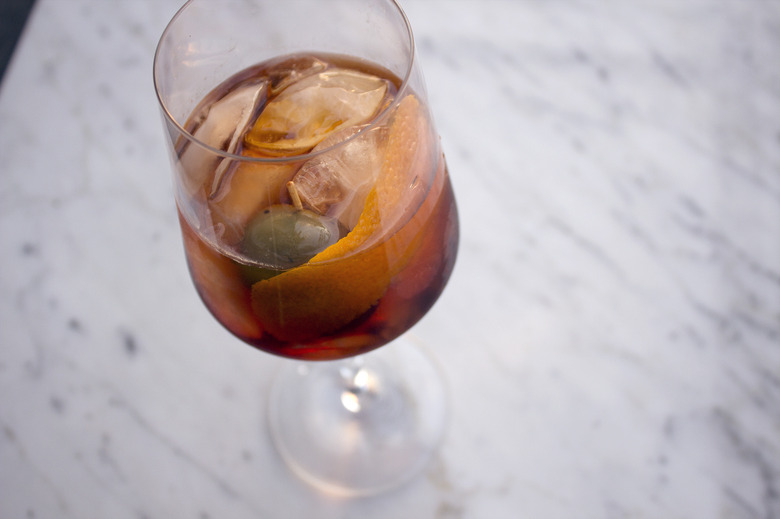 Cheap and often flanked by an array of salty tapas, vermut is a social affair in Spain. Could it catch on in
Vermouth has had a bit of an identity crisis throughout the cocktail revolution. A key ingredient in iconic cocktails such as the martini, the Manhattan, the Negroni and others, sweet vermouth is seldom consumed on its own in the U.S., except perhaps by bartenders. This stigma is largely why the affinity for vermouth by a younger generation of culturally minded Spaniards has some scratching their heads.
Cheap and often flanked by an array of salty tapas, vermut is a social affair in Spain. Locals have long passed the daylight hours quaffing this aperitif in various fashions: on ice, accompanied by a soda siphon, or with orange, olives and bitters. Of the many producers in Spain, Lacuesta in Rioja ages the botanicals for its Edición Limitada with white wine in oak for 14 months, creating a rich and raisiny vermouth that resembles the heft of Carpano Antica. Though it's technically a dessert wine, its complexity and almost tannic nature bring just enough bitterness to keep things interesting.
Cocktails are kept intentionally simple, and it's not uncommon to see vermouth taken with orange and olives in the north of Spain, as well as with a few hints of bitter and sometimes gin. I prefer mine on ice and using Lacuesta's aged vermouth — as opposed to one with a red-wine base — adds a bit more depth, though it also makes this drink fancier than it needs to be. Will vermouth be the next big thing in the U.S.? Not likely, but for the warm summer days ahead, I think the Spanish hipsters have it right with their love for this sweet sipper.
Preparando
Serving: 1 cocktail
Ingredients
4 ounces Vermouth Lacuesta Edición Limitada
Dash Rinomato Aperitivo or Cappelletti
Dash Plymouth Gin
Dash Angostura bitters
Directions:
Add ice to a wine or water glass.
Pour ingredients over top. Stir only once to combine, but not dilute.
Garnish with an orange peel and olive.
Prep Time: 2 minutes
Difficulty: Easy